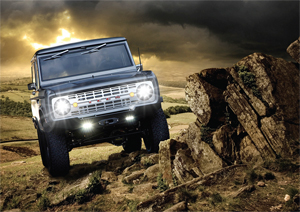 The Ford Bronco was originally launched to compete with Jeep, Land Rover, and even Toyota's Land Cruiser. If you love 4x4s, you have to enjoy this retrospective of this great Stateside off-roader. Such is the Bronco's following, you can even buy a new one, if you've got a healthy wallet!

Words: James Maxwell

The US product planners at Ford Motor Company had been eyeing the growing light-duty four-wheel drive off-road sport utility market in the 1960s and in August 1965, the company debuted its answer. The Ford Bronco was a small and nimble 4×4, designed to compete with the Jeep CJ, as well as the International Harvester Scout, Toyota Land Cruiser and even the Land Rover. The new 4×4 from Ford was called 'Bronco' as a second horse in their product stable, to sit alongside the famous Mustang sportscar range.
During the launch of the Bronco, Ford General Manager Donald Frey characterised the vehicle as: "Neither a car nor a truck, but as a vehicle that combines the best of both worlds. The Bronco can serve as a family sedan, sports roadster, snow plough, or farm and civil defence vehicle. It has been designed to go nearly anywhere and do nearly anything." Snow plough, eh?
The small, lightweight contender ran on a 92inch wheelbase and was highly versatile, both off-road and on tarmac. Featuring a boxy, steel body on a separate chassis design, the front suspension was known at the time as the 'Mono-Beam' anti-dive system, based on coil springs and forged radius rods located from the transmission area, forward to the solid front axle. Tubular shocks located rearward of the coils were used and a tubular track bar was incorporated into the design to maintain axle alignment. Turning radius was a tight 34ft circle.