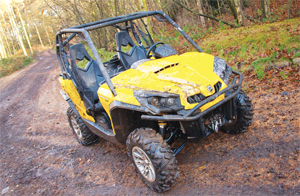 A wet Warwickshire woodland seemed the perfect place to try out the new Can-Am Commander 'Side-By-Side' – open up the 1000cc Rotax V Twin engine, see how good the Maxxis Bighorn tyres were and generally have some fun!
Words & photos: Toby Savage
When Joseph-Armand Bombardier formed Bombardier Recreational Products (BRP) in Quebec, Canada, back in 1937, he launched a small tracked vehicle to cope with the deep winter snow. This grew to Snowmobile production, then Jet Skis and Quad Bikes. Along the way the company acquired Evinrude engines for the nautical range and the Austrian engine company, Rotax, for the Quads and ATVs. They have built up a formidable reputation over their 70-year history for both reliability and performance.