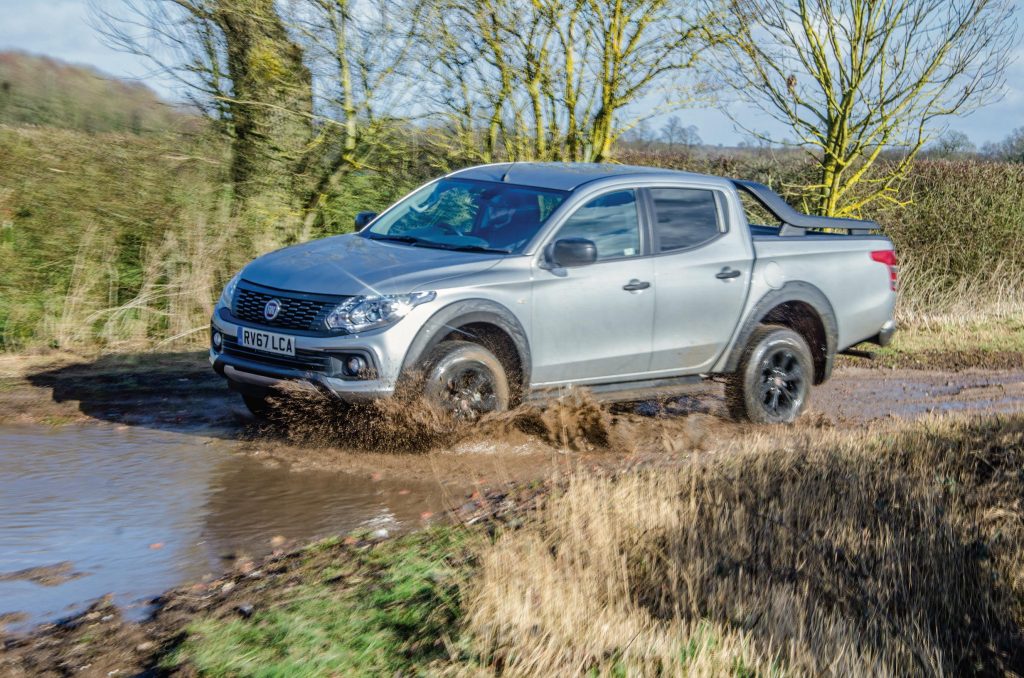 Fiat raised an eyebrow or two in the pick-up world when it decided to launch a badge-engineered version of the Mitsubishi L200. The Fullback could be described as a me-too model – or, more sensibly, as an expedient way of allowing fleet customers to address all their light commercial vehicle needs in one deal. Either way, though, the new Fullback Cross is more than just someone else's truck with a Fiat badge on it.
Sitting at the top of the Fullback range, the Cross model is based on the already well-equipped LX, meaning it has full-tim four-wheel drive and a 180bhp version of the now-familiar 2.4-litre turbo-diesel engine.
What it also has is a locking rear differential. Typically these make all the difference to a pick-up's performance off-road. By nature they're light at the tail, and lift wheels very easily – especially when unladen, and being able to lock the rear diff to prevent drive being lost this way is an important weapon in the driver's arsenal. Many manufacturers use traction control as an alternative to this – some systems work better than others, but in our experience none at all as are effective as the traditional tech.
The L200 is available with a locking rear diff – but only with part-time four-wheel drive. Higher-spec models gain the full-time system that's also used on the Fullback Cross – but lose the locker. This was frustrating when Mitsubishi first launched the full-time system in 2005, so it feels rather as if this new Fullback is a case of Fiat making the L200 into the vehicle we've always wished it would be.
To go with the off-road potential this offers, the Cross is lightly ruggedized, if that's not a contradiction in terms. It gains toughened wheelarches and side steps with a matt black finish, as well as a satin-effect skid plate, and its 245/65R17 tyres are wrapped around black alloys.
If prepping vehicles for off-road work is your thing, you'll immediately write all this off as mere styling, all of which would be unbolted and replaced with proper heavy-duty stuff from the aftermarket the moment you got your hands on it. That would be rather a harsh verdict, all the same, as Fiat is honest about the Cross being pitched as an eye-catching lifestyle truck fit for work and play alike, but there is indeed an element of show-not-go to its spec. In particular, the design of the six-spoke alloys means their faces are close to being flush with the tyres' sidewall, which is a recipe for scratches when you're churning your way through ruts.
Nonetheless, the Fullback Cross proves very competent off-road. Even on standard tyres, it deals well with the wet, sloppy conditions many will encounter frequently in day-to-day working life, following the ground confidently without any sign of wanting to go sideways. With 317lbf.ft, there's plenty of torque for slugging away through mud or heaving itself up hills, though with this version of the engine you pay for the higher output by needing to rev it to 2500rpm before it'll give you all it's got – but despite this, it'll scale very decent climbs at little more than tickover, and the gearing in the six-speed manual box never feels high.
You'd need more aggressive tyres for the diff-lock to make an appreciable difference in muddy conditions. However, at a crawl over uneven terrain, it comes into its own. The ground does need to be very rough – much more so than most owners will attempt to tackle in their expensive new trucks – but where two wheels lighten up at once, the locker allows you to keep on taking it gently rather than using extra speed to get through. And that's good for the vehicle, its passengers, its load and the ground beneath it.
On the road, the Fullback is a fine performer, with a smooth, quiet ride on the motorway which makes it very agreeable indeed. The engine hauls it up to speed without any problem at all and feels as if it has plenty more to give, even when you're keeping up with the traffic in the fast lane, and with the cruise control set it'll rumble along all day without skipping a beat. You don't need to fidget with the steering to keep it in its lane, either.
On A and B-roads, the steering is engaging, with plenty of feel and response as you chuck it into corners. Of course, there's body roll, but it's well controlled and doesn't prevent you from enjoying yourself. As always with off-road vehicles, the trick is to drive with its foibles, not against them – accept it for what it is, and it's a big, cheerful bundle of laughs.
Ride-wise, poorer road surfaces do set up a bit of fuss at the back, at least when there's not a load of pea shingle in there to damp it down. But even when running unladen you can clobber it into an alloy-trasher of a pot-hole without feeling like the world's coming to an end. Refinement is perfectly good by general pick-up standards, though the gearchange from the six-speed manual box is a bit mechanical.
Last time we drove a Fullback, we noted that the clutch had an oddly high biting point. No such trouble this time, however – it's as easy to drive as you want it to be, with the option of full-time four-wheel drive adding an extra element of stability in wet conditions – and one which no other pick-up currently offers in combination with a rear locker.
Something else we grumbled about last time we drove a Fullback was its multimedia system, which defeated our every attempt to pair it with an iPhone and struggled to hold on to a DAB signal. This time, again no problem. We'd still like to know who it was that decided digital radio had to be so complicated to operate, but the sound and reception in the Cross were just fine – and having plugged our iPhone in to the USB port, it registered within seconds.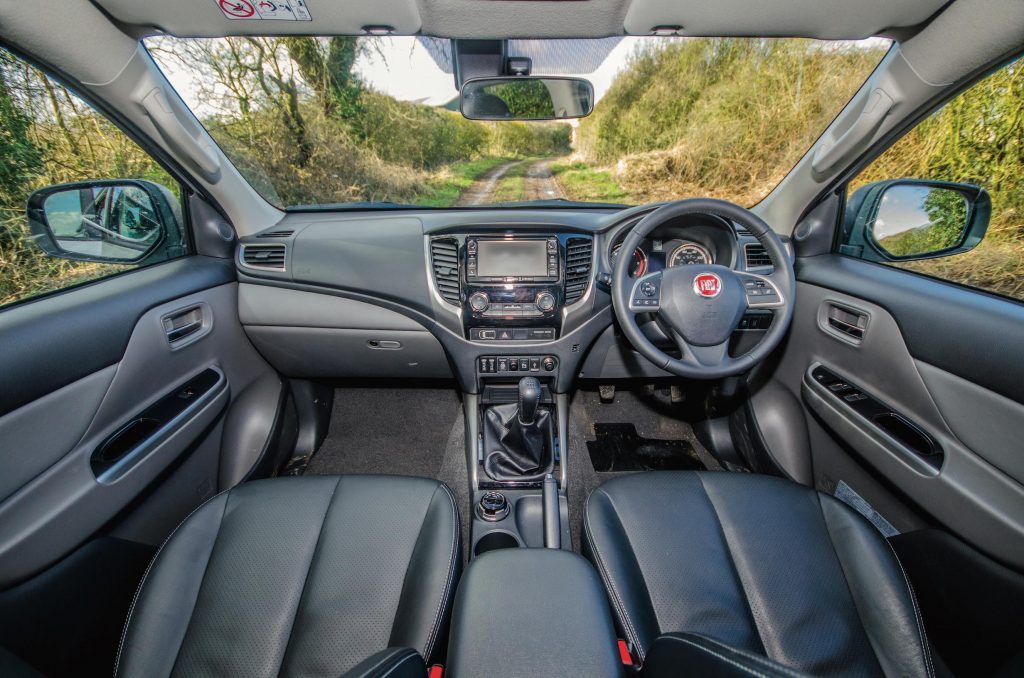 Elsewhere inside there's heated leather seats and so on giving you the full luxury treatment. The leather feels tough rather than sumptuous – as always, we'd sooner see good fabric than so-so hide – but the seats are perfectly supportive and despite no adjustable lumbar support are comfortable over longer distances.
Similarly, the dash and floor console, though they're finished in a hard plastic that is scratchy, are extremely well made – there's almost no creaking from any part of them. It's tough and rugged rather than luxurious, but all the top-spec kit does add something. It can't work magic on the amount of space in the back, of course, but so long as you're not carrying tall adults or bulky car seats, there's enough space there to get by.
One other complaint we'd have relates to the pick-up bed. This is dominated by a model-unique textured sports bar, which looks cool and, we found, is capable of protecting the cab roof if you're carrying very long items, but the bed itself is protected by a liner which, tough though it may be, offers nowhere to lash down your load. We had to run ratchet straps around the sports bar itself, which we're pretty sure is not the idea.
The Fullback Cross isn't unique in having full-time four-wheel drive, nor in having a rear diff-lock. But no other truck currently offers both in tandem, which gives it genuine off-road potential. It's a good all-rounder, clearly the best option in the Fullback range, and its styling accessories certainly stand out – though in places we'd like to see a little more practicality to go with the eyeball-pleasing design.