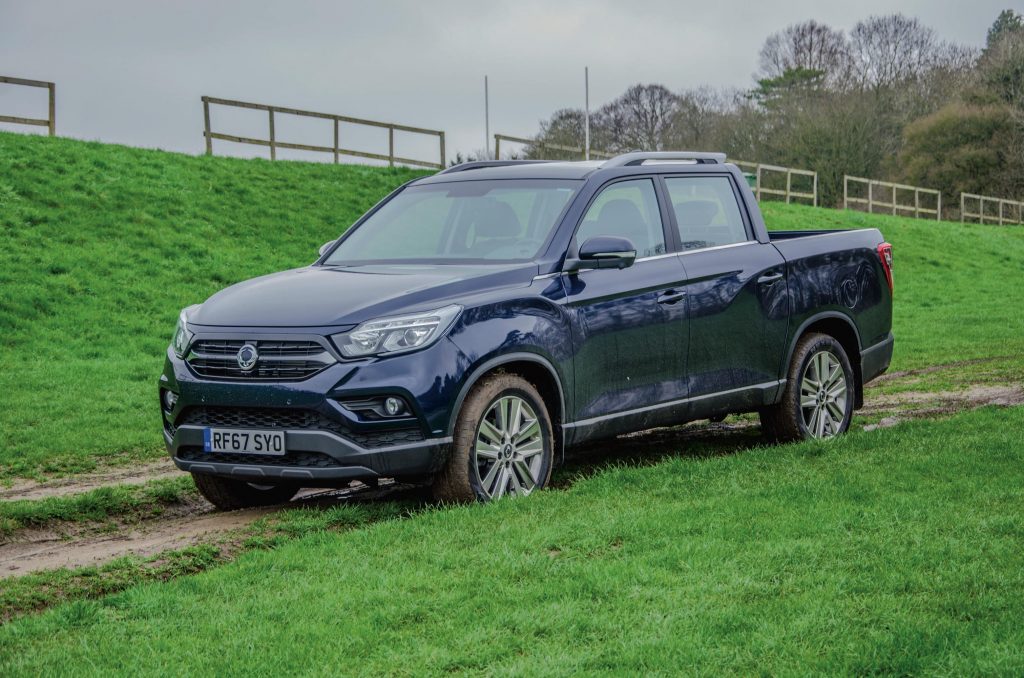 SsangYong is on a roll. Buoyed by a steady stream of new, modern products to replace the staid vehicles it relied on for way too long, the Korean 4×4 specialist started this year by celebrating overall success in our 4×4 of the Year awards with the new Rexton.
Based on the same platform as the Rexton, with the same engine and choice of gearboxes and very similar cabin, the new Musso is a quantum leap forward from the model currently being sold under the same name.
We've had an early test, on British roads, of a Korean-spec Musso. Aside from the fact that it's left-hand drive, the only difference between this and the one coming to Britain is in the details, so this is a good indication of what's on the way.
Starting in the cabin, the Rexton's influence is clear. There's even a strip of leather across the dashboard, complete with contrasting stitching.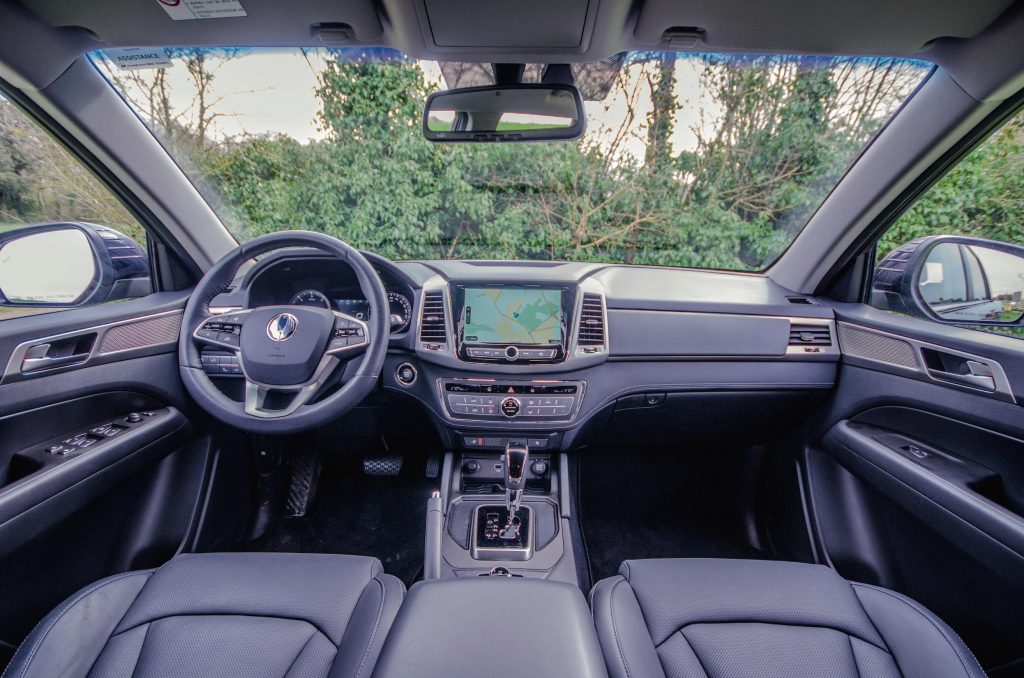 Elsewhere, materials remain high-quality by pick-up standards, with soft-touch surfaces on much of the dash and excellent leather seats which managed to be both soft and comfy yet impressively supportive. They put you in a good driving position, too, from which your view all around is particularly fine – even over your shoulder, thanks to a C-post that's no bigger than it needs to be.
There's plenty of headroom, too, and enough leg room to let a six-footer drive without needing to move his seat all the way back. This is handy if there's another six-footer sat behind, because the seat-backs have no give in them at all – but the good news is that aside from the Ford Ranger, we think the Musso probably has the most rear knee room in the double-cab market. It's possible for two tall adults to ride in tandem without either feeling the squeeze, and there's not a lot of trucks we can say that about. All-round, few double-cabs can match it for accommodation.
There's a decent amount of oddment stowage, too, and overall build quality appears close to that of the Rexton. As does the equipment you get for your money – we'll leave the specifics out, as UK models will likely differ from this one, but there'll be a range of three trim levels and at the top, you'll get a truly premium level of kit. As an indication, the vehicle here had stuff like air-conditioned seats and a heated steering wheel.
It also had 20" polished rims, complete with 255/50R20 tyres, which are pretty much the exact opposite of what we like to see on pick-ups. But if the Musso range is going to mirror that of the Rexton, this is what top models will come with.
One definite difference to the Rexton is that whereas that vehicle comes with independent rear suspension on AWD models, all Mussos have a live rear axle. This is coil-sprung, which remains a rarity in the pick-up market.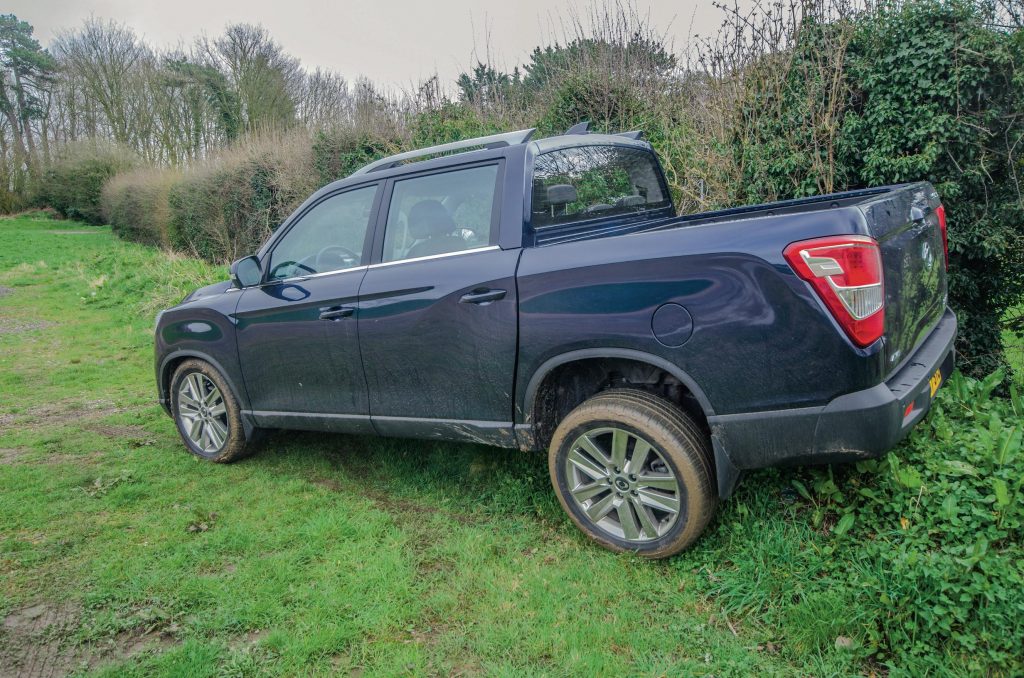 You also get a part-time, dual-range transfer case as standard, mated to a choice of six-speed manual or auto gearboxes. This all goes together to make what looks on paper like a well sorted vehicle for on and off-road use.
Starting with the latter, we found that the limits were definitely set by the low-profile, road-pattern tyres. No surprise there – but what was very pleasing to note was that when pushed, the rear axle displays excellent articulation, particularly on the bump stroke. A rather low rear bumper, coupled with the inevitable long overhang, means there's an element of vulnerability back there, but based on the limited amount we were able to do on this early drive the suspension is unusually good at following the terrain.
What the coil springs can't do is hide the fact that they're specced to hold up a tonne. Inevitably, this means the suspension is upset by all but the smoothest roads – though while there certainly is plenty of thumping, even in sharp-edged pot-holes the impacts are never harsh. The body does get jolted around a fair bit at lower speeds on uneven urban roads, but once you get it moving things are a lot more settled. We haven't yet had the chance to drive the Musso at cruising speeds, but at this stage's we'd say the results are promising for a composed motorway ride.
We haven't been able to tow with the vehicle yet, but SsangYong advises us that it will be rated to haul 3500kg (3200 with the manual box) while also carrying 1050kg of cargo. At the time of writing, the testing and approval process was still underway, but the company believes this will give it the highest gross train weight in the market.
It certainly has the brakes for the job, as we found out when a driver in the employ of a very well known courier company lost control of his 7.5-tonner while coming towards us round a corner. And while an unladen test can only tell you so much, the engine does pull strongly – 181bhp is backed up by 295lbf.ft at 1400rpm in manual form, and 310lbf.ft at 1600rpm in autos. It raises its voice when your foot goes right down, but is quiet enough not to cause a disturbance at higher speeds. Again, though, we can't yet comment on motorway cruising.
What we can say is that from this first, brief look, the Musso does appear to do a good job of taking the good stuff from the Rexton and applying it to the pick-up market. It's solid, spacious inside and, without rewriting the rules, represents a quantum leap forward from the truck it will replace, vaulting SsangYong from the bottom of the one-tonne pile to a position in which it can compete on a level footing with the rest of the pack.
It also comes with a five-year, unlimited-mileage warranty, and with running costs mattering so much to most people that could go a long way to convincing some buyers. So too could prices which SsangYong says will start at less than £20,000 plus VAT – these are yet to be confirmed, as has the exact spec of the three-strong UK range. But it's clear that value for money will continue to be a key part of the proposition.
Weigh all that up against fuel consumption and emissions of 35.8mpg and 211g/km (32.8 and 226 auto), and residuals which will likely be on the weak side, and you have a number of questions to ask yourself. By no means are they clear cut, though – and for the first time in the UK pick-up market, SsangYong certainly does have an answer.