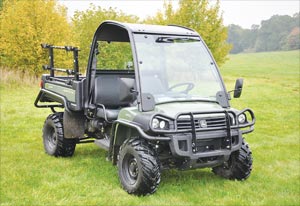 John Deere's latest Gator all-terrain pick-up just got butcher styling, improved ride quality and best in class payload. A big improvement on the old canary yellow and green-only machine.
Words: Hils Everitt
One of the first improvements that is easily noticeable on John Deere's latest revamped Gator, apart from the more aggressive styling, is the new colour option. The brash green and canary yellow scheme, so beloved by fans of the manufacturer, have often put off potential utility companies, giving it a rather toy town appearance.
At last, John Deere has addressed the problem and the latest model, the XUV 855D 4×4, now comes in a very user-friendly and attractive olive and black livery which certainly gives the excellent utility vehicle a brand new image that fits far better with its potential customers. In fact, and this is absolutely true, the change was prompted by gamekeepers complaining that the garish yellow and green was scaring off the pheasants and partridges!
So, cosmetically we are already liking this new model, and the frustrated estate managers and gamekeepers will be dead chuffed, but what lurks beneath the 2011 version has turned an already highly-capable ATP (all-terrain pick-up) into an excellent piece of kit.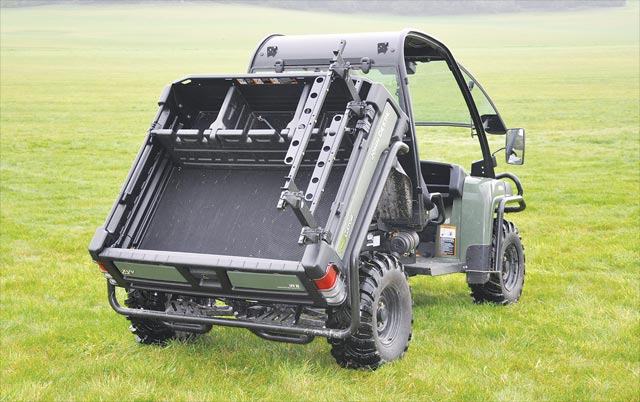 John Deere Gator XUV 855D 4×4
Price from: £11,250
Engine: three-cylinder diesel
Max power: 25hp
Max speed: 27mph
4WD: On–demand, dual range with lockable front and rear diffs
Suspension: double A-arm front and rear, adjustable coils, rear sway bar
Load capacity: 460 litres
Payload: 635kg
Towing weight: 680kg
Ground clearance: 267mm
Overall rating: 8/10
To read more about the John Deere Gator see the February 2011 issue of 4×4 Magazine