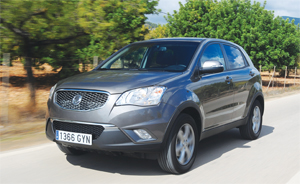 The original was panned for its rather ugly looks but it was a credible offroader. SsangYong's 2011 update of its Korando model is labelled a 'Classy Utility Vehicle', but how much class does the new crossover really have?
The SsangYong Korando – these are names that don't mean too much to us in the West, but there's been a Korando model around since 1974 and SsangYong claims it as the longest running brand in Korea; the SsangYong element has seen rather less continuity.
Numerous names have been tied to the brand, including Daewoo, Mercedes Benz, the Chinese manufacturer SAIC and the Indian company Mahindra & Mahindra. The last in that list is scheduled to enter a 'global partnership' with SsangYong around the end of 2010 – if all goes to plan. Mind you, it's now a picture of stability compared to 2009, when the factories in Korea were the backdrop for two months of violent protest, riots and police baton charges.
It says a lot for the South Koreans that, against that recent turmoil, they've managed to keep on and produce new models. The latest, the crossover Korando, is one of the biggest steps forward the company has made. It's the first monocoque construction the company has ever manufactured.
With Nissan's cash-cow Qashqai and the new Kia Sportage and others taking chunks of a valuable market, this is a necessary step for a company with its sights set on expanding its empire and putting the past behind it.
At first glance it looks about right. The smooth lines don't look as though they were beaten out by police batons and the interior smelt faintly of leather rather than tear gas. Italian style capo Giugiaro penned the lines, so it was never going to be any sort of dullard.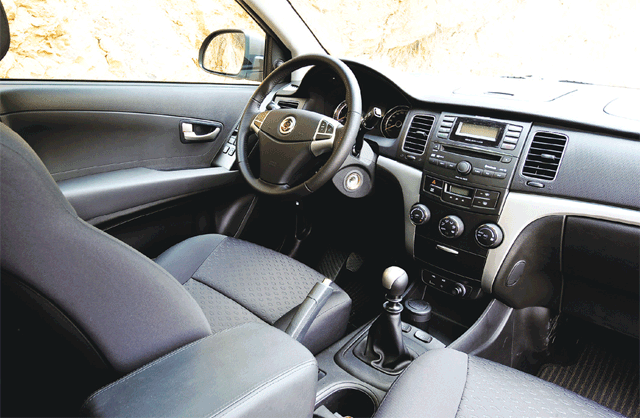 It looks quite large and heavy and rather deep, not instantly attractive to someone who really does want to use its crossover capability. On the move that impression persists. There's a slight feeling of overweight, underpower about it. The steering is really rather lifeless and uncommunicative, particularly around the straightahead position, and the handling is on the vaguely soggy side – there's nothing particularly crisp about the Korando.
There is only one engine option at the moment, a 2.0-litre turbodiesel which debuted in the Kyron SUV. It's mated to a six-speed manual box or six-speed auto and there is the option of two-wheel drive or AWD models. From the outside the engine sounds distinctly diesel clattery, but from the inside it's rather quieter. Under load there's definitely some noise, vibration and harshness which is acceptable, but if you're not actually under load and simply drifting along, it goes serenely quiet and vibe-free.
Power might be described as adequate, but no more. Below 2000rpm it tends to fade and die on occasion, certainly enough so that numerous experienced drivers on the launch found themselves stalling and having to restart when trying to pull away gently or manoeuvre around. At the other end power falls away equally sharply, so you have to keep it roughly between 2000 and 3500rpm. That's a bit peaky and means frequent rowing of the six-speed box.
The gearbox itself is fine, but the gearlever seems to be placed just slightly too far to the rear so your arm has to make a dogleg over the centre console between the seats when finding second, fourth and sixth. With 70mph coming up at about 2250rpm steady progress is much more enjoyable than accelerating and braking.
Handling is on the soft side but never degenerates into a hippo wallow. In corners it sways a little but the initial lean seems to firm up the harder you push it, showing that the all-independent suspension with the monocoque chassis does work. As mentioned, steering is wooden and the brakes work well, but again aren't terribly forthcoming.
Inside it all looks rather pleasant and fairly contemporary. All the bells and whistles are there and there are plenty of stowage places around the cabin, including a useful lidded compartment on top of the fascia. The fascia itself looks better at first glance than at a more detailed look and feel.
Some of the plastics, such as the hard honeycomb plastic on the fascia front, don't look or feel that great. But the doors feel large and heavy, making it easy to get in and out, and there's plenty of room for everyone. There's the customary endless options on the seating, with the rear two folding totally fl at to reveal a fairly cavernous area if a couple have a significant amount of luggage.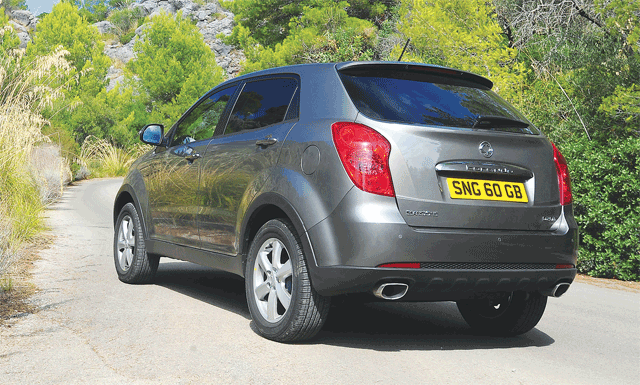 One neat touch is that many of the interior components like switchgear and gearknob have an anti-bacterial coating to keep everyone germ-free. There are the customary knobs and buttons to play with, and an extra one on the AWD version.
In normal mode the AWD Korando is front-wheel drive. When it detects slippage the centre diff starts to lock and shifts power to front and rear tyres. It's all normal, proven stuff, and there is a diff-lock switch on the fascia for speeds up to 25mph.
We never found a serious off-road adventure on the launch but we tracked down some dirt roads and winding routes round the hills, covered in stones and gravel. The Korando did pretty well. The initial response makes you feel that it's going to start barging about like a ship on a stormy sea but, just as on the road, things seem to be more under control the further it gets pushed.
This is a crossover vehicle, with the emphasis very much on road use, but this wouldn't disgrace itself in those real-life scenarios of the muddy caravan site or the icy car park.
SsangYong makes much of its progress with this vehicle, which will undoubtedly be the basis for future models, now that the company has moved away from ladder-frame SUVs into monocoque crossover vehicles.
We'll see it probably in early 2011 but, as yet, prices have not been set although they say they will be 'competitive'.
Really, they need to be very competitive. SsangYong has made some huge strides with this vehicle, but then that's playing catch-up. It doesn't offer anything particularly new, it's simply another one in the mix and the purchase decision will probably be swayed by price – and a very confident five-year, 250,000-mile warranty. Of course, if SsangYong continues with this steady progress and the next vehicle is as far forward as the Korando is on its predecessors then we expect it will be overtaking some of the rather more established players fairly soon. But for now, it's one giant leap for SsangYong – and one small step for the automotive world.
SsangYong Korando 2.0-litre AWD D20T
Price: £TBA
PERFORMANCE
Engine: 1998cc in-line four-cylinder turbodiesel with E-VGT
Transmission: six-speed manual or automatic
Power: 175bhp@4000rpm
Top speed: 111mph
0-62mph: 10.0secs
Fuel economy: 44mpg combined
Co2: 157g/km
CHASSIS
4WD: Part-time 4×4, with diff lock, Hill Start Assist
Suspension: Front: Independent, with McPherson strut, coil spring
Rear: Independent multi-link with coil springs
Brakes: Disc (ventilated front) with ABS, Hydraulic Brake Assist and Active Rollover Protection
DIMENSIONS
Wheels/tyres: 16in 215/65R16
Lgth/Wdth/Ht: 4410mm/1830mm/1675mm
WEIGHTS & LOADS
Kerbweight: 1672kg
Payload: 588kg
Load volume: 486 litres
OFF-ROAD
Approach angle: 23˚
Departure angle: 28˚
Ramp breakover: 19˚
Ground clearance: 180mm
Turning circle: 10.9m
Towing weight: 2000kg
OVERALL
We like: Five-year, 250,000-mile warranty; economical to buy and run; it's something different
We dislike: Only one engine; no advance over the competition; woolly controls
Verdict: If the opposition had stood still, SsangYong would be ahead of the game. But fellow Koreans Kia and many others have kept on moving so SsangYong needs to keep this speed of improvement up. For now it's something different with lowish running costs and a generous warranty. The AWD version is fairly competent and the lines pretty clean. Will this be enough to sway potential Sportage and Qashqai owners?
Overall verdict: 6/10