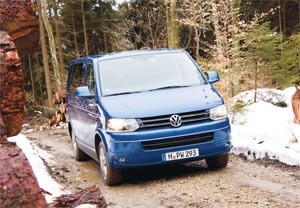 Volkswagen's new T5 4Motion Transporter van continues the impressive pedigree of its predecessors.
Words & photos: Toby Savage
Perhaps unusually for vehicle enthusiasts, Volkswagen van fans are equally keen on the new breeds as the old. The owner of a Wolfsburg built, 1950s', 'Barn Door' Type 2 is rarely such a purist that he will turn his nose up at the latest model. The key to this broad acceptance is, perhaps, that the concept of the VW van has remained faithful to the original design.
VW has capitalised on this cult appeal by maintaining those core values through successive model upgrades. The latest incarnation of the classic design is the T5 4Motion, a four-wheel drive version of the Type 5 commercial range.
The new 4Motion is available as three basic models: The Caravelle, a seven-seater minibus, The Transporter, a panel van, or pick-up and The California, a camper conversion that includes everything, including the kitchen sink. All come with a range of engine and gearbox options, trim specification and factory-fitted extras that could fill the pages of this magazine. Basically, there are two variants of the same 2.0-litre common rail Tdi engine, one producing 140bhp, the other, in twin turbo guise, managing 180bhp. There is a 2.0-litre petrol engine available.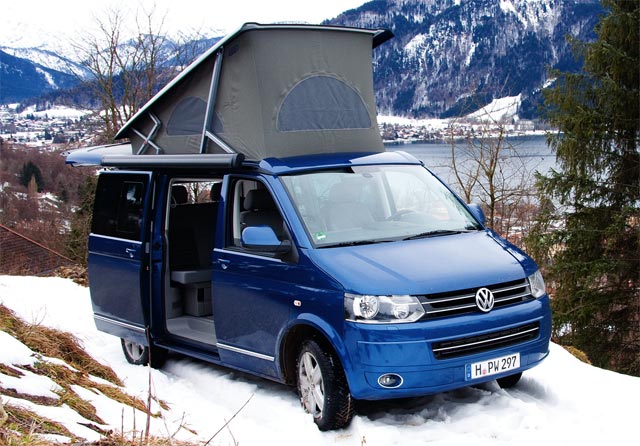 A slick six-speed manual gearbox is the standard offering, but a rather special, sevenspeed auto is creeping into the 180bhp range, with a manual override for better control in mud and snow. This, coupled with advanced traction control and the option of a locking diff in the rear axle, makes the 4Motion a very capable 4×4 in most of the offroad conditions it will meet.
At the European launch in Munich we chose the 180bhp version of the seven-seater Caravelle for an early Spring drive through the Bavarian countryside. Climbing up into the driver's seat, the view was commanding through a big screen. This model has the standard six-speed manual gearbox, which was light, with well-spaced ratios. The twin turbo, 180bhp Tdi engine was powerful enough to propel it along at saloon-type speeds, despite its considerable weight – about two tons.
The VW made light work of the small roads winding their way through villages. Driving through rural countryside, we then climbed into dense, managed woodland. Spying a track up into the woods we pulled off the tarmac and climbed a muddy track into the area that had been cleared for cutting trees. With only one vehicle and no recovery gear, it would have been foolish to test the van to its limits, but in mud and slush on a gentle climb, it was perfect – no hint of wheelspin and a high level of comfort afforded by the independent suspension.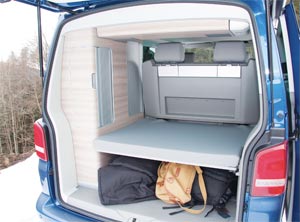 Easing it onto a gentle downhill area of snow-covered field, we could continue down and exit, safely, at the bottom, but it was worth trying to reverse out. It is difficult to imagine a more slippery surface, but, once again, the 4Motion simply reversed out of the situation free of all drama.
Next up was the California camper van. Fully-equipped with everything a family of four would need, it is fitted with the less powerful, 140bhp engine but same six-speed manual 'box. VW has established itself as a leader in fitting the most accommodation into a van, without it seeming any smaller inside. It's a miracle of ergonomics and means that this van retains the same discreet lines as the others, but push a button and there is a whirr of little motors and up pops the roof!
The drive back to Munich was along a section of Autobahn where we stretched the California's legs. Despite this being the smaller-engined variant, it accelerated quickly to a top speed of 110mph and felt very stable, giving the impression it could sit there, in the outside lane, all day.
Realistically, it is probably the California camper conversion that will appeal most to the UK market. The surfers of the '70s – but still with a healthy sense of adventure – would enjoy the chance to do it all again, but with reliability and speed. Hovering around £39,000, the California is not cheap, but with its combination of mid- 30mpg consumption, sprightly performance and medium size, it covers all the requirements of a family vehicle, while satisfying the craving for those longed-for weekend adventures.
VOLKSWAGEN
VW T T5 4Motion Transporter
Price range: £20,850-£44,465 + VAT OTR
California 180PS Bi Turbo
PERFORMANCE
Engine: 1968cc common rail diesel, available in two power models
Transmission: six-speed manual, seven-speed auto option
Power: 138bhp@3500rpm/178bhp@4000rpm
Torque: 251lb ft@1700-2500rpm/295lb ft@1500-2000rpm

0-62mph: 13.5-9.9secs
Fuel economy: 34.4 to 37.7mpg
Co2 emissions: 219-205g/km
CHASSIS
4WD: Permanent 4WD with locking rear diff
Brakes: front and rear disks with ABS
Suspension: Independent
DIMENSIONS
Wheels/tyres: 18/19in alloys/255/40 R19 or 225/45 R18
WEIGHTS & LOADS
Kerbweight: 2600-3000kg
Payload: 1000kg
Towing weight: 2200kg
OFF-ROAD
Ground clearance: 165mm
OVERALL
We like: Subtle styling, car-like comfort, super smooth seven-speed auto box and high cruising speed
We dislike: 180bhp sounds a powerful engine, but this is quite a heavy truck and it needs all of that to maintain its car-like performance
Verdict: A great addition to the legendary VW Van timeline, offering very sprightly performance matched to the usual VW build quality, refinement and reliability. The saloon-like handling makes this an easy van for all to drive and the 4WD system will cope with most situations likely to be encountered in normal use.
Overall verdict: 9/10