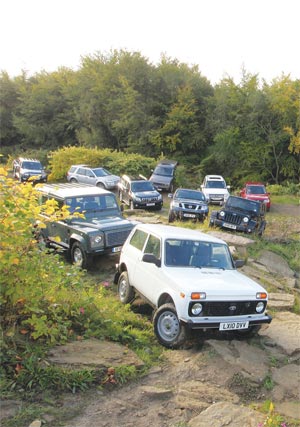 To welcome the New Year in style we bring you our biggest and best test of the year. The top 4×4 vehicles, split into six groups tested on- and off-road, but which is the ultimate production 4×4 for 2011?
Words: Kevin Baldwin; photos: Wayne Mitchelsn
The past 12 months has been a funny old year within the car industry. Cars that had been set for launch have been put on the backburner while manufacturers get their finances in order, and low-volume sellers have been chopped from model ranges. With the industry tightening its collective belts, just getting 4x4s on loan from scaled-down press fleets has been a tricky business. In the case of Jeep, it had the added complication of a corporate buyout, which resulted in an almost no-show at this year's event from the oldest manufacturer of 4x4s in the world.
Last year Jeep won three groups with its Patriot, Cherokee and Wrangler models. We managed to secure a Wrangler model this year – only just mind – but that was from new owners Fiat. One does have to worry about Jeep in the UK. It offers decent 4x4s, packaged at the right prices, but in spite of this the UK buyer seems reluctant to buy into the Jeep brand. There's a new Grand Cherokee in the US this year:
So far we've received no word on a UK launch. The Wrangler has been given an interior makeover in the US but, once again, there's no word on the date of that UK launch. The ugly ducking Compass bombed everywhere and, not unsurprisingly, has been pulled from sale, but inexplicably, the Cherokee, our SUV class winner last year, has also disappeared from Jeep's own website. Watch this space…
The good news is that we did get the 'new' Toyota Land Cruiser that came out just too late for last year's event. It is seriously competing with Land Rover's Discovery 4 and is an impressive update, but can it knock the mighty Solihull machine off its perch? The bad news is that the new Mercedes G-Class wasn't available for testing, which left us bereft of another top class 4×4 on and off the road.
A few other models didn't make the event due to lack of availability in these troubled car industry times. With a scaled-down entry, our mantra had to be you've got to be in it to win it. Read on…
To read more about the 4x4s of 2011 see the January 2011 issue of 4×4 Magazine – click here for back issues