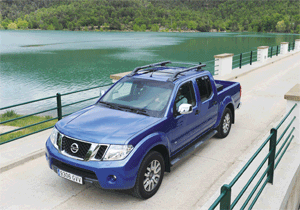 Nissan's well-proven Navara truck picks up a power, emissions and consumption upgrade plus meaty V6 turbodiesel that oozes torque. Of course there's been the inevitable cosmetic tweak, too.
Words: Graham Scott; photos: Nissan
Peeking into the cargo box in the bed of the Navara showed that Nissan takes hardcore seriously. I'd been thinking the ride wasn't bad for an unladen pick-up with leaf springs and the sneaky peek confirmed what I thought – the box was full of hardcore, helping settle the ride. In case you're thinking of buying a Navara and getting enough free hardcore to sort your garden path out – this is not standard fitment.
There's actually quite a lot that is standard fi tment on this upgrade to the hard-working Navara, but the main point of interest is the upgraded 2.5-litre turbodiesel four-pot engine or else, coming in the fourth quarter of the year, a 3.0-litre V6 turbodiesel.
Three years ago sales peaked for the Navara, which was launched in 2005, and it was time for a revamp. The Navara, despite the high spec levels, is fundamentally a working vehicle and the V6 turbodiesel option we drove on the launch in Spain is not just there to sound nice. It is there to add more power and refinement and to enhance long-distance travel as well as towing capacity.
For that you need some torque – and that you get. There's a fl at torque curve from 1750rpm to 2500rpm and the headline figure is a whopping 406lb ft. Feeding through a seven-speed auto box, power comes in smoothly, low down and with a pleasing vigour. You have to shove the throttle down a surprising distance to engage kickdown and it's generally better left in auto mode if you want to make smooth progress. With 70mph coming up with barely 2000rpm showing, this is a relaxing mile muncher.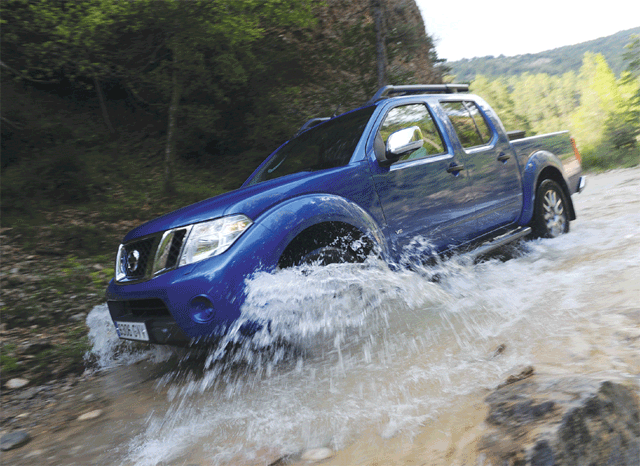 That grunt gives a towing capacity of three tons. If you need more than that then buy an artic. There is also an option of a revised 2.5-litre four-cylinder turbodiesel. This has managed to up power by 11 per cent yet produce lower emissions and improve fuel consumption. Changes to the fuel-injection, turbo and cylinder head seem to have done the trick.
We didn't have a big trailer to tow, but we did have one driver, one passenger, about a hundred kilos of kit and a large dinner apiece to transport. Using the Double Cab version (there is a King Cab alternative), quite a bit of kit fitted in the rear while the loadbed swallowed the rest with obvious ease.
Just before this launch I spent two days with the old model Navara and one of the really useful tricks they've carried over is the highly flexible C-Channel tethering system. This gives five rails on the load floor and on the sides with movable, self-locking cleats so that you can easily secure any shaped or sized load. It really works. The Double Cab has a load space of 2.36m2, the King Cab 2.9m2, claimed by Nissan to be best in class.
On the move the Navara does all you want of it. Sure, the ride is a compromise but it's always going to be with a pick-up. Offroad it also handled some dusty trails fairly well. This isn't meant to be a really serious off-roader but the combination of 228bhp and road-ripping torque was too much for the leaf-sprung rear axle to cope with. On rocky slopes we spun and scrambled and bounced, giving plenty of shocks to the transmission, along the way. On muddy tracks or construction sites – this vehicle's more likely backdrop – the four-wheel drive system will handle things more than adequately. ESP is available but you get a full ladder chassis and a low-ratio box as standard for when the going gets tough.
The four-wheel drive system and much else is all accessed through the neat fascia in the revised interior. Fit and finish are improved, but then it was pretty impressive to start with. For a vehicle capable of being put to manual labour as it were, it's built in Spain to a high standard and with a high level of either standard or optional equipment.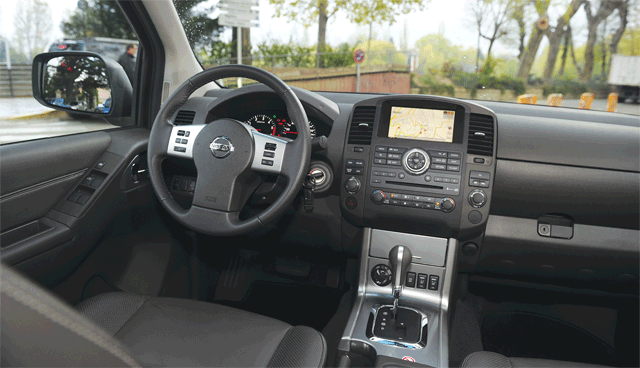 Final details have yet to be finalised but this test vehicle was fi tted with the very useful Nissan Connect Premium, which combines sat nav with DVD player (when you're stationary), Bluetooth, iPod, reversing camera and loads more that the teenagers will appreciate.
With reworked seats and storage, and high quality switchgear this feels like a really solid office. After several hours we found the lower-back support could have been better, but since we lacked the essential builder's cleavage in that department that may be an irrelevant comment. The exterior has had a mild make-over, largely to make room for that V6. New grille, bumpers, bonnet and lights are the main changes, along with new 18in alloys, but it still looks very much like it should.
Overall, this is a step up on what has always been a fairly popular and classy workhorse. The 2.5-litre cheapest version will be the Navara Acenta King Cab at £19,807 plus VAT. Prices for the V6 version have not been set but will probably be around £28,000 plus VAT at whatever rate it is by then. Add in some of the extras like the Connect Premium and you'll be looking at low 30s. So how's your business doing lately?
NISSAN
Navara V6 TD Double Cab
Price range: £19,807-£28,000tbc
PERFORMANCE
Engine: 3.0-litre V6 common rail direct multi-injection TD
Transmission: seven-speed auto with selectable four-wheel drive
Power: 228bhp@3750rpm
Top speed: 112mph
0-62mph: 10.8secs
Fuel economy: 33.2mpg
Co2: 224g/km
CHASSIS
4WD: high and low ratio transfer boxes, switchable four-wheel drive
Suspension: Front: Double wishbone with coil over strut
Rear: Rigid leaf spring
Brakes: Front: ventilated disc with ABS, EBD and Brake Assist
Rear: drum
DIMENSIONS
Wheels/tyres: 17in alloys/255/65 R17
Lgth/Wdth/Ht: 5296mm/1848mm/1783mm
WEIGHTS & LOADS
Kerbweight: 1990kg
Payload: 1120kg
Load volume: 1077litres
Towing wgt: 3000kg
OFF-ROAD
Approach angle: 30°
Departure angle: 24°
Ramp breakover: 22°
Ground clearance: 228mm
OVERALL
We like: V6 TD adds real-world practicality as well as a bit of class. Interior design is now even better.
We dislike: Leaf-sprung rear gets overwhelmed. Some of the top elements are extras.
Verdict: A well-proven luxury workhorse soon available with extra smooth grunt. Practical and well appointed, but this may well be the last signi cant facelift for this model.
Overall verdict: 7/10