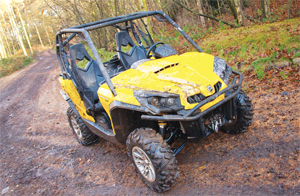 A wet Warwickshire woodland seemed the perfect place to try out the new Can-Am Commander 'Side-By-Side' – open up the 1000cc Rotax V Twin engine, see how good the Maxxis Bighorn tyres were and generally have some fun!
Words & photos: Toby Savage
When Joseph-Armand Bombardier formed Bombardier Recreational Products (BRP) in Quebec, Canada, back in 1937, he launched a small tracked vehicle to cope with the deep winter snow. This grew to Snowmobile production, then Jet Skis and Quad Bikes. Along the way the company acquired Evinrude engines for the nautical range and the Austrian engine company, Rotax, for the Quads and ATVs. They have built up a formidable reputation over their 70-year history for both reliability and performance.
'The figures speak for themselves,' assured the PR people at the test site, and stepping into the latest, most powerful addition to the range, it was clear that this had been designed to be comfortable, safe and fast.
The 976cc Rotax V twin engine is a thing of beauty in its own right, although exactly where it is in the Can-Am Commander remains a mystery, as it is well protected by thick plastic bodywork. But hit the start button and a lovely big V-twin noise erupts from somewhere within the machine. Not the 'potato, potato' sound of a big Harley Davidson, but more the purposeful growl of a Ducati. Just one of the twin cylinders would be perfectly adequate in terms of power, but where would the fun be in that?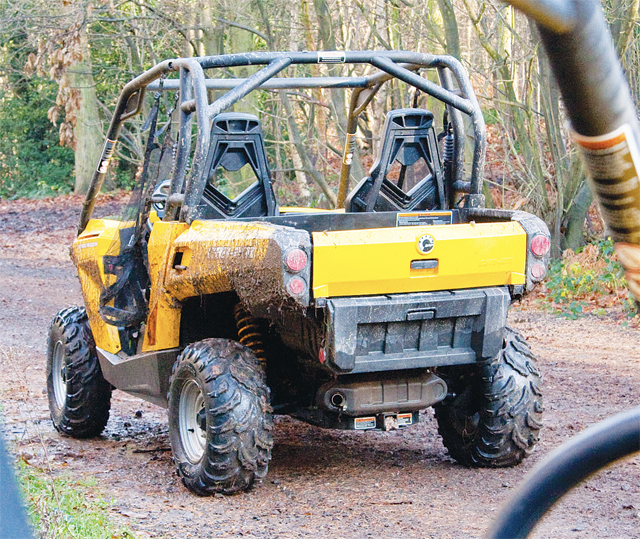 Can Am Commander 1000 XT
Price: c£15,000
Engine: 800cc Rotax/976cc
Transmission: auto
Max power: 71/85bhp
Top speed: 44mph
4WD: selectable, high & low ratios, locking front diff
Economy: n/a
Suspension: double A-arm with dive-control geometry, front; trailing arm independent, rear
Brakes: disks all round
Wheels/tyres: 14in cast aluminium/Maxxis Bighorn 2.0 R14
Load volume: 272kg
To read more about the Can-Am Commander see the March 2011 issue of 4×4 Magazine