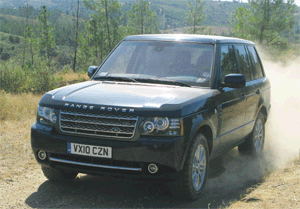 The Range Rover is celebrating a significant birthday this summer. In company with most of its customers, Land Rover's flagship 4×4 has passed the big 4-0, and by way of celebration it has been equipped with a new, more powerful and cleaner diesel engine plus a few cosmetic touches.
Words: Sue Baker; photos: Sue Baker & Nick Dimbleby
In place of the previous 3.6-litre TDV8, the Range Rover, at a rather fabulous 40 years young, has acquired a new 4.4-litre double turbo unit. The gearbox is new too, an eightspeed ZF auto accompanied by steering column paddle shifts.
The new 4.4-litre TDV8 has parallel sequential turbocharging and has been equipped with new ceramic glow plugs that heat up faster and operate at 250 deg hotter than conventional steel glow plugs. As a result of all the changes, power is increased by 15 per cent and torque is up by 9.4 per cent compared with the previous engine.
Not at the expense of higher thirst, however. Fuel consumption is better by 18.5 per cent on the official combined cycle, and for the first time it now tops the 30 mpg barrier – only just, though, at 30.1mpg. Meanwhile, CO2 emissions have been cut by 14 per cent to 253g/km.
At the same time as this technical upgrade, Land Rover has introduced a raft of 2011 model year changes to refresh the Range Rover's interior. Open the door, and you immediately notice an upgrade in the cabin. Features first seen in the Jaguar XF and new XJ, from Land Rover's sister company, have now migrated across into the Range Rover. It is now equipped with the same rotary gear selector that is such a pleasingly tactile and theatrical feature of the two Jaguars. There are now steering column paddles to shift gears when you're feeling in a particularly sporty mood.
A couple of useful off-road features have been added. For 2011 the Range Rover now has Hill Start Assist to let you move your foot from brake pedal to throttle without the luxury limo rolling backwards, and Gradient Acceleration Control that pressurises the brake system to make driving on severe gradients safer.
So what's our verdict on the 4.4-litre engine? It is very impressive, with ample power to propel very effectively this 2.8 tonnes weight of 4×4, but it does so with remarkable discretion and refinement. Most of the time the engine does its work quietly and with remarkably low intrusion into the cabin. That largely because, with that much power, it doesn't need to work hard under most normal driving conditions, and because noise insulation is excellent.
You might expect it to become more vocal when you push it a lot harder, but even then, the engine never becomes gruff or noisy. The sound it makes is pleasing, a ear-candy sweet, rich V8 burble. When a diesel engine is as good as this, you do wonder why anyone would ever consider a petrol Range Rover.
Driven on-road, which is where a vehicle as plush as this will obviously spend most of its time, the Range Rover 4.4 TDV8 is a superlative performer. It does seem rather a pity that quite a few of its customers will never discover just how remarkable it is off-road.
Bravely, for a 4×4 costing the same as a small northern counties house, Land Rover set a driving route for the international launch in the Douro region of Portugal that included a sizeable loop of rugged off-road terrain. It started with a pockmarked dirt track, but progressed via a lengthy diversion along a boulder-strewn river where the water was a bow-wave ahead of the Range Rover's bonnet. Then we climbed a mountain via a series of sharp ascents and steep, tricky, rock-scrambling descents.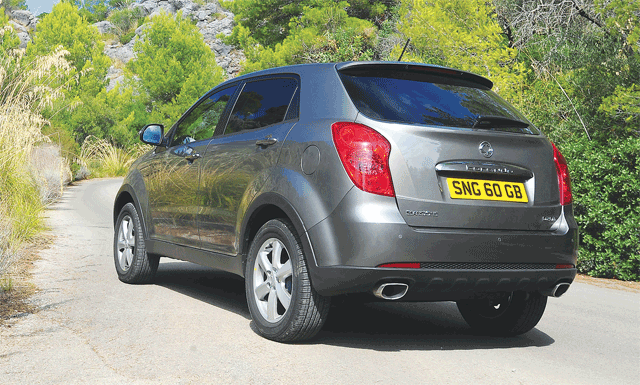 Here the multiple-camera kit came in very useful, allowing you to view low-down in front and down the sides of the beast via a multi-screen view on the dashboard monitor where the sat nav map would normally be shown.
The off-road section of the route was deliberately devised to explore terrain as extreme as the Range Rover is capable of transversing without undue risk of damage, and it was useful in enabling us to explore every setting on the Terrain Response control. This has changed from the previous circular selector to a new slider panel just behind the gear selector.
For all its impressive agility, the newest Range Rover does have one annoyance. There is still no provision to view sat nav turn instructions on the dash display directly in front of the driver. So when a spoken instruction is ambiguous you have to turn and look at the smallish colour touch-screen in the centre of this wide off-roading limousine. In a vehicle with a starting price of over £67,000, and on sale in October, that's really not good enough.
Range Rover 4.4 TDV8
Price range: £67,495 to £81,500
PERFORMANCE
Engine: 4367cc, eight-cylinder, 32-valve turbodiesel
Transmission: eight-speed auto
Power: 309bhp@3250-4000rpm
Torque: 516lb ft@1500 to 3000rpm
Top speed: 130mph
0-62mph: 7.8secs
Fuel economy: 30.1mpg (combined)
Co2 emissions: 25 g/km (VED group L)
CHASSIS
4WD: permanent, high/low range, air-suspension, Hill Descent Control (HDC) ,ABS, Traction Control and Dynamic Stability Control (DSC)
Brakes: front & rear ventilated discs
Suspension: front MacPherson Strut; rear double wishbone
DIMENSIONS
Lght/wdth/hgt: 4972/2034/xxxmm
Wheels/tyres: 20in alloys, Continental All-Terrain 255/50 R20
OFF-ROAD
Approach angle: 29-34°
Departure angle: 24-27°
Ramp breakover angle: 24-30°
Ground clearance: 292mm
WEIGHT & LOADS
Kerbweight: 2580-2810kg
Payload: 3200kg
Towing weight: 3500kg
Load volume (seats upright/folded): 994/2099 litres
OVERALL
We like: Engine power and refinement, Hill Descent Control added, Gradient Acceleration Control
We dislike: No sat nav turn repeaters, high price
Verdict: The new 4.4 diesel engine is a big improvement, more powerful but excellent refinement, better mpg and lower CO2. Off-road ability still very good, more capable than most buyers will ever discover.
Overall verdict: 9/10