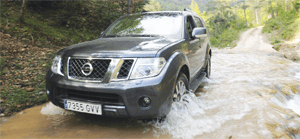 The revised Nissan Pathfinder has been refurbed to create a more luxurious feel and takes the road less travelled
Words: Graham Scott; photos: Matt Fowler
In the UK the Pathfinder is almost a bit of an anomaly, an unusual vehicle to see out and about, but in Europe, and particularly Spain where it's made, you'll see them all over the place. The Pyrenees seem to be full of them at the weekends, being used as God, or Nissan, intended.
Nissan UK's range, outside the passenger cars, focuses more on its crossover vehicles. The Qashqai is indeed the cash cow here and in Europe. You have to have a minor rummage beyond the headlines on the Nissan site to find its 'intelligent 4x4s'. No hardcore Patrol here any more, but instead the X-Trail which you could argue is a crossover, and the Navara pick-up. That leaves just one large 4×4 in the range – the Pathfinder.
It certainly is large, as a cursory walk-round shows, but that space means a very flexible interior with the option of seating seven people. In fact, there are 64 combinations of seats and space, and if you're very naughty I'll read them all out to you. In the meantime, let's get in.
The Pathfinder was launched in 2005 and sales have been gently sliding since 2006 so it's clearly high time for a refurb. Inside, there are new trims, fabrics and so on as well as upgraded fascia, switchgear and comms options. Things like the switchgear now feel very high quality and it's a mildly luxurious feeling in there, helped by the two-tone leather and wood interior of our Teknagrade test vehicle.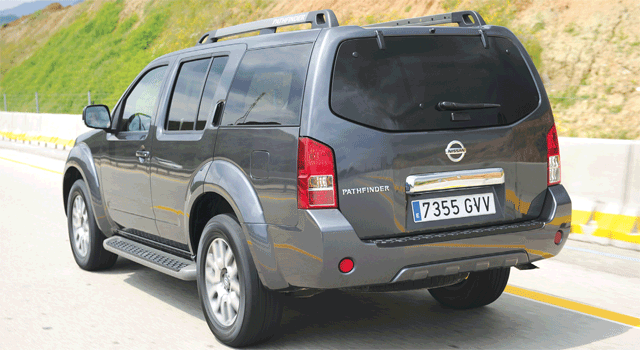 As ever with Nissan there are two grades, Acenta and Tekna. With the more expensive Tekna grade you also get the Nissan Connect Premium as standard. This gives you 3D mapping, iPod connection, Bluetooth and 9GB of music storage. It also offers a rather useful reversing camera and it also doubles as a DVD player when you're parked.
The front end has new bumper, bonnet and grille and under it is the 2.5-litre dCi turbodiesel – no other engine is on offer. This one comes with a six-speed manual or there is the option of a fivespeed auto. We had the manual which is certainly the better partner for the diesel although, intriguingly, the auto delivers a fractionally faster 0-62mph time (10.7 instead of 11 seconds).
Power is up, torque is up yet emissions and fuel consumption are both down – there's a good trick. With 188bhp at 4000rpm and 331lb ft of torque at 2000rpm, there's plenty of unhurried get up and go. The engine is torquey and fairly smooth, with NVH (noise, vibration and harshness) at pretty low levels. Nissan has been better at tackling NVH than many other manufacturers for some years.
Out on the road, it's happy to pull strongly from 1500rpm, allied to a smooth-shifting gearbox. The ride is good and the turning circle feels particularly good. As ever, these things are a compromise, but road manners are not heavily compromised. Whisking through the twisty Pyrennean roads on the test, the Nissan showed little tendency to head off into the greenery unless you asked it to.
Once off-road, it was a simple task to switch into four Low or High, thanks to a large, knurled knob on the fascia. We didn't have the option of getting into any serious territory, but we tried enough to show that the Pathfinder can certainly handle most paths that it finds itself on.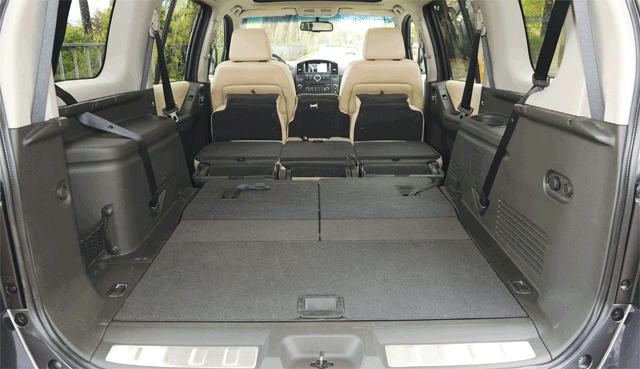 We covered hundreds of miles, mostly on-road, and the interior showed itself to be solidly screwed together, with a high level of equipment (not forgetting that ours was the higher-spec model). The seats seemed to get comfier and comfier, the miles flew by and you could see how this would work as a family vehicle for those who like exploring on-road and off-road, here and abroad.
In truth, the Pathfinder still feels slightly odd sometimes, like it's the answer to a question not many people ask in this country. It seems more Euro than Sterling. As such, that may add a little cachet to ownership in Blighty, but if you've got about 30 grand to spend and have a need for travel as well as for a large, flexible vehicle, then the Nissan Pathfinder might be right up your path.
NISSAN
2010 Pathfinder 2.5dCi
Price range: £28,495 – £33,095
PERFORMANCE
Engine: 2488cc in-line four-cylinder turbo-diesel
Transmission: six-speed manual
Torque: 331lb ft@2000rpm
Power: 188bhp@4000rpm
Top speed: 115mph
0-62mph: 11.0secs
Fuel economy: 33.2mpg combined
Co2: 224g/km
CHASSIS
4WD: part-time 4×4, dual range with ESP
Suspension: front: independent, double wishbone with coil over strut rear: independent multi-link with coil springs
Brakes: ventilated disc with ABS, EBD and Brake Assist
DIMENSIONS
Wheels/tyres: 17in 255/65 R17
Lgth/Wdth/Ht: 4813/1848/1770mm
WEIGHTS & LOADS
Kerbweight: 2090kg
Payload: 670kg
Load volume: 2091 litres
OFF-ROAD
Approach angle: 30º
Departure angle: 26º
Ramp breakover: 24º
Ground clearance: 228mm
Turning circle: 11.9m
Towing weight: 3000kg
OVERALL
We like: Quality of build and components; go-anywhere attitude; flexible interior space, towing weight
We dislike: No engine choice; it's got even bigger overall
Verdict: It's not a Discovery 4 (although pricing starts not that much below), and it's not a workhorse, it's occupying a niche almost on its own. If you have a big family or lots of friends and want to travel wherever, it's a good bet. If you are a singleton or a couple then you don't need something that covers such a lot of ground – either in terms of travel or in the sheer space it takes up.
Overall verdict: 7/10