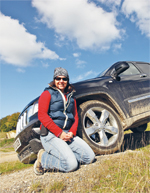 A trip skiing in the Alps just proves that good 4x4s never die, they just keep on off-roading. And long may that continue
I've been 'off-piste' rather a lot lately; and by that I actually don't mean off-road in our traditional sense, but mean hitting the snowy slopes, and the very snowy roads, of the French and Swiss Alps. I am an avid skier and spend a lot of time in mountains whether for work or pleasure. And, when I am in the mountains, I always take a keen look at what the locals are driving and how they cope with conditions.
Our recent bout of heavy snow here in the UK caused the usual chaos; roads shut, accidents everywhere and stupid people driving stupidly without thinking about what they are doing and displaying no common sense at all. A lot of people always say: 'Well, we're not used to it in this country as it only happens for a few days'. Yes, that's all very well, although hardly a decent argument to excuse the terrible winter driving skills that many possess; and, anyway, the last few years have offered up bad winters with plenty of awful weather to get us used to the rubbish conditions.