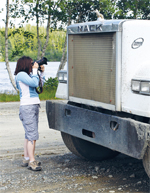 A recent trip across the Pond saw our Hils bowled over by the F-series Ford pick-up trucks. Talk about torque…
Last month the subject of my column was the Ford Escape, a huge-selling compact SUV in North America which was my mode of transport during a superb wildlife watching and adventure sports trip to Canada. It's a real shame the Escape's not available over here in the UK. But being in North America really brings home just how 4×4-aware our cousins over the Pond are, at least by comparison to most people over here.
Before that Canadian visit, my most recent venture over there had been to Utah and Arizona, two states I overlanded through and fell in love with, dazzled by the quantity and variety of cool trucks I encountered. This time the destination was British Columbia, and I was equally impressed and delighted by the array of humongous trucks and SUVs.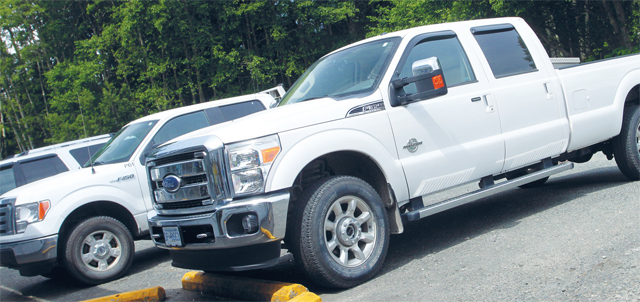 Even downtown Vancouver was awash with pick-ups, despite the urban environment. But once on Vancouver Island, particularly at its northernmost town of Port Hardy, the pick-up truck absolutely ruled OK; and in particular the Ford F-series. Not surprisingly, Ford is huge in the US; and, like the more compact, family-orientated, and excellent Escape, the F-series sells in ton loads – from the F-150 to the Super-duty 450. I have never actually been up close and personal to an F-350 before and it blew my socks off.
The F-350/450's front end resembles a hauliers' truck, with that gi-normous chrome grille and front bumper, massive headlight cluster, again adorned with more chrome, and the biggest door mirrors you'll find on a 'family' truck. That's the thing about North America, it's all about size and image; and I love it. It's so refreshing being in a country where the 4×4 is prominent and proud. It is celebrated; not abused and scorned and fought against (see News pages and our Ed's comment this month on the latest ridiculous attempt to ban us from legal lanes in the Peak District).
During my fortnight in British Columbia, and mainly on Vancouver Island, I encountered every form of F-Series truck. Standing up against various 350s obviously made me feel pretty insignificant: "You'd need a real bunk-up to get in that cab, li'l lady," laughed one owner; darn sure wished I could have launched myself inside and taken the beast for a spin. The latest 2012 F-350/450 Super Duty models are powered by a whopping 6.7-litre power-stroke V8 turbodiesel, alongside the expected gas-fuelled 6.2-litre model. Diesel has become more popular over there, and it will be interesting to see how it has sold this year.
Now, brace yourself for some figures: OK, so the power number of 400hp perhaps isn't so brain–busting, but the torque figure of this latest monster is quoted at… 800lb ft @1600rpm, yes that's right, 800. 'An awesome best in class' says Ford; you betcha, and it will tow 17,500lbs, or several small houses. It does actually come in 4×2 guise, but I certainly didn't see any of those, whatever model or year. What would be the point?
The 450, extended rear axle, top-spec King Ranch model retails at US$64,030; but it's the 250 and 250 that you'll spy more often and they normally come packed to the gunnels. In Port Hardy, they were owned by fishermen, loggers and, well, just about anybody who could afford one. Equipped with Hill Start Assist, Hill Descent Control, Electronic Locking Rear Diff and Tow/Haul mode with engine exhaust braking function, Trailer Sway Control and Trailer Brake Controller, this is pretty indestructible and will just about get you anywhere, space permitting.
Another marque that caught my eye was the Mack truck. On a stroll into bear wilderness I came across a deserted boatyard for sale with a huge Mack Super Liner truck that looked like it had toured the continent a few times. These were introduced in 1977 as a Class 8 heavy-duty truck, but discontinued in 1993. Mack still flourishes today, with its heavy-duty version continuing as the Mack Titan. These are enormous, and very popular with the loggers. Its symbol is a bulldog, appropriately, and if you see one with a gold bulldog it means that the entire truck has been made from Mack components; those with chrome dogs have transmission, engine and rear axles from other manufacturers.
Every car park on Vancouver Island was awash with pick-ups trucks and a few SUVs. At a lunch stop halfway down Vancouver Island a whole row of 30 vehicles in a car park was entirely made up of pick-up trucks, and predominantly Fords. Where else in the world would you find that? I loved it, and felt right at home.
Can you imagine the noses in the air and sharp intakes of breath in any town centre in the UK where a car park was totally dominated by 4x4s, let alone pick-up trucks? It was so refreshing to spend time in a country that loves and nurtures its 4WD fraternity and embraces the vehicles' practicality and safety. Our homegrown complainers and whingers certainly forget about that… although winter is fast approaching and perhaps there'll be some 4×4 heroes again saving lives, rescuing the stranded and assisting people in remote areas?
Can't wait until I visit the North American continent again: home is where the heart is, and a huge chunk of my 4×4 heart is certainly 'over there'.
Hils
---
Read Hils' column every issue in 4×4 Magazine – subscribe here!