A trip to North America allowed our Hils to try out the Escape, Ford's best-selling SUV, and brought back memories of when the Explorer was here in the UK…
I recently took a spot of R&R and spent some time in Canada, British Columbia to be precise, to get up close and personal with some amazing wildlife in their natural habitat; grizzly bears, hump-backed whales and orcas, eagles, seals, and all sorts. But while there I also had the chance to drive the length of Vancouver Island, from Port Hardy in the north to the state capital, Victoria, in the south. That's the equivalent of Kent to Edinburgh, roughly, so a good chance to see the glorious landscape and perhaps drive something a bit different.
It's not often we get the chance to get behind the wheels of vehicles not available in the UK, so when the nice man at Budget car rental said, "You're down for an SUV; you have a choice of a RAV4 or a Ford Escape, which do you fancy?" I was slightly disappointed, as the confirmation email had said 'Ford Explorer, or equivalent' and I really wanted to experience the latest incarnation.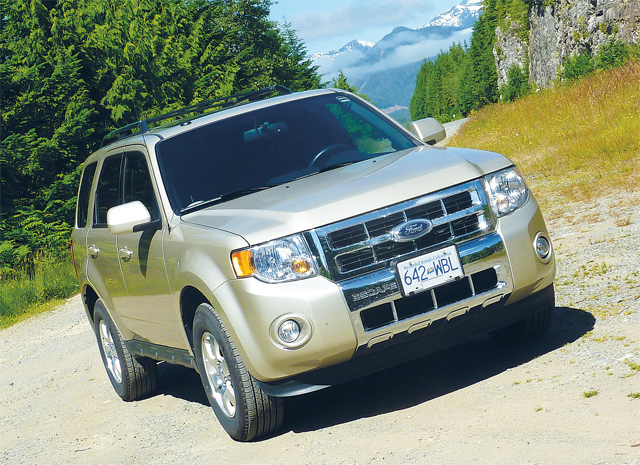 We have not seen the Explorer in this country for a very long time. We ran one on the magazine for about a year, as a long-termer, back in the Off Road & 4 Wheel Drive days and I was lucky enough to be the caretaker of that 4.0-litre petrol-lumped burgundy Ford for three months. I loved it, and it was a pretty good off-roader, too.
So I hid my disappointment at not getting behind the wheel of a 2012 Explorer for the first, and probably only, time, and made my decision. It was a no brainer really. I have driven countless RAV4s over the years, but never a Ford Escape, and that is also not available here in the UK, which is a great shame. We have the excellent Ranger pick-up truck and the Kuga and that is it from Ford; considering the popularity of the blue oval badge here in the UK, it is a shame that the 4×4 market is only represented by two vehicles.
And so to the Escape: this is the best-selling small SUV in North America by a good margin it seems, and I can see why. The 2013 model Escape, not out until next April, will retail at US$ 22,470-32,120, delivers 240hp and 270lb ft of torque and is selling well. I didn't get to drive this, but had the 2011 version; to be honest I actually prefer its looks, as it reminds me of the old Explorer with that typical, more boxy, old-school SUV demeanour that has now given way to the bulbous curves that are so popular among the current SUV fraternity. My 'yellow' Escape looked like a proper 4×4, although it doesn't have a sensible drivetrain in my opinion. Unlike the old Explorer, which had a low range transfer case, the Escape is 4×2 with an intelligent AWD system that kicks in when required. Sigh…I do miss those rapidly diminishing transfer levers with their reassuring clunks and that delicious low-range gearing.
So, leaving Port Hardy for the 350-odd mile drive, I settled into the soft leather seats and off we went. Being in North America, the Ford naturally was an automatic, a six-speed mated to not the conventional 2.5-litre 171bhp petrol lump, producing 171lb ft of torque, but the 'Flex Fuel' 3.0-litre Duratec V6 Limited spec. This model is designed to operate on standard unleaded 'gasoline' or E85 alternative fuel (85 per cent ethanol and 15 per cent petrol) whenever available to purchase. And that V6 on standard gas felt a real punchy dude. The long highway (No 19) from Port Hardy on the north west of the island has a speed limit of 50mph most of the way, but there were opportunities nearer our destination when dual carriageways and more enjoyable speed limits meant I could let rip.
For what we would call a mid-sized SUV, the Escape is an impressively smooth and gutsy little accelerator. That punchy 3.0-litre V6 offers a more powerful alternative to its big North American rival the Toyota RAV4 and it was a delight to cruise along in a pretty quiet petrol-engined 4×4 for a change.
In fact, when we had to stop for fuel – just to make sure we'd get to Victoria even though the Budget guy said the tank would be 'way good for it' – I had to think a minute before reaching for the 'gas' nozzle; felt very weird. But that was the only strange aspect of this little belter of an SUV. The luggage capacity in the boot was impressive; with all four cases – two large ones and two full-size, hand luggage bags – fitting in neatly. So it left the roomy back seat empty for chucking excess clothing, cameras etc.
The dash layout is simple, user-friendly and attractive enough with welcome cruise control for keeping to that low speed limit and highly efficient air con; yes, it was surprisingly hot on our long drive.
As I said before I love the 2011/12 Escape's boxy 4×4 looks with the high beltline and raised bonnet, oops… sorry…'hood'… and think it's a shame that the 2013 model hasn't got a bit more individuality. It's also a shame that I will probably never drive a 2011 Escape Limited V6 ever again…
Hils
---
Read Hils' column every issue in 4×4 Magazine – subscribe here!