It's been a while coming and we've waited way too long, but finally this month we have managed to bring you the twin test pitching the Volkswagen Amarok against the lesser-spotted Ford Ranger. If you want to buy either, you'll have to wait…
After a long wait, the Amarok finally came out in 2011, its arrival dates having been put back by VW. We loved it for its incredible hi-tech off-road ability, improved cab experience over long-standing competitors, excellent build-quality and reasonable road ride for a rear leaf-sprung truck.
A year ago, Ford showed off its brand new Ranger at the Commercial Vehicle Show at the NEC and attracted swarms of interested commercial fleet buyers, eager for production and delivery dates.
We have waited a year since then to get our hands on one from the press fleet as, although built in South Africa, many parts are manufactured in Asia and, due to the various terrible disasters in that region, getting them across to Africa and delivered into Europe and the UK is proving somewhat difficult.
I had an online chat with a dealer offering a full list of new Rangers with nice discounts. I asked the question: if I was interested in ordering a Ford Ranger 4×4, no specific spec details as yet but just enquiring, what's the delivery date roughly? My online chat window sprung back immediately in red text: 'Eight months, we have no stock at all'. Wow! We all knew that supply was difficult, but eight months? That is astounding. I certainly wasn't quite expecting that. And, of course, you can always take estimated delivery times with a very large pinch of salt anyway, so maybe 10 months might be nearer the mark?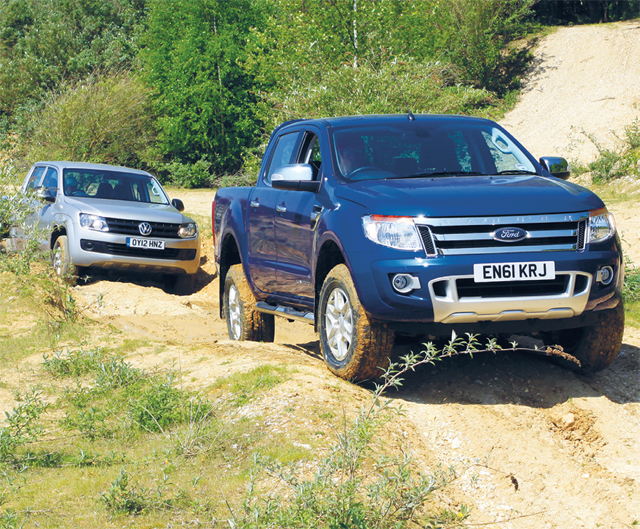 Ford is, apparently, building them to order in South Africa, so the backlog must be horrendous. I know of a commercial company that has ordered scores of them, so who knows how long they will have to wait?
The Amarok is not looking too much better. Still online, I went to Google and typed in a relevant search question. Up popped a VW Amarok forum where the first entry read: 'Ordered my Amarok on 28th May, I asked the dealer when was production date. His screen told him 12th August with expected delivery 28th October'. So that is five months from order date. This was a Belgian customer, but he wants to buy a German vehicle built in Argentina and that's only three months better than the Ranger – and the VW's been around for a year or so – and, once again, you can probably take the first estimate with a pinch of salt. Presumably things will improve when Amarok production starts in Hanover (see News).
So, if you are thinking about ordering a new Ranger, or even an Amarok for your business or pleasure, be well prepared for a long wait. Of course, we have to say that it is worth it, as both trucks are excellent and represent good value for money, particularly the Ranger.
For those not prepared to wait that long, then the new Isuzu D-Max, as featured this month in our first drive on page 18, may benefit from buyer impatience, with its vastly improved design, affordable price and that new five-year 120,000-mile warranty. We don't have delivery estimates yet, but it is available for test drives in dealerships now.
Last month I was talking about the effect of the Defender DC 100 prototype and the future of Land Rover as a commercial and aid workers/emergency vehicle truck. I wondered whether some true typical and traditional users, such as mountain rescue teams, will stray towards pick-ups, as the utilities are, as demonstrated by this year's CV Show where there were plenty of modded Japanese trucks but not a single Defender.
A little bird, well actually a rather large one as it goes, tells me that a mountain rescue team in Yorkshire has just ordered a Ford Ranger, which will be the first non-Land Rover vehicle it has owned. It will be very interesting to see how they kit that out, and how it performs in comparison to their traditional workhorse, but it looks like they will be waiting a while to actually get their hands on the truck to fit all the mods it requires for such a tough and often dangerous job.
We love these new trucks, and we love the fact that serious users are recognising that they can replace the mighty Defender. But we certainly don't love the lack of availability and huge delivery times. If you are thinking of replacing yours in the near future, it might be a good idea to order now in preparation. It would explain why there are so few Amaroks on our roads – I've not seen one yet, have you? And don't expect many Rangers to appear soon. When I was driving around in the Ford for the pick-up test I attracted a lot of admiring and surprised looks (the truck got the thumbs up, too…). That was great fun, but also rather depressing knowing that I could very likely be one of a very few people actually driving one around the UK at the moment.
Hils