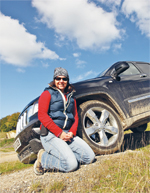 Surely we've had too many Land Rover shows, we need a broader outlook with these events. The recent Adventure Overland Show was a great example of what can be done…
Land Rover Shows – there are loads of them. But now, refreshingly, we have another, catering for all 4x4s, as reported in our News section last month, which is the Adventure Overland Show.
The plethora of Land Rover shows that litter the calendar from spring to early autumn is dominated by trade stands offering all measure of bolt-on parts to adorn your Land Rover and there is always a packed auto jumble spilling over with rusty old engines, doors, winch bumpers, wheels, seats, steering wheels, shackles, ropes, strops, winches. You name it, it's there.
That is all well and good for those who spend all their waking hours away from the day job tinkering with their beloved Solihull-built vehicle. It's a passion and they love all the old kit lying around in the rain with little attention to finesse or an attractive, ordered layout.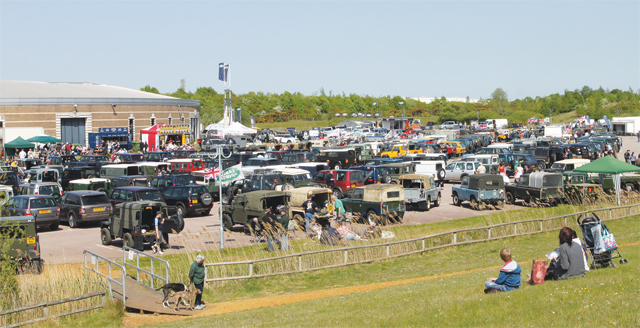 But in these tough times, when fuel is at a ridiculous premium, those who aren't quite so keen on getting up to their elbows in grease and nuts and bolts don't really want to venture to these shows. For one thing, people say they no longer seem so family-friendly, nor particularly welcoming to those who just want to be entertained in a decent venue with plenty to watch in a stimulating central arena and with access to all aspects of 4×4 including spare parts and accessories.
The Land Rover world thinks it is the biggest and best. Well, it may be the biggest in terms of ownership of rusty old trucks, which we do love by the way, but there are plenty of other 4x4s out there with owners who are keen to do something other than bolt on sometimes superfluous parts; who want to get away from it all and use their 4×4 to its best ability, other than as a commuter bus or school run coach.
I hear so many complaints about the huge number of Land Rover shows there are. There isn't anything else in the calendar that's big enough to cater for the enthusiast who wants some advice about where to take their non-Solihull 4×4 and how to improve it. Yes, there are smaller shows dotted about, which are great, and we hope they grow into bigger things in the future. And we know of some others that are at the planning stage, in excellent venues for 2013, but until a few months ago there had been no 'major' show dedicated to all 4x4s and significantly geared towards overland travel. For a couple of years, there was the very small 'RGS Overland Weekend' held at Torrington School in Yorkshire by an enthusiast who taught there. It was well received by those who went, but it now has, sadly, ceased to exist as the proprietor has ventured abroad.
I have been lucky enough to visit some of the best 4×4 shows in the world. The (in)famous Val d'Isere show in France was superb until it ended several years ago. The ski resort was taken over by 4x4s and the off-road racing demos high up in the mountains above made for a fantastic atmosphere. The Allrad & Abenteuer Show at Bad Kissengen, near Frankfurt in Germany, is Europe's top show. It caters for all 4x4s, and features everything from overlanding in seriously huge truck conversions that can transport a Suzuki Jimny inside, to light trailers to hook onto the back of your somewhat smaller SUV. The car parks at these shows are just as fascinating as the vehicles on display on the stands with every conceivable type of overland accommodation and vehicle you can imagine to be found.
Then there is the superb Overland Expo in Arizona, USA, which, as the name suggests, gives over a huge plot of land to global overland travellers, on two and four wheels, with lectures and films covering all aspects of adventure with top advice and the best possible kit available.
It's a huge business in Germany and the States and it makes us desperate over here to have some kind of established event that will be the Overland show that all current and future adventurers put in their diary a year in advance.
So, we were delighted to see that the new Adventure Overland Show in Northants as featured last month enjoyed good support from the trade; and there's a new, more suitable venue for 2013 at the Stratford Race Course. Plus, there is more good news in that we now have 'HUBB UK' which is another new show held near Donington Park over a weekend in late May early June. This has the aura of the US event we know as 'OVExpo', and will also cover four and two wheels (pedal and motorised) and feature films, presentations and lectures as well as the trade stands with their advice, equipment and vehicles.
We wish both these shows well and would urge you to make sure you get there if you are interested in overlanding. Even if you are not interested now, just go and marvel at what you could be doing with your 4×4 and enjoy the company of some incredible people; some of whom write for this very magazine! Look them up: www.adventureoverlandshow.com, www.horizonsunlimited.com/events/hubbuk/ and book your tickets. Merry Christmas!
Hils
---

Read Hils' column every issue in 4×4 Magazine – subscribe here!