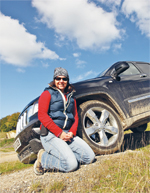 The famous AA phone box has just celebrated 100 years. Sadly, there are now only 19 'listed boxes' left, though none in use. And that is a great shame…
The recent wintry weather has brought to mind the brave and overworked AA teams who are always there to assist us motorists when we get into trouble. Yes, even 4×4 drivers are finding it tough in the floods. And the tragic death of the 4×4 owner who got caught in a flash flood gives us all food for thought – 4WD doesn't mean invincibility. So I hope you are all taking care in the floods, snow and ice wherever you are and your 4×4 gets you home safely this winter.
Getting us stricken motorists home safely is at the heart of the AA. And at the end of 2012, (which it is, as I write this), it's interesting to note that the year marked the 100th anniversary of the famous AA phone box. Yes, we all know that they are no longer used, since mobile phones have made them rather redundant. In fact, they were decommissioned way back in 2002, but there are still some excellent examples of the traditional old-fashioned box dotted about the countryside.

These days, there are only 19 traditional AA wooden sentry boxes on our public roads, and eight of them are Grade II listed. These are still maintained, either by the AA, the respective local council, the highways authority, the Welsh Assembly or the Scottish Parliament. Introduced in 1912, they were known as 'lighthouses of the road' and the very first was installed – 'Box no. 1' – at Newingreen, near Hythe in Kent; I love the fact that my native Kent plays a part in some motoring history!
What you may not know is that, at the start, there was no telecommunication offered in this first box for motorists, it was intended as a shelter for passing patrols. But it wasn't long before boxes were equipped with phones, so that AA members could make emergency calls. By the roaring 1920s, members were issued with a key to open them if a patrol wasn't about, so that they could call for help. There were now some 61 boxes of the 'stable-door' type with the upper part giving access to the 'phone, fire extinguisher and local info, while the lower part opened up to a small fuel supply, first aid equipment and cleaning materials. Hmmmm…. could really still do with a bit of that these days, eh?
Signs to direct you to the nearest box were installed in the '20s, as well as 'Super' boxes at major crossroads with illuminated signs. Colour schemes were also carefully considered to blend in with the countryside – nice touch that. Radios came in by the late 1950s so that patrolmen were contactable on their motorbikes and sidecar while on the move.
Those lovely wooden boxes lasted until 1968, when they were phased out for the modern pedestal phones, except for the listed boxes or those in areas of scenic beauty, of course; there were no keys and the number had risen to 787. In 1992 the even slimmer pedestal phone boxes were introduced, and these remained the standard until the mobile eventually killed off the static box.
The AA loves mobiles now, as they make it even easier to locate our vehicles by pinpointing positions by GPS or using the AA app. Apparently, they are developing a 'state-of-the-art' patrol despatch and diagnostic system that works on the mobile network, all assisted by 4G. But they haven't forgotten the old boxes. Indeed, the AA is keen to hear if any of you know of any wooden sentry boxes that are in private ownership or collections.
I've required the services of a 'very nice man' on several occasions, when an aging 4×4 has been struck down; for example, when the drivebelt snapped on my V6 Vauxhall Frontera Estate; or when the alternator packed up on my Jeep Grand Cherokee. And, although not a 4×4, I'll never forget when the rear nearside tyre of my Mazda MX5 blew out at 70mph on the motorway – that was scary; very lucky not to have had an accident. A female alone on the motorway in gloomy conditions, or a dark, remote country lane aren't ideal situations to be in, and the AA has always given priority to the more vulnerable motorist, and for that I thank them very much.
It's a tough job sometimes, especially in the winter when calls multiply by a ridiculous amount, and motorists can get very fractious and sometimes have little patience. I have never met a grumpy or resentful patrolman; yet they are often called upon to work in horrendous conditions. They deserve our warmest praise and respect. So, do drive carefully, so that you can avoid calling them up unnecessarily in this seasonal weather, thereby freeing them up to attend to the mechanical failures; and make sure you thank them for their efforts if your 4×4 does conk out in an inhospitable place. We'd be lost without them. Happy New Year to them, and to you all, and safe 4x4ing!
Hils
---

Read Hils' column every issue in 4×4 Magazine – subscribe here!