After all the emotion and successes at the London 2012 Olympics, Hils wants to know why there couldn't be a new sport for 2016 in Rio; let's welcome 4×4 off-road racing as a new Olympic event…
It's right in the middle of the London 2012 Olympic Games as I write this and I am enthralled and highly emotional. At this point I'd like to say that if you were not similarly impressed, especially after Team GB won three athletic Golds in one night, then there is something missing in your soul; the whole shebang is the most incredible event, and that Opening Ceremony was superb.
It had pretty much every ingredient: the stuff that makes us laugh, the stuff that makes us cry, and the stuff that makes us proud. In fact, there really was only one thing missing: at some point Mr Boyle should definitely have included a lovely old Land Rover Series 1, trundling around the perimeter of the magnificent stadium. To include James Bond, a true British icon of course, was fair enough, but not to have a Land Rover of some description taking part – perhaps transporting our very game Monarch across the stadium after her parachute jump – was just not cricket in my opinion! The Land Rover is loved all over the world and is something you see everywhere, particularly in its humanitarian and conservation roles.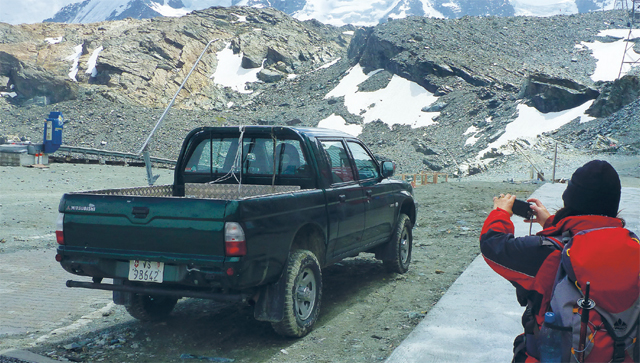 Watching the greatest show on earth, taking place just a few miles up the road from here, made me think about the events that are included and all the controversy about when tennis and football were introduced and how Rio de Janeiro in 2016 will have golf, and the discussion about other events that should be included.
All sports have their world championships, or majors in some cases, and in the off-road world we have our big events for off-road racing, such as the Silk Way Rally, Breslau Rally, or perhaps the new Valley of the Kings, and our 'world championships' equivalent has to be the superb Dakar Rally. So how about off-road racing to be included in the Olympics? Naturally, the event would be a lot shorter than the Dakar, perhaps only over two or four days, but it would be a great spectacle. Two wheels have been very well represented and wouldn't it be great if four were introduced into the greatest show on earth?! And the protestors who don't want 'non-human power' introduced should note that there is already horsepower of one form in the Olympics, and legend has it that the ancient games included chariot racing…
Plenty of minority sports take place in the modern era and ours would be a fantastic spectator event – although, I grant you, probably a health and safety nightmare. But I'm sure that could be sorted out. In fact, why not have trials in there, too? The slalom canoeists have to negotiate tricky gates through water torrents, so why can't our creeping, crawling trialers do the same over a tricky muddy course?
I do, however, think that winch challenges probably aren't a good idea as the H&S issue would undoubtedly blow the insurance liability cover out of the water. No, let's keep it to comp safari-style racing and trials. It may also help these guys who spend tens of thousands kitting their vehicles out and simply paying for attendance at events to attract more sponsors who would enjoy a high profile and introduce a whole new world to off-road racing?
With comp safari racing you would also have the added element of the brilliant mechanics who would be impressing the spectators with their skills at fixing diffs and gearboxes and so on, under the severest pressure.
In this mag, we show you superb pictures from our guys right in the heart of the action from the BCCC and SCCC and hillrallies, but unless you've been there and watched these guys, or catch it on TV, you don't get the real feeling of adrenaline and skill that is involved.
There is a huge following for traditional road rallying, so surely off-road racing equivalent would appeal to a larger audience? I know non-4×4 people who watch the Dakar Rally on Eurosport and love it, but wouldn't follow it otherwise. An Olympic place would help raise the profile and simply produce great entertainment, and give our boys and girls a much-needed financial boost, I'm sure.
So how about it the All Wheel Drive Club and the organisers of the British/Scottish Cross Country Championships, Silk Way Rally and Dakar Rally? Let's lobby the International Olympic Committee and get the wheels turning. Beach volleyball finally got itself in – I had a great day at Horse Guards Parade for London 2012 – so perhaps if we promise hot dancers in between rounds and loud music, plus the hilarious 'X Factor' announcer, we may stand a chance…
Hils
---
Read Hils' column every issue in 4×4 Magazine – subscribe here!