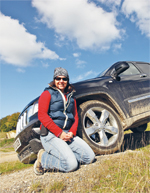 A trip skiing in the Alps just proves that good 4x4s never die, they just keep on off-roading. And long may that continue
I've been 'off-piste' rather a lot lately; and by that I actually don't mean off-road in our traditional sense, but mean hitting the snowy slopes, and the very snowy roads, of the French and Swiss Alps. I am an avid skier and spend a lot of time in mountains whether for work or pleasure. And, when I am in the mountains, I always take a keen look at what the locals are driving and how they cope with conditions.
Our recent bout of heavy snow here in the UK caused the usual chaos; roads shut, accidents everywhere and stupid people driving stupidly without thinking about what they are doing and displaying no common sense at all. A lot of people always say: 'Well, we're not used to it in this country as it only happens for a few days'. Yes, that's all very well, although hardly a decent argument to excuse the terrible winter driving skills that many possess; and, anyway, the last few years have offered up bad winters with plenty of awful weather to get us used to the rubbish conditions.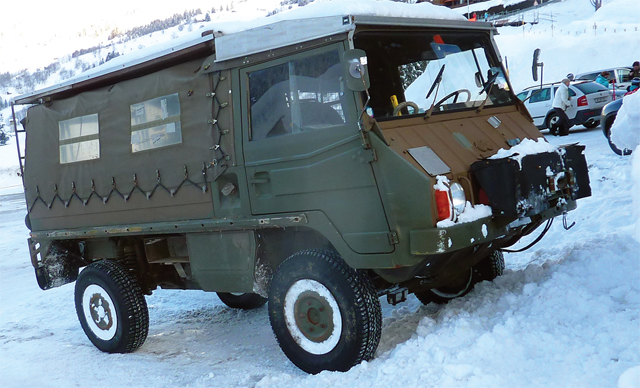 This winter in the Alps the snow has been coming down in shed loads; it's the snowiest season in a long while and the snow ploughs are working overtime every day and night it seems. The continued freezing temperatures have meant that none of the old compacted snow is diminishing which means the ploughs are shifting huge piles of snow onto already huge piles of snow at the edge of the road, and it is still coming down. Great, I say, as I love my skiing, especially in beautiful fresh powder, which is normally a rarity.
But it means that travel is disrupted and the motorist is always hit particularly hard. Except, of course in France and Switzerland, where I have been, where the drivers just don't bat an eyelid. Yes, they are used to snow, but some of them not quite this much, probably. You do, however, see plenty of two-wheel drive vehicles on the road coping fine with the extremes of weather; they're not skidding all over the place, despite driving at speeds that would probably shock most of us here in the UK.
Most vehicles do fit winter tyres, which makes a monumental difference to performance and safety. The 4×4 owners also fit winter tyres because they know it makes sense and having 4WD doesn't necessarily render you invincible. With any luck we may have seen the last of the bad weather here in the UK, but let's hope more people do fit winter tyres next season so more people can drive safely and in good time to get to work, go shopping, visit remote people who need help and just generally go about their business.
The Alps is a great place to 4×4-spot and I enjoying seeing what our continental friends are driving these days. As I went with Fiat to some winter driving fun with the new Panda (see page 24) in Italy, I noticed quite a few old Pandas buzzing about the winding mountain roads, especially the old, boxy models, before it went all curvy and 'SUV' on us. I was especially pleased to see some Pandas cruising around in Switzerland last week. With ski racks on top, they look the business; what's more they're a doddle to park in the very busy ski lift car parks that our Mercedes van, rented by the mountaineering company I was with, struggled to squeeze into.
When that Merc van arrived I was rather disappointed it wasn't a Sprinter version. But it was shod in winter rubber, so we kept an even keel most of the time, although there were a few dodgy moments on some tight bends in very slippery terrain. But we didn't have any dramas because our driver knew how to drive (as do most of the road users over there) and the dreadful weather didn't hinder us a bit.
As for other 4x4s, the Mitsubishi Shogun seemed to feature quite prominently and there were loads and loads of Audis Q7s and Q3s. I was staying in the French region of Switzerland, but we were pretty close to the German-speaking border of the country and so it wasn't surprising that the Audi was a vehicle of choice for Switzerland's fur-clad beautiful people.
I didn't spot a single pick-up, which surprised me somewhat, and I only came across one BMW X5; Audi was definitely favoured over the Beemer, unlike over here where it appears the other way around. A handful of Land Rovers put in an appearance; and they tended to be battered and bruised Td5 110 Defenders; although I did spy one Evoque five door, which, I have to say, looked very out of place in that mountainous environment for some reason. I am so used to seeing a plethora of them around here in Kent, clogging up the school run and supermarket car parks, that it was weird seeing them in a more rugged setting.
But what I really love are the old, battered four-wheel drives that the owners refuse to part with because they are 'proper' old 4x4s with no electronic gizmos and lumpy old transfer levers; Daihatsu Fourtraks, Nissan Patrols, old Series Land Cruisers, and a few Lada Nivas rusting nicely but still grinding along. Every time I venture to my favourite places in the world in the mountains I seem to manage to spot a lovely old bus of some description and this time it was in the Les Diablerets lift car park, obviously still used as a daily run-around and ski transporter. The charismatic Steyr Puch Pinzgauer always puts a smile on my face when it's not rusting away in a field, but still working hard for its living. Long live the old school of 4×4; and you can rely on the mountain population to keep the faith.
Hils
---

Read Hils' column every issue in 4×4 Magazine – subscribe here!