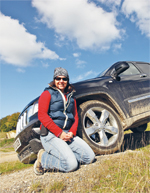 After all the excitement of this year's Dakar Rally, isn't it time that we had some more decent off-road racing on the TV?
Don't know about you, but I have been glued to the British Eurosport TV coverage of this year's Dakar Rally. It's been especially interesting for us Brits and 4×4 lovers, as the Race2Recovery team of disabled British and US servicemen has been taking part.
You are, no doubt, well aware of this amazing challenge that the R2R team set itself and you may also be aware of the heartache and pain that has gone hand in hand with the team: the early retirement of team leader Capt Tony Harris's Wildcat, the subsequent retirement of two others due to mechanical failure and a nasty roll that hit previous Dakar competitor Ben Gott (who was driving for the R2Rteam), and the horrific road traffic accident in which two Peruvians died and three R2R members were airlifted to hospital.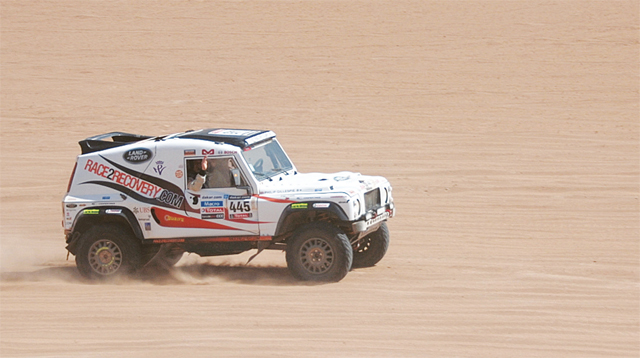 They are recovering well, a blessing after such a tragic incident and, after the initial disappointment of the early retirement of three Wildcats, the fact that the fourth car made it over the finish line in glorious style, piloted by Major Matt O'Hare with co-driver Corporal Phillip Gillespie ('Barney'), a veteran injured in Afghanistan, was a brilliant achievement. We congratulate them wholeheartedly and wish them all a safe trip home. It was a tough challenge and they covered themselves in glory and have earned the utmost respect from all of us, and rally fans all over the globe.
Not such positive final news elsewhere, however. I was sad to hear that our friend Bruce Garland in his Isuzu D-Max, featured in last month's issue, was forced to retire at Stage 12, so agonizingly close to achieving his dream of a top 10 finish. Like the R2R team, he suffered some problems along the route. Eurosport broadcast footage of his Isuzu D-Max's unfortunate roll in the sand, but he righted the truck and soldiered on, but he was finally scuppered by a batch of dirty diesel, diagnosed after taking the engine to bits, with no sleep or food for two days, to meet the deadline to start Stage 12. But the previously impeccable 3.0-litre was dead and Bruce and long-term co-driver Harry Suzuki were forced to retire, as engine replacements are not allowed on the Dakar.
After his accident during the 2009 Dakar when he broke his back and subsequent heart problems, this was Bruce's return to the big event and to be denied so close to realising his dream to finish, and finish well, was heart-breaking. It's a tough ask, although for some it almost seems 'easy'; Stephane Peterhansel taking his eleventh victory. Unbelievable. See Neil Perkins's full Dakar Rally report on page 78.
The Dakar Rally isn't a massive event for UK viewers but the Eurosport audience has been pretty healthy and it begs the question why our own British and Scottish Cross Country Championships (B/SCCC) can't get some TV time and a bit more exposure generally. This would boost its appeal and, maybe, attract some more sponsors and larger numbers of spectators.
The UK is traditionally a hotbed of motorsport fans. F1 is huge and, let's face it, we have the best factories and engineers in this country as many of the teams are based here; and rallying has always been huge, so why not encourage more people to watch off-road rallying?
I visited Milner Off Road for a feature this month (see page 50) where I met Andy Lees in the Racing department, who co-pilots with driver Richard Kershaw in the Milner R5. Andy was very keen that the BCCC/SCCC should get more exposure, command more sponsorship and enjoy some TV coverage. It's an expensive business running a comp safari racer over the course of a season, which starts for the BCCC this year on 20th April at Pikes Peak in mid Wales and 13th April for the SCCC at Auchentorlie. Then there are the Hill Rallies to add to that, which could also command some more interest from rally fans.
As our readers are aware, there is plenty of top action brilliantly illustrated by our band of top photographers, but wouldn't it be great to be able to watch the fast and furious action on the flat screen? Off-road motorsport could really do with more supporters and bigger interest to ensure its survival into the future. It's too good a spectacle not to be seen by more people.
So, come on the organisers and Eurosport, get together and sort this out and get our excellent sport on the small screen. It makes sense and satisfies the UK's appetite for more motorsport. Top Gear's Richard Hammond once, famously, screamed: 'I am a driving god!' on one programme while piloting a Bowler Wildcat on an off-road course; after that loads of motorsport-mad mates remarked that they didn't even realise there was off-road racing. So let's enable the general public to witness the real driving gods at their best.
To finish on the Dakar and those off-roading gods, and heroes in the R2R team, despite the tragedy, bad luck and disappointment of three vehicles failing to finish, there was a lighter moment, which allowed us a smile. After Gott and Staff Sgt Mark Zambon – a US bomb technician who lost both legs in Afghanistan after stepping on an IED – had rolled several times in their Wildcat, a Dutch truck driver came to Mark's aid. As he pulled the serviceman out of the car, one of Mark's legs fell off! He was, apparently, completely flummoxed yet terrified at the same time, until Mark put him out of his misery and calmly announced: "Don't worry it's a prosthetic!'"
Hils
---

Read Hils' column every issue in 4×4 Magazine – subscribe here!