December 2014 Issue of 4×4 Magazine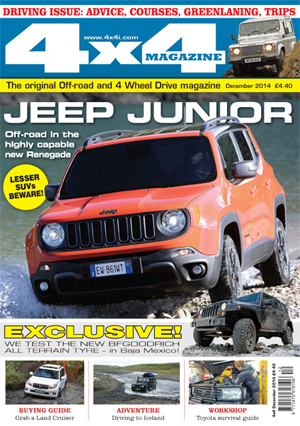 For many, SUVs are just plain ugly. Too big, too brash and too much. These people had a field day when Porsche unveiled its Cayenne. The company's desire to make sure everyone knew it was a Porsche by grafting a 911 sports car nose on to the front was thought by some to be a hideous piece of automotive design. It'll never sell… The Cayenne is now the largest selling model in the German manufacturer's range; fair to say that, when looking at the sales figures, Porsche is now really an SUV manufacturer that side-lines in quirky sports cars.
SUV design is primarily a case of function taking first place over form. Few are designed just for design sake; a Defender is hardly svelte with smooth lines that make you want to run your hands along the bodywork – and not just for fear of catching yourself on a protruding rivet. It's built to do a job and its looks are secondary. Much has changed at Land Rover with the high-class designs rolling from Gerry McGovern's studio. When the Evoque was first shown, its dramatically different looks made traditionalists declare it was not a proper 'off-roader', it was soft and an example of design over function. Sales of the Evoque destroy such comments with sales being 50/50 between male and female customers, and driven properly the Evoque is a competent off-roader. And like the Cayenne, the Evoque is a huge sales success.