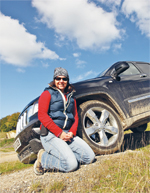 There have been a few miles clocked up this month chasing features; but for once, some of those off-road miles have been in great comfort!
I have been on my travels again this month, spending a few superb days in and around Exmoor National Park, which spans west Somerset and east Devon. You can read two of the features from that trip this month: the Defender Challenge Series and a review of an excellent tour of Exmoor, courtesy of Experience Exmoor.
The Exmoor tour was a real treat as, for once, I was being chauffeured around in a luxury 4×4. I have experienced the joys of greenlaning from the passenger seats of old Land Rovers, Land Cruisers and Jeeps, which is superb. But there is hardly enough room to breathe with all the kit stacked in, and jumping in and out as I do to take pics (and generally admire the scenery) can be a right old palaver – particularly in Defenders! Don't get me wrong, I love Defenders and Series Land Rovers, but their lack of comfort and ease of entry and exit, for a vertically challenged sort like me, can become a bit of a performance, much to the delight of onlookers.
The Exmoor tour is all done by Discovery 4. Now that is a different experience entirely. Huge comfy seats, a nice and easy, excellently positioned, grab handle to get me in; the door shuts perfectly and with little effort when you've jumped out – no need to turn around as you've realised the door hasn't actually connected with the frame and is swinging wildly in the wind or has actually swung back on you while you're trying to get out, with both hands full of camera gear. I like its gentle ambling over the awkward off-road bits; I like not being pummelled around as your seat belt strains at the leash and gets stuck, requiring some irritated tugging and cursing to sort it out while you're still not quite in a vertical position (OK, slight exaggeration, but you know what I mean!). A fully operational heater is another bonus and also efficient air-con when required and the perfect purr of a sophisticated and almost noise-less engine. I could get used to this…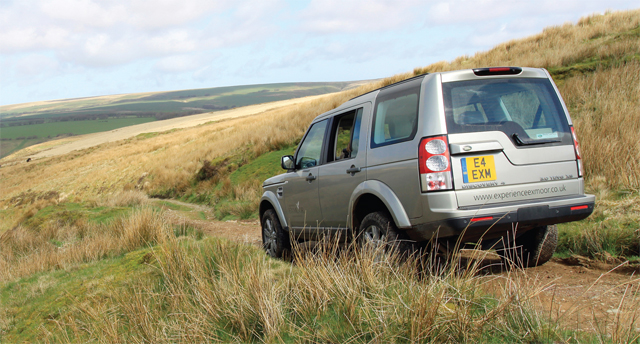 Trouble is, this trip has really spoiled me: will I expect such luxury on future trips? Have I turned into a soft wuss? Nah! The beauty of the old Defenders and early Discoverys is that I don't feel guilty when my muddy boots make a right old mess of the floor mat and, often, sides of the cloth seats when I've missed the landing spot and bashed my muddy sole on them. I do actually rather like being thrown around while we're off-roading, as long as everything is safe and secure, because that's what it's all about. It's easy to nod off in a D4, as it's so smooth and silent; you can't do that in an old Land Rover, Toyota Land Cruiser or Jeep for that matter.
Both luxury and basic options have their plus and minus points, but I thoroughly recommend a tour with Experience Exmoor if you find yourself down in that glorious part of the West country. You'll learn a lot and just enjoy some time in one of the most capable and comfy 4x4s currently known to man.
My West Country trip was another opportunity to take in a whole new experience, that of the new Defender Challenge. As you will read in the feature it is the brainchild of the irrepressible Drew Bowler and his marvellous team at Bowler Motorsport. It was great to see Drew where he belongs at a motorsport event, watching over his charges as they hared in and out of the 'pits', and the drivers having an excellent day rallying in Defenders.
Bowler started its motorsport legacy with the Tomcat, which was taken over by Tomcat Motorsport in 2001 and is still going strong. Then came the Wildcat, now built by Qt Services, popular with Dakar Rally entrants, and Qt has supported Race2Recovery in its Dakar campaign. Drew then launched the Bowler Nemesis, another level up in off-road racing machines, adding an on-road version (as featured back in our Oct '10 issue) the Nemesis EXR. Nemesis vehicles took part in the Dakar, and were superseded by the simply-named EXR rally car and then joined by the road-going EXR S. Bowler competed with its own team at the Dakar until it was cancelled at the last minute in 2008, and hasn't taken part since. "We will be back at the Dakar at some point," Drew announced in Somerset, with a glint in his eye. It's good to hear that Bowler hasn't finished with its relationship with the world's toughest and most prestigious rally.
Meanwhile, the EXR and EXR S are doing good business and the Defender Challenge has gone down a storm. There are more and more entrants for each successive event, and they hope to take it to international rally events. Drew had a big grin on his face in Somerset and that was heartening to witness; a grin made bigger by the fact that the Dakar MAN service truck was back in full action again. Amen to that, and we'll watch future developments with keen interest and high expectation. Hils
Hils
---

Read Hils' column every issue in 4×4 Magazine – subscribe here!