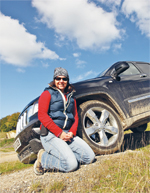 This month our columnist has been 'off-road' in two-leg drive, traversing the Italian Dolomites, where she spotted some very interesting 4x4s – but very few of them being posh SUVs
have been on my travels again. As usual, I have been chilling and doing some tromping in the mountains; this time the Italian Dolomites. I was based at Cortina d'Ampezzo, a ski resort for the rich and famous, but in the summer it is buzzing with mountain bikers, road cyclists, trekkers and walkers, mountaineers and those having a go at via ferrata.
Whenever I am in the mountains of Europe I always come across loads of 4x4s of various shapes, sizes and ages. Old, loyal, rust-ridden and battered vehicles that are properly 'worked' as they should be, make a refreshing change from the big, shiny, expensive 4x4s on the school or supermarket run that I see more often in the south east of England.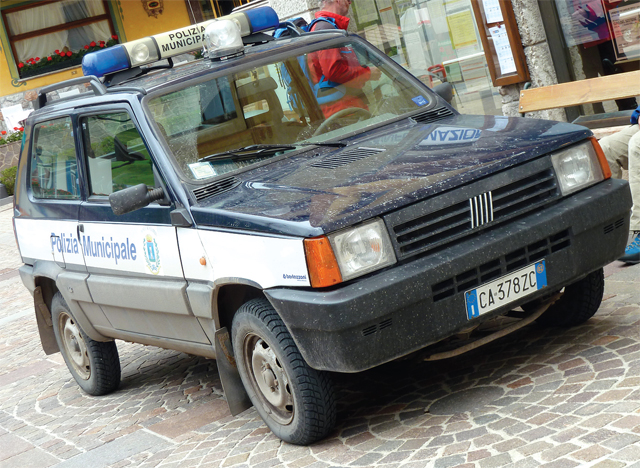 Being in the Dolomites, it was no surprise that I spotted hundreds of Fiat Pandas; mostly very old models. You know, the charismatic, boxy model that we so loved in the '80s and '90s. We don't seem to see many of them any more here on UK roads, although the odd Pay 'n' Play might throw up the occasional example. In the Italian mountains they are everywhere. I did spy a few modern versions, but on the whole they all must have been at least 15-years old.
I particularly liked the fact that even the local police force ran a few. Having enquired about bus timetables to the Tres Cime di Lavaredo in the tourist information centre, I stepped outside to find a very battered old Panda had been parked outside with 'Polizia Municipali' decals and lights adorning it. It was blue and white and had clearly enjoyed a very busy life fighting crime. You can't imagine an official police vehicle being allowed in public in such a state in this country, and probably throughout most of Europe (although I bet some French rural areas have some equally battle-weary examples with Renault/Citroen badges). It also had Bertazzoni – a well-known Italian range of cookers – written on the front wing which was interesting. Can't really see our UK police 4x4s ever succumbing to blatant advertising somehow.
I also spied some Fiat Freemonts. This is Fiat's mid-range, family SUV, which we don't get here in the UK. I drove one from the airport to an Italian ski resort last year for a Fiat Panda event and was pretty impressed with it. But what was really interesting was that I didn't see one shiny Range Rover or Porsche Cayenne or Mercedes ML or VW Touareg. I did, however, see an Evoque parked outside one of the swanky hotels, but the only other Land Rover products were one or two old Defender 110s. It was rather unfortunate that one of them was advertising itself as 'Safari Jeep Tours' taking passengers from the lift station to a restaurant up the mountain. I was so tempted to get a pen and cross out jeep and write 'Land Rover' or perhaps '4×4' tours as nothing irks me more than when people refer to 4x4s as 'jeeps'. Any British Land Rover fan would have gone bananas at that signage and now that Jeep is owned by the Italians they really should start to know better!
Talking of Jeeps (yes the real ones, now owned by Fiat), I only spied a couple of Wranglers, one heavily lifted on BFG M/Ts buzzing up one of the mountain passes, and we saw a Grand Cherokee Limited in the car park by Cortina's bus station. Even more pleasing, it was in Mineral Grey, the same colour as my own Overland model. It is the first one I've seen with 'my' body colour in any country. I took a peek inside and saw an unusual gearknob and wood trim around the centre console. Looked like a bespoke fit as I have never see anything like that over here.
While we were walking in the mountains there was a lot of repair work going on to the ski lifts and infrastructure and there were loads of pick-up trucks of all sorts of makes and one Nissan Terrano ferrying equipment up the mountain roads to the stations. It was great just to see them busy at work. We also got a glimpse of a piste basher, in bits, in a garage. They are fascinating machines and probably the most agile off-road 'vehicles' on the planet.
Apart from some RnR, the trip was designed as a training exercise as I am attempting to climb Mount Kilimanjaro in late August. By the time you read this I will just about be getting on the plane to Tanzania International Airport. It's probably the biggest challenge I have undertaken and I am quite nervous. I have trekked in the Himalayas before but at a few 100m lower. Kili is just under 5900m so it will be interesting to see if I cope with the extra altitude. We will be transported to the mountain by Toyota Land Cruisers and Land Rover Defenders; no doubt old, workhorse models which have seen plenty of action. After the climb we are then off for a few days' self-drive safari in Land Rover Defenders, so that is something to really look forward to, once I've got my breath back. Wish me luck!
Hils
---

Read Hils' column every issue in 4×4 Magazine – subscribe here!