October 2014 Issue of 4×4 Magazine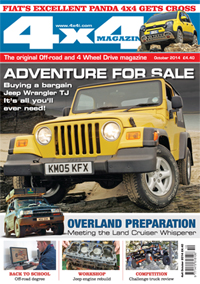 It's always refreshing learning something new about four-wheel drive, especially the technology used to get a vehicle across impossible ground, or through poor weather conditions. This month, I certainly learned something new, albeit something that was actually conceived some 60 plus years ago!

Now we are all getting used to the amazing technology that is fitted to 4x4s these days, plus all that mind-boggling stuff from the wizards in white coats at Jaguar Land Rover. Actually, they probably don't wear white coats anymore, I'm just showing my age and love of an ancient cliché; these days it's all designer suits, Google glasses and virtual reality caves… But I digress. This month's piece of wonderful 'new' technology for me was the amazing Elston Skid-Master Sander fitted to the unique 4×4 Dodge woodie station wagon, featured on page 44. I won't explain what it does here, just read through the feature and see what you think. I guarantee it will make you smile, both at the ingenuity, and sheer barmy, craziness of the whole idea. It's probably not going to be included on the next Discovery Concept from the guys at Jaguar Land Rover, but you feel learning about it should increase their education on the history of four-wheel drive. Some years ago I was privileged to get to know John Cooper, of Mini and World Championship motor racing fame. John was no mean engineer himself, but he told me a story about how an Italian engineer once said to him, "if you want to learn something new, then go to the museum". Meaning that you'll be surprised how many 'new' developments have been tried before. Mind you, I'm not sure that the Skid-Master will be making a comeback on the next generation Range Rover!
John was a big fan of small cars, thanks obviously because of his work with the Mini, and I know he would have loved the Fiat Panda 4×4. It has the compact design flair that he always liked, but more importantly he would have appreciated the fun character of the little machine. And this month, we report on the latest version that has actually got better off-road, thanks in part to the association with Jeep. You can still get a 'standard' Fiat Panda 4×4, but coming soon to the UK is the new Cross version that actually has a very simple, but effective, Terrain Control system. Now, regardless of the Jeep partnership, Fiat may well have built a modern day Panda 4×4, to follow up from the cult success of the original 1980s version, but it is highly unlikely that the company would have gone to the expense of developing a Terrain Control system. That's not to say that the Panda 4×4 Cross has the same Terrain Control options from the Grand Cherokee (now that would be a great mini 4×4, wouldn't it!) but the expertise, both in the software, and possibly some of the hardware of the Jeep models, have made the Panda 4×4 Cross a production reality. Of course, it's not a Land Rover Defender or Jeep Wrangler. Yes, it is a cute, city supermini, but now – driven properly – it has significant off-road abilities. And when the weather turns, and the snow and ice arrives, the new Terrain Control options will make life a lot easier for even the most inexperienced driver. The engineers have even raised the engine's air intake – obviously taking climate change into account, and increasing the little Panda's wading abilities!
Very old, and very new, the world of 4×4 is fascinating. At least I hope you agree! Do let us know what you think. Here's hoping you enjoy the issue.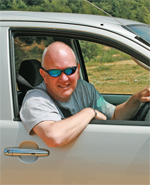 Nigel Fryatt, Editor

Buy your copy of the latest issue of 4×4 Magazine