December 2014 Issue of 4×4 Magazine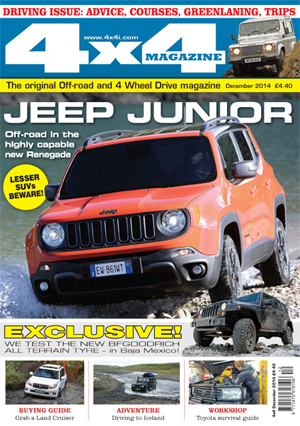 For many, SUVs are just plain ugly. Too big, too brash and too much. These people had a field day when Porsche unveiled its Cayenne. The company's desire to make sure everyone knew it was a Porsche by grafting a 911 sports car nose on to the front was thought by some to be a hideous piece of automotive design. It'll never sell… The Cayenne is now the largest selling model in the German manufacturer's range; fair to say that, when looking at the sales figures, Porsche is now really an SUV manufacturer that side-lines in quirky sports cars.
SUV design is primarily a case of function taking first place over form. Few are designed just for design sake; a Defender is hardly svelte with smooth lines that make you want to run your hands along the bodywork – and not just for fear of catching yourself on a protruding rivet. It's built to do a job and its looks are secondary. Much has changed at Land Rover with the high-class designs rolling from Gerry McGovern's studio. When the Evoque was first shown, its dramatically different looks made traditionalists declare it was not a proper 'off-roader', it was soft and an example of design over function. Sales of the Evoque destroy such comments with sales being 50/50 between male and female customers, and driven properly the Evoque is a competent off-roader. And like the Cayenne, the Evoque is a huge sales success.
Which brings us to the Jeep Renegade. This is an exciting new small SUV, and one that in Trailhawk form, is a highly competent off-roader. That's great news for us enthusiasts, as it puts a proper 4×4, with a great off-road heritage, firmly into the 'affordable' bracket. It's well built, well equipped and spookily quiet when driven on the road. Surely this all adds up to it being a great sales success? Which brings us neatly back to its looks. This is certainly a distinctive new SUV; thankfully it does not follow the jelly mould design followed by so many manufacturers. Much like the Cayenne with its '911 nose', from the front, the Renegade is unmistakably a Jeep. It's a boxy shape that bears something from the profile of a Wrangler, but it is mostly a uniquely new approach. Having driven the Renegade (see page 20 of this issue) I can confirm it's a great new SUV, my concern is, however, that for some people, the best place to view a Renegade will be from behind the wheel. For this model to be the success that the Fiat Chrysler alliance needs it to be (on sale in over 100 countries, the sales targets are high) it will have to bring a lot of new customers to market, it won't succeed just by selling to Jeep enthusiasts. It deserves to be a success, but beauty is in the eye of the beholder. Do let us know what you think when the model starts making it to the UK – it looks different in the metal than in the pictures. Personally, I always thought people who said the Cayenne was ugly completely missed the point. Here's hoping the Renegade will achieve a similar sales success.
Do let us know what you think. Here's hoping you enjoy the issue

Nigel Fryatt, Editor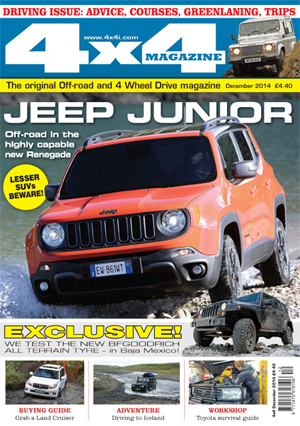 Buy your copy of the latest issue of 4×4 Magazine