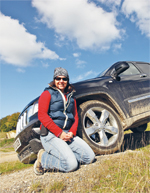 After celebrating the Toyota's RAV4's 20th birthday, our columnist remembers the Suzuki X-90 and asks, will there ever be another small off-roader?
Earlier this year, I highlighted the fact that the 2014 Geneva Motor Show marked 20 years since the pioneering Toyota RAV4 was launched to an unsuspecting 4×4 world. I was hoping that Toyota would mark this major landmark in some suitable way and indeed it has, as you will see on p52.
Toyota thought it fitting to invite journalists from all over the world to join a Toyota RAV4 adventure in the Greek mountains. We had a great time trundling up the steep, rocky mountain tracks and haring around fast gravel stages that formed part of the WRC Rally earlier this year. You can read all about it in the feature. We didn't take part in any serious off-roading as, let's face it, the modern RAV isn't an off-road machine any more. It was good, however, to clap eyes once again on the original RAV three-door (pictured below right), with its independent suspension and permanent four-wheel drive, and reminisce about the old days when the little compact SUV was a mighty fine little off-roader that also offered a very pleasing on-road drive. It was a reminder of times past and how the world once was. How the 4×4 market has changed! Indeed, the term 'SUV' is really no longer synonymous with off-roading and 4x4s, at least not in any meaningful sense.

While we were driving around a sunny and beautiful Greece we were comparing notes on the various machines that have come and gone since the RAV's initial appearance in 1994. One that came up, and prompted much merriment and smiles all round, was the forgotten, bizarre, yet equally funky and mould-breaking Suzuki X-90 (pictured below left). Remember that? A far cry from anything 4×4 before or since, it was Suzuki's two-seater sporty number that had a removable targa roof and the most under-damped suspension I think I have ever encountered. Like the RAV, it prompted raised eyebrows on its launch in 1996 with what was dubbed its 'push-me-pull-you' styling and, also like the Toyota to a certain extent, it was a pretty nifty off-roader if you really did want to push it. Okay, so its wheels waggled joyously in the air at the drop of a hat, but it happily went most places, thanks to its tiny wheelbase and surprisingly agile suspension. And it was the first 'compact' (if we can actually call it that? Has to be in a class of its own really) 4×4 to come in two- or four-wheel drive models, and had an auto' version into the bargain. Two-wheel drive versions of the modern SUV have only been around in recent years.
Thinking about it now, what on earth was Suzuki thinking when it openly admitted it was aimed primarily at the US market? In the early '90s the US was crazy for big trucks; Suzuki's expertise was in the smaller 4x4s, as in the exceptional LJ, SJ and Vitara, so it decided to try and lure the Americans in with a fun but useful alternative. Sadly, it didn't work. The X-90 lasted only two years before withdrawal. I have no idea how many were sold in the UK, but you probably can count them on the fingers of two hands. The UK motoring public was totally confused by it – and also by the fact that it actually cost more, at £11,375 for the 4WD version, than the four-seat soft-top Vitara.
Unlike the RAV4, the X-90 regularly appeared in the World's Ugliest Car polls, which probably helped hasten its demise. It didn't really know what it was. The RAV4 knew what it was, it was just that the public wasn't quite prepared for it. We were all used to traditional small 4x4s, such as the Suzukis mentioned earlier and Daihatsu Fourtrak, Lada Niva and the Fiat Panda (we talked about those at length also), with the cute Panda the sole survivor. So the RAV was a revelation, marking a new era of comfort and 'lifestyle'. Sadly, not so the X-90, but it gave us something to talk about for two years!
The only three-door left to us at the moment is the Suzuki Jimny – now that was a diminutive 4×4 that Suzuki got absolutely spot on. The RAV has been a five-door-only model for some while and I think we need some fresh, new three-doors so that the Jimny and Panda can be part of a gang, although the Panda isn't the 4×4 force it once was. A baby Land Rover is expected to be on its way. How about a modern baby RAV? And perhaps a baby Vitara again? What will the Jeep Renegade really be like?
Yep, the RAV4's milestone has got me on my soapbox once more…
Hils
---

Read Hils' column every issue in 4×4 Magazine – subscribe here!