Ford Edge 2.0 TDCi ST-Line Manual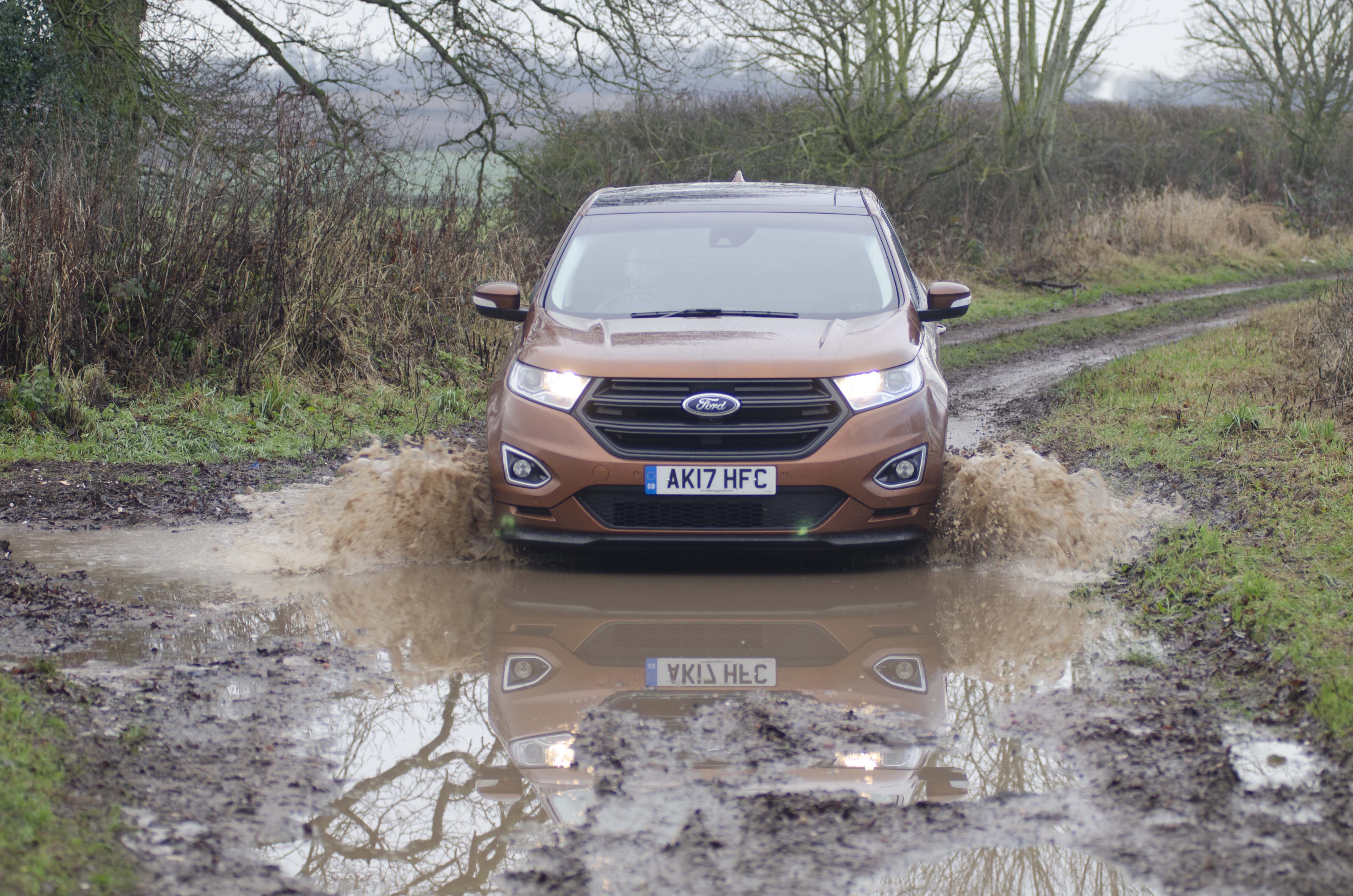 The Kuga has done fine things for Ford, and the Ranger is our current double-cab of the year. Does the Edge have what it takes to work the same magic in its part of the SUV market?
To answer that, first you have to ask what part of the SUV market it's in. It could be argued that the Edge is a value-for-money pop at pricier SUVs like the BMW X5, or that it's a like-for-like competitor for the Kia Sorento. Given that the the Sorento and its ilk were conceived as a value-for-money pop at pricier SUVs like the BMW X5, it's probably fair to say that even today, it's all the same thing. Ford dealers are unlikely to mind where the punters come from, at any rate.
Will they? Well, the Edge is a handsome looking thing, and that's half the battle with many people. It comes laden with kit, too; all models have big alloys, cruise, dual-zone climate, power seats, hands-free tailgate, DAB, sat-nav, phone pairing and all-round park assist including a rear-view camera. Pleasingly, all models have the same high level of safety kit, too.
So unless you want leather, the entry level Titanium model has got the lot. It costs from £35,195 at list price – though the model tested here is the sportier ST-Line, which retails at £38,345 in manual form.
The Edge's sharp looks are mirrored inside, but while it does manage to convey a sense of quality the cabin feels rather dark and austere. In particular, the centre panel on the dash has loads of buttons on it, which are black with very thin lettering to explain what they're for – making them extremely hard to read.This means taking your eyes off the road for longer than you should have to, and all the clever safety equipment in the world won't make up for that. Few of these controls light up when the headlamps are on, either.
Once you're over that hurdle (if you choose to take it at all, and we're not sure we would), there's a lot of disappointingly hard, cheap- feeling plastic on the lower dash and floor console. But the upper surfaces are much better, with a mixture of polished aluminium and faux-carbon highlights. Build quality is good, too, with little creaking from the dash and a particularly well tied-down floor console, and the switches are a lot more confidence inspiring to operate than they are to try and read.
The glovebox lid and door pockets feel cheap and flimsy, however, as does the coin bin in front of your right knee. Oddment stowage is above-average overall, though, with a huge centre cubby box and a useful dash-top tray as well as a deep phone slot.The glovebox and door pockets are more spacious than they are tactile, too, so you certainly won't want for places to put your stuff.
The same goes for the other kind of stuff, which needs to go in the back.There's plenty of boot space with the seats up, and for really major loads they fold acceptably close to flat with a 60:40 split to leave a long load bay.There are remote handles in the boot walls to let you do this, too.
Once they're down, the floor is good and low, with just a slight lip at the tailgate and no step when you get to the dropped seat-backs.
And what about people? The Edge does itself proud here, with a high seating position and plenty of room up front.The optional panoramic sunroof does eat into the available headroom, however, but it's still fine for a six-footer, though tall drivers do need to have the seat all the way back to be able to relax.
Happily, even with the seat in this position those behind you will have loads of knee room.The Edge will seat one six-footer behind another with no problem – though again here, it's no thanks to the pan roof. The rear seats do recline, however, which helps if you need to carry a very tall passenger back there.
Further equipment to add to the list here includes heated rear seats and a 150-Watt power inverter on the back of the floor console.This has a 3-pin plug output, so you've got an in-car mains supply.
One thing you don't get is a great view over your shoulder. Nothing much aft of the C-post is see- through, so you soon find yourself relying on the rear-view camera – whose display is extraordinarily poor, to the extent that we found ourselves checking to see if it was set to infra-red mode or something like that.The door mirrors on our vehicle seemed oddly good at collecting grime from the road, too.
Something else we found bizarre about the Edge was that its headlamps produced barely any more light on full beam than on dip.
Again, we ended up checking the handbook to see if we were doing something wrong, it was that bad – the lack of illumination actually slowed us down on a cross-country B-road session at night, because we just couldn't judge the corners well enough in advance.
That's a shame, because the Edge handles better than you might expect. Its steering is responsive enough and while there's some unwelcome side-to-side jostling
on uneven surfaces, body control is tight enough for it not to loll around in corners. Under the right circumstances (like, when you can see), it can be hustled along perfectly well.
This would be improved if the manual gearbox was as slick as the best of its rivals', however. It's not bad, but we felt that smoother, snickier changes would have given us easier access to the best that the 2.0-litre engine has to give.
This is tuned for 180bhp in manual form and 210bhp when there's an auto on the back of it, which seems like a big gap.The Edge doesn't lack performance, however, and engine noise isn't intrusive even when you're working it hard, though our suspicion is that the auto set- up would perhaps be best suited to the vehicle's overall character.
The same might be said of the 19" alloys which are standard on the entry-level Titanium model. Our ST-Line produced a fair bit of boomy road noise on the motorway; how much of this was down to its 20" rims is something we can't know, but a little more rubber and a little less rim rarely hurts.There's not much wrong with its ride quality around town, however, and it's a composed cruiser – though we found that the driver's seat got uncomfortable around the shoulders on journeys of several hours.
We also took our Edge off-road, on the sort of tracks that are highly likely to be the limit of what any customer would ever tackle in one – rm underneath, but sloppy, wet and muddy on top. These are the sort of conditions that can catch out a vehicle on low-profile road tyres, but the vehicle coped very well, maintaining traction without having to fall back on its various electronic helpers. It's not intended to be an off-road vehicle in any kind of extreme sense, and we certainly wouldn't expect it to be impressed by the sort of ground that starts pushing its suspension up and down, but in the real world it's as sure- footed as the next SUV. Ground clearance is less than epic, but in these conditions it didn't trip the Edge up either.
One unusual experience we did have was on the day our Edge was delivered. Hours after the man from Ford had parked it up, given us the keys and gone home, we left the office ready to jump aboard… and found several inches of snow waiting to meet us.
This should have been a cinch, but to start with the Edge seemed to be confounded by the conditions. After no more than a couple of hundred yards, a warning light came on to say four-wheel drive was no longer functioning, which the handbook advised us was the result of the centre diff being overworked. Not the best of introductions, and we don't know why it happened, but after a restart it never came on again despite us putting the vehicle to much harder work.
In everyday driving, the Edge is a decent all-rounder which behaves itself around town and doesn't get boring on the motorway. It rides and handles well enough to pass muster, it's acceptably civilised and if life's journey takes you via unsurfaced roads, it won't flinch.
Lots to recommend it, but some baffling flaws trip it up.
Whether you're after a cheaper alternative to an X5 or a benchmark against which to judge the Sorento, the Edge is worth thinking about.
It's spacious, well equipped and practical, and it does most things well enough on and off the road. But it's let down by small things that make a big difference: the dark, dingy facia, blurred rear-view camera display and hopeless main beam are so unnecessary, and hugely off-putting.
First featured in the March 2018 issue.