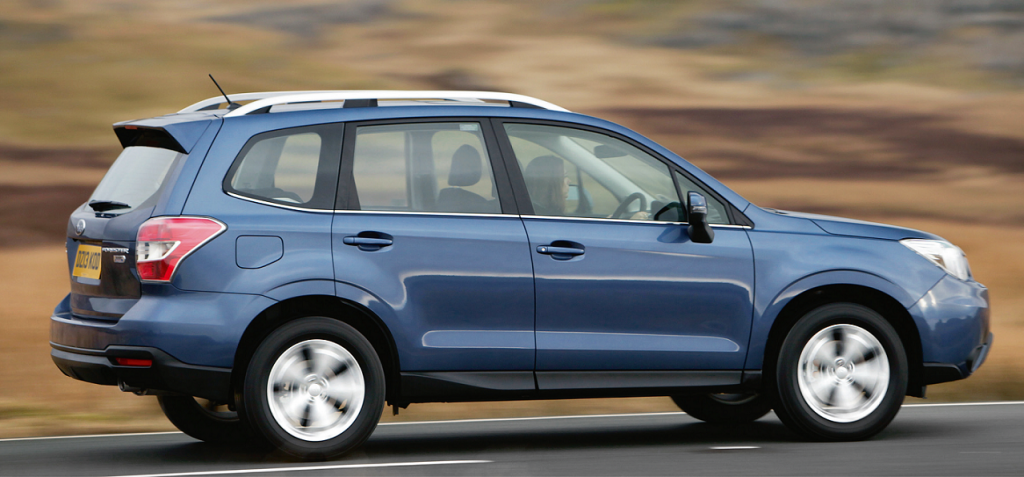 Hard as it is to believe, the Subaru Forester is two decades old this year. We're on to the fourth-generation model, and even this is already midway through its life cycle. What started out as an Impreza on stilts is these days an SUV in its own right. It's still at the car-derived end of the scale, but it remains instantly recognisable as the sort of vehicle Subaru has been doing so well since long before the rest of the industry figured out that by crossing cars with off-roaders, it could create something for which punters en masse would go wild.
The current Forester follows a familiar pattern. There's an allindependent layout, a choice of flat-four engines and, at the top of the range, a turbo-nutter model. What we have here is the sensible choice – the 2.0D diesel, albeit in top-dollar XC Premium form. This has all the usual rangetopping stuff, like leather, sat-nav, memory seats and a powered tailgate. But even in standard form the Forester is a very well equipped car, and we'd question the need to spend another £2500 on it. Whichever way you go, you'll get an SUV with a very well made interior.
It's not all flash and clever, but the surprise and delight comes from the feeling that everything you touch is carved from rock. The controls are excellent, and well laid out to make piloting the vehicle an easy job, and a superb driver's seat gives you loads of adjustability in every direction.
There's plenty of stowage space around the cabin, too, and the media screen on this model is very nice – though a major irritation with the sat-nav is that having given it a postcode, it still demands a street name before it will start taking you there. In the back, the seats are set high enough to provide an excellent view. Headroom could be better, though (the sunroof, which is standard, doesn't help), however knee room is okay even with the seat in front fully back. For cargo carrying duties, the rear seats drop with a 60:40 split to leave an almost completely flat floor. There's a slight step, but it's smoothed over by a flap so as to allow big items to slide into place. You can drop the seats using levers in the boot sides, too, which is nice and convenient. But the tailgate aperture isn't the biggest, and there's a bit of a lip to get your luggage over on the way in and out.
Overall, however, the Forester scores well for practicality. It's a pleasing vehicle to drive, too. The diesel engine has enough power to get you about briskly, but really you're driving it on torque – of which there's plenty, all of it available from way down low in the rev range. Add in a gorgeously slick manual gearbox and you've got an SUV that takes no effort at all. It's not wearing on the ears, either.
The engine does its stuff very quietly and, with little in the way of road or wind noise, it's as refined as you'd expect and then some. It's lovely and smooth, too – 225/60R17 tyres strike a good balance between agile handling and supple ride, and there's almost nothing in the way of vibration from either the road or the drivetrain. There's little in the way of thumping, either, with speed bumps and jagged pot holes damped out skilfully. You do hear and feel them, of course, but at a distance that's wholly acceptable.
Body movement is well controlled, too – part of our test route is to take the idiot's line over a series of diagonally set speed pillows which can throw a vehicle from side to side, but the Forester soaked them up well. That level of compliance is impressive when combined with a genuinely entertaining level of handling that lets you use the vehicle's all-wheel drive platform to the full. It steers positively and holds on as well as you'd expect, allowing you to work the drivetrain to fire it out of corners for fun.
This is the stuff of all-round competence, and when you add in a sure-footed presence on rough, unmade tracks and sloppy surface mud, you have a vehicle which really is ticking all the main SUV boxes. Ground clearance is a very decent 220mm and, while Foresters with low range are a thing of the past these days, the combination of all that low-down torque with a good, deep first gear means you can ease if over uneven ground with a strong degree of confidence.
Subarus aren't easy things to get a discount on, but even at list price the Forester looks like good value. With its build quality backed up by a long warranty, it's the sort of vehicle you keep for way more than the standard three years. Thats' how it's always been with Subarus – and this Forester continues to build on its manufacturer's hard-won reputation for making cars people keep for life.