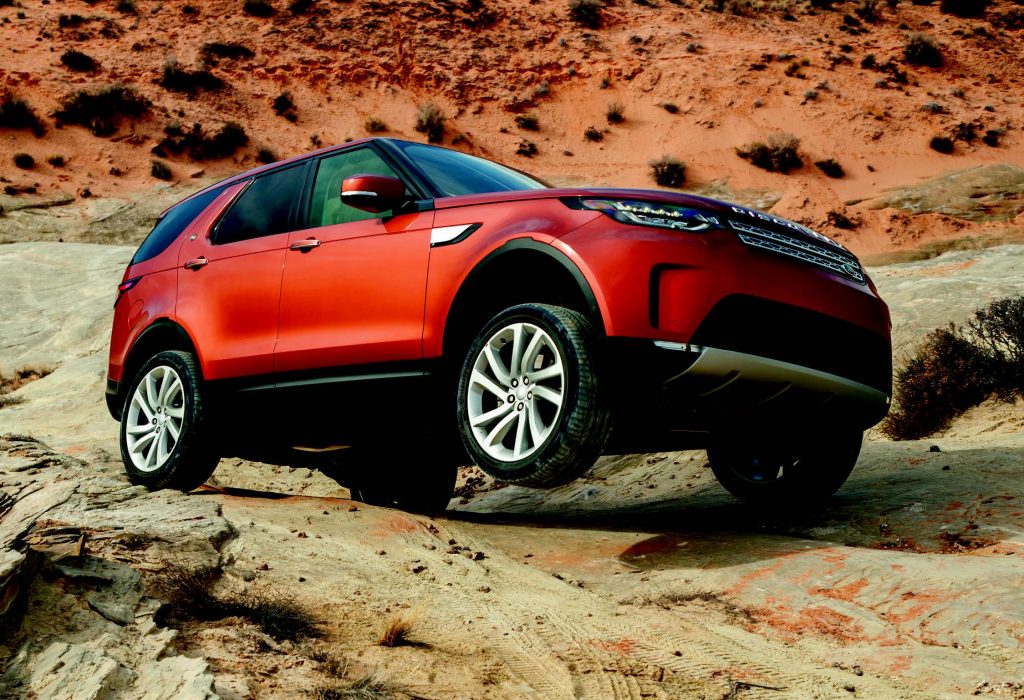 There were no surprises when pictures of the Discovery 5 surfaced. Like the Discovery Sport but taller, wider and with familiar traits from previous Discoverys like the stepped roof, the D5 is clearly the top dog in what is now Land Rover's most rounded model family.
Crucially, however, there's always the risk that someone will label it, 'just a rebadged Range Rover'. There's no denying that this Discovery looks closer to its poshest relations than before, especially at the front. What this Discovery needs to do, though, is drive like a Discovery. There needs to be segregation here compared to the Range Rover. Unlike in the old Discovery 4, you have a choice of engines ranging from the 240hp 2.0-litre Sd4 diesel to the 340hp 3.0-litre Si6 petrol unit.
We tested the one in between, a 258hp 3.0-litre Td6 version, and while that doesn't have significantly more power than the Sd4 engine, there is around 20% more torque on tap (443lbf.ft against 369lbf.ft). Simply put, the Td6 engine is superb. Essentially the same unit as the old SDV6, it does a fine job of hauling the vehicle up to speed. Having shed 480kg in weight over the old Disco 4, it's no wonder this new Discovery feels lighter on its feet. Naturally, it's no featherweight still, so you can't start thinking you're in a sports car – but you can at least think heavyweight boxer rather than sumo wrestler.
There's more good news too as each engine is mated to the brilliant eight-speed ZF gearbox. On the road, the Discovery 5 feels very composed. It still has that Discovery 4 glide, and it's very easy to settle into. The steering is nicely weighted for a vehicle this size, making it easy to position in town and when entering the sort of bends you'll find on a typical B-road.
Again, it's easy to cover ground quickly. Yes, there will be a little body roll in the corners, but it's minimal and to be expected when you're pressing on in a vehicle of this stature. Big is one conclusion everyone seems to draw from their initial greeting with the Disco 5.
But no, it doesn't feel like a Range Rover. There's more to it than that. It feels multi-purpose. It feels versatile. It feels Discovery.
Admittedly, when you sit in the driver's seat of the new Disco, the fact that it utilises the same steering wheel and switchgear as the Range Rover can undermine that argument. But having parts from a car that is significantly more expensive is surely a string to the Discovery's bow.
Being the new kid on the block, the Discovery has other perks too. These include the Intelligent Seat Fold system, which allows you to raise or lower the middle and back rows of seats all at the touch of a button; the stadium seating that means the (very usable) back row gets as good a view of the road ahead as the driver; the on-board wi-fi and hundred different USB slots to help kids keep shtum for weeks. There's even heated seats for every single row and bum.
Everyone should be safe, too, as you carry the kiddiewinks to school in a vehicle awarded with a full fivestar NCAP safety rating.
Forget the party pieces and on-road manners for a moment, though. Take the Discovery 5 offroad and you understand why Land Rover is so excited about it.
There's no escaping that you are subject to a far more digitised experience than you had 28 years ago in a Discovery. The latest Terrain Response 2 algorithms, combined with All-Terrain Progress Control, Hill Descent Control and cameras on every panel, mean it can all feel a little disconnected.
However, all these electronic aids mean no terrain is safe from the reach of the Discovery. Even over severe rocks, it brings a level of composure, while traction control settings can adjust automatically to solve the equation the landscape poses ahead. Our impression is that the Discovery 5 will go further than a Disco 1 or 2 could manage, at least in standard spec.
A 900mm wading depth also enables the Discovery to do a good impression of a narrowboat heading down your nearest canal.
Notwithstanding this, the new Discovery looks and moves much better than a boat. The fresh exterior, while not to everyone's taste, has sharpened it up over its predecessor. Yet it still feels like a Disco 4 – only nimbler.
The problem with the Discovery is the Range Rover. Or more accurately, the Range Rover's problem is now the Discovery.
The version we drove was a Td6 HSE Luxury: yours for £75,965. That sounds like insane money for a Discovery, but this is a seriously high-spec machine which echoes the Range Rover with some of the touches in its cabin.
The question is that with the Discovery being such an all-rounder, with seven usable seats, brilliant storage space, luxury taken straight from the Range Rover and more capability than you've ever seen in a thing with four wheels, why would you spend possibly an extra £25,000 on a Rangey?
The answer is that snob value is a powerful thing. And you can expect the Range Rover to keep on moving upmarket. With what may just be the greatest ever Discovery now on its case, it might have to.