The increasing demand for better safety, refinement, efficiency and luxury hasn't prevented the Wrangler from surviving as the only truly uncompromising off-road adventurer, with all the iconic style and presence reflecting the very origins of the 4×4 breed
TARGET RANGE:  £10,000 – £30,000
£10,000 – £30,000
The Wrangler is a rare pleasure. While for most modern 4×4 owners the ideal off-roader is something that resembles a large luxurious hatchback, the Wrangler stays true to the ideals of genuine cross-country adventurers and rides above the whinges of the ignorant masses who say it's too big, too cumbersome, too uncomfortable and too thirsty. The Wrangler is none of those things, it's perfect in every respect to perform the task for which it was designed, that is to be the only truly competent hard-core off-roader that can handle tough off-road conditions straight out of the box. Anyone who chooses to criticise it as an automotive dinosaur is welcome to skedaddle in their bland mass-market tarmac-friendly Qashqai and leave the Wrangler to those of us who understand the difference between splashing through the odd muddy puddle and conquering the uncharted wilderness.
The demands of the wider public have already diluted the off-roading strengths of the Jeep brand as a whole, the Cherokee and Grand Cherokee are highway hustlers, business machines, school-run posers, and even though the Renegade in Trailhawk guise strives to keep the off-roading aspect alive it's still no match for the mighty Wrangler when truly rugged terrain bars the way. What's kept the Wrangler true to its roots is the continuing high demand from hard-core Jeep enthusiasts who wouldn't countenance any significant departures from the tried and trusted off-road formula.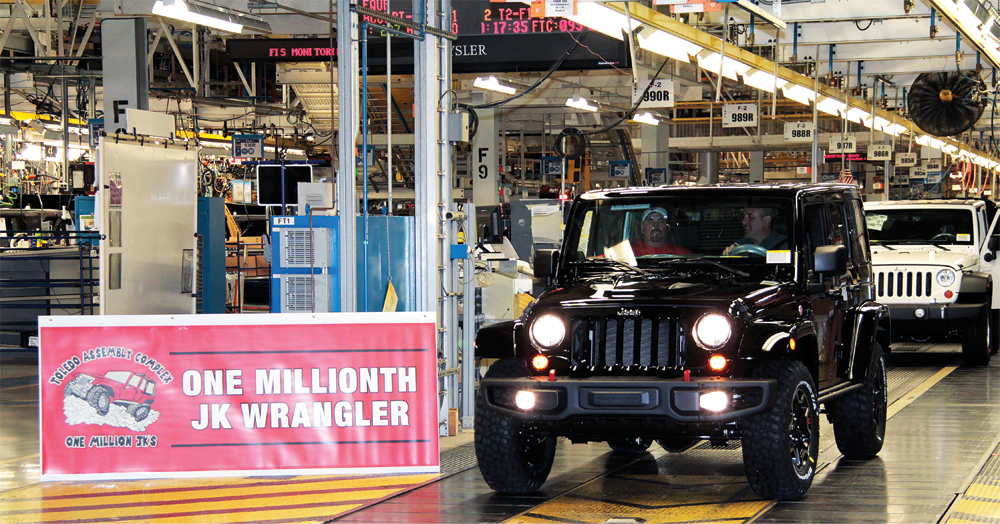 What makes the Wrangler special as an off-roader is the continuing reliance on a strong separate chassis suspended via long-travel coil springs on rigid axles offering excellent articulation and drive from powerful engines through a dual-range transmission. There's also traditional outdoor-action functionality in the fact that the roof can be removed, the doors can be lifted off their hinges and the windscreen can be laid flat, paying classic homage to the open-air simplicity of the wartime Willys original. Oh, yes, there has been a sop to the concerns of quivering, faint-hearted observers in that the Wrangler emerges from the factory with less ground clearance than it could have, in case some hare-brained innocent with sub-standard driving skills assumes it's going to handle like a Ferrari. It's only a token sop, however, since the Wrangler is shod with tall 30-inch tyres and can be fitted with 32-inch mud-terrain tyres without modification, and there is an excellent selection of aftermarket upgrades to give the Wrangler the mountain-domineering stance it deserves.
The choices are simple, pick a two-door for ultimate off-road agility, or the longer-wheelbase Unlimited four-door for more general family or expedition practicality. Most will opt for the 2.8 CRD turbodiesel, a VM Motori unit with balancer shaft, common rail injection, four-valve with twin overhead camshafts, variable geometry turbocharger and cooled EGR system, which in the Wrangler is tuned to deliver 174bhp and a hefty 295lb ft of torque. There's more power and refinement from the petrol V6 alternatives, but note that the later 3.6-litre Pentastar unit is significantly more efficient, with 280bhp on tap, while the earlier 3.8 can offer only 196bhp. Neither can match the turbodiesel for torque or overall economy, though you'd need to drive it very carefully to achieve the claimed 28.5mpg. Base Sport and hard-core Rubicon models have six-speed manual transmissions, others have a four-speed automatic.
Our verdicts
Looking back at our first report on the Wrangler it seems that we weren't overly impressed  – perhaps we were just expecting more from an all-new model which, although substantially different in most respects from the TJ Wrangler it replaced, retains much of the character and feel of the older model. We wrote: "Jeep claims that on-road ride and handling have improved, but the two-door is still bouncy and the ever-present wind noise is the trade-off for that traditional Jeep upright windscreen. Inside is a homage to unpleasant grey plastic, while the lack of any soft-touch surface anywhere in the car became apparent after a couple of hours behind the wheel when elbows started to develop pressure sores from the hard plastic of the cubby box on one side and the door armrest on the other." These are comments that in retrospect seem laughable considering that the only true rival to the Wrangler was a Land Rover Defender, itself not short of hard surfaces and wind noise. All became clear as the report continued: "Starting at £18k the Wrangler is competing head-to-head with the big hitters in the soft-roader SUV game, making it an expensive and under-equipped left-field choice." In reality, of course, the Wrangler was never intended as a rival to any soft-roader, and as for being expensive, we note also with some retrospective amusement that in the same July 2007 issue we ran a full road test of the Wrangler against the Defender, in the verdict of which we criticised the Jeep Unlimited Sahara for being expensive at £22,090 compared with the Defender 90 County at £22,630. Hey, we've always loved Land Rovers for their hard-core British bulldog qualities, but our pro-Defender bias also showed in awarding the Land Rover a full 5/5 rating for its off-road capability compared with a mere 3/5 for the Wrangler which "bottomed out too easily in comparison with the Land Rover." Come on lads, be fair, we were pitting a short-wheelbase Defender against the long-wheelbase Wrangler.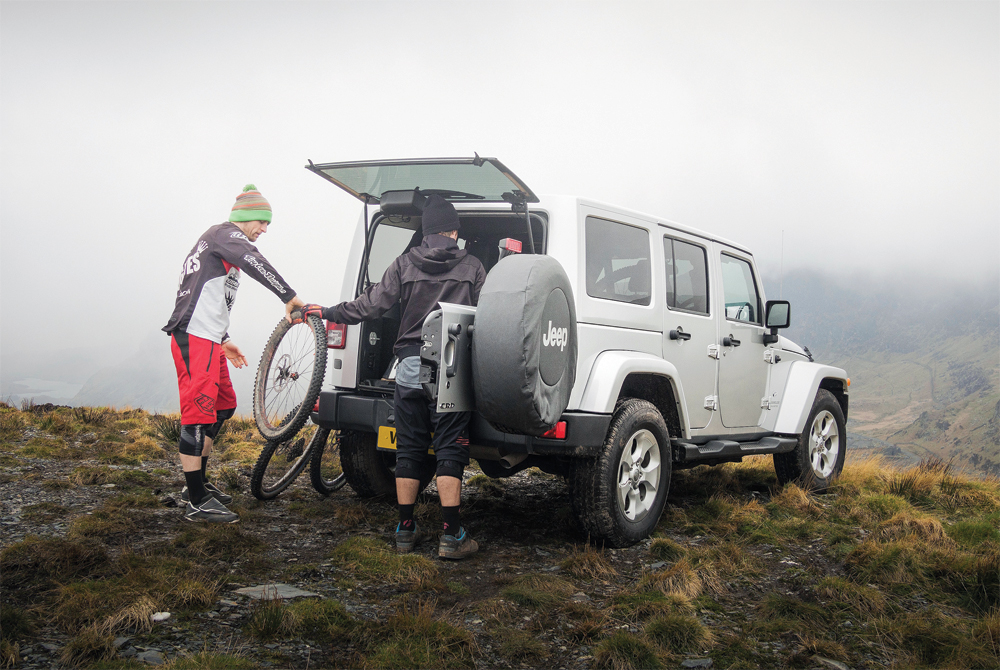 We put that right in the September issue, when we took a much more professional approach in comparing these natural rivals in what we billed as a "Clash of the Titans" to determine once and for all the World's Best Off-roader. We put the cars through 12 separate off-road tests, and seemed surprised at how well-matched they were – check the table (below) to see how they fared.
The winning margins in most of the tests were so slight as to be almost immaterial, but eventually the Defender was declared the winner on points. Perhaps we developed something of a guilt complex after giving the home contender the points in that test, because in the following issue we ran a 'Trail Tribute' to the Wrangler Rubicon, primarily as a reminder to all that the 'Rubicon' name derives from the famous Rubicon Trail, a track winding over the Sierra Nevada from Georgetown to Lake Tahoe, and the fact that the popularity of the trail has ensured that Jeep should provide 'trail ready' vehicles. In the case of the Wrangler Rubicon that includes the locking front and rear differentials, pretty much a necessity for any vehicle destined to have its wheels being lifted off the ground on such a rocky traverse. Combining our approval of the diff locks and the iconic styling of the vehicle, we wrote: "Wrangler's Rubicon is a fantastic 4×4 – an open-air trails specialist with not one, but two, 'unstick' buttons on the dashboard. It oozes power and burbles over rocks effortlessly. It makes us want to drink Budweiser and listen to roots country music, then close our eyes and dream we're in Colorado…"
Nevertheless, the rivalry between the Land Rover and the Jeep continued year after year in our annual 4×4 Of The Year features, sometimes the Defender taking the hard-core crown, sometimes the Wrangler. Those decisions were naturally based on ultimate off-road aspects, but from a more general standpoint we have to admit that capability is one thing, comfort and refinement another, and on that score the Wrangler wins hands down.
Which one to buy
If you're serious about off-roading you'll need to be looking for a Rubicon, since this is the dedicated hard-core version boasting heavy-duty axles with locking differentials, electronic sway bar disconnect, lower low range gearing, sill guards and off-road tyres. Unfortunately you'll search long and hard to find one, since these weren't high on the distributor's import list and were available to special order – and most who bought these superbly stylish, iconic off-road playthings have kept them. Order a new one and you're looking at over £31,000 for a two-door, nearly £33,000 for an Unlimited.
The Rubicon is naturally a higher-cost option and is only available with the thirstier petrol V6 engine, so for easier money you might consider a base Sport, originally available only in two-door form. Equipment isn't marvellous, but does include a stereo and electric windows. Power is from the 2.8-litre CRD turbodiesel and transmission is a six-speed manual, not a bad choice as an off-road plaything since there are many aftermarket upgrades such as suspension lifts and locking differentials to allow you to tailor the car to your own requirements and in your own time. Note that some will have had modifications of a different type fitted, such as the 2007 model in Rescue Green with side steps, satin black alloys and privacy glass, priced at £13,495 with 50,000 miles on it at Chesham Car and Van Sales (01494 783364). Nene Overland in Peterborough (01628 671250) had a similar-age model in red, 33,000 miles with a more useful American Expedition Vehicles suspension upgrade for the same price.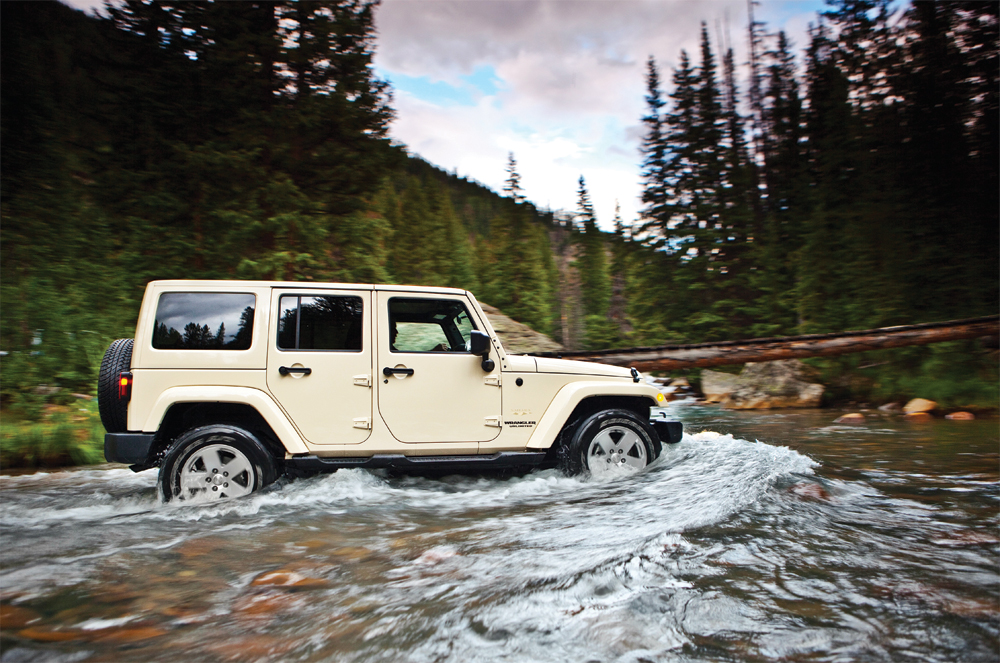 For true off-road enthusiasts it must seem surprising that the Wrangler has had such strong appeal to boulevard poseurs, but it can't be denied that the Unlimited in particular has much of the musclebound styling appeal of the late lamented Hummer but in a slightly more manageable package. This appeal is reflected in the plethora of highly modified and highly priced examples with Kahn and Deranged upgrades which include quilted leather upholstery, machined aluminium pedals, 20-inch satin black wheels, brake calipers in liquid gold (presumably real gold to judge by the price), smoked headlamps, vented bonnet, bull bars and uprated stereo, if this is the sort of thing you want you'll need a good £50,000 to achieve it.
For a plain unmodified car expect to pay at least £9,000 for an early Sport and up to £18,000 for a nearly-new example with 20,000 miles.
The Sahara is the more luxurious alternative with air conditioning, parking aids, traction control, Kenwood stereo with DVD player, DAB radio, Bluetooth and accessory functions and cruise control, look out for models with the £1200 optional sat nav. Cars Today of Worcester (01905 672080) were offering a 2009 Unlimited with 57,000 miles for £12,490 including tow bar and new BFG all-terrain tyres. Chris Variava of Nottingham (0115 855 3040) had a 2014 2-door in black with just 4500 miles at £23,895.
Demand for the Sport was low enough for the model to be dropped, with the higher-specification Overland becoming the top model with the 2011 upgrade, featuring leather upholstery and satnav as standard; Cargo of Huddersfield (01484 559595) claimed the £20,986 they were asking for the white 51,000-miler with grey leather interior made it the cheapest 13-plated example in the UK. Look out also for even better-equipped X edition and Black edition specials, though again the enhancements aren't aimed at improving off-road ability.
The Wrangler still has rarity value so don't expect any nearly-new bargains, ex-demonstrators show up occasionally such as the 2015-registered yellow Sahara Unlimited with 4000 miles being offered by Westaway of Northampton (01604 651033) at £27,990, a little over £2000 under the new list price.
ENGINE DRIVETRAIN CHASSIS BODY AND INTERIOR
Used examples with the V6 petrol engine are quite rare, which is probably just as well since the older 3.8-litre unit isn't as reliable as it should be and has a habit of drinking oil at an alarming rate, with dire consequences if you don't remember to top it up. The later 3.6-litre unit is more reliable as well as being significantly more powerful; if you're buying an older petrol Rubicon make sure to check the oil level and listen for any unexpected knocking or rattling from the engine suggesting that it might have been run low at some time and suffered excessive wear; there should be no smoke from the exhaust. The CRD is more common and a good engine, though it needs a cam belt change at 100,000 miles so check this has been done when buying a higher-mileage example. Check that it's had proper service attention, oil filters are awkward to get to and can clog up, reducing oil flow through the engine.

The automatics are generally trouble-free, but check that there's no knocking or shunting when shifting between forward and reverse, that changes are smooth and that the kickdown is suitably responsive. If you prefer a manual make sure the box doesn't jump out of gear as you apply acceleration, check that shifts are not excessively notchy and that the clutch releases progressively. It's a heavy car and the clutch can wear excessively especially on any car that's been used for towing, where the clutch may have been regularly slipped while making a smooth getaway. Check that the transfer case operates properly, especially on a car that has been used exclusively on the road.
Apart from checking for signs of rust on the separate chassis and off-road damage to the sills, which is quite likely on a standard low-riding car that's been taken carelessly off-road, the most important consideration is to make sure that the suspension and steering bolts and ball joints are all in good condition. The track rod in particular can be put under severe stress when off-roading in rough terrain, and a loosened securing bolt can result in unexpected wheel wobble. Worn ball joints can lead to a similar problem, which can be exacerbated on cars with taller than standard off-road tyres if they haven't been balanced properly or if a suspension lift has altered the caster on the front wheels. Brake calipers have a tendency to seize, so check that the car stops straight and true when braking hard. Also make sure to try the handbrake, the simplistic cable arrangement is notorious for being difficult to adjust when they begin to slacken.
Body panels aren't particularly prone to corrosion, and interiors, although seemingly abounding in cheap plastic, don't fall apart easily. Electrical problems are not unknown, so make sure all the relevant features work as they should, such as the remote central door locking, electric windows and stereo. Because the Wrangler is nominally a convertible, with a separate hard-top, have a look under carpets and check the upholstery for signs that it's been left out in the rain with the roof off.
Or you could consider…
LAND ROVER DEFENDERTOYOTA LAND CRUISERMITSUBISHI SHOGUN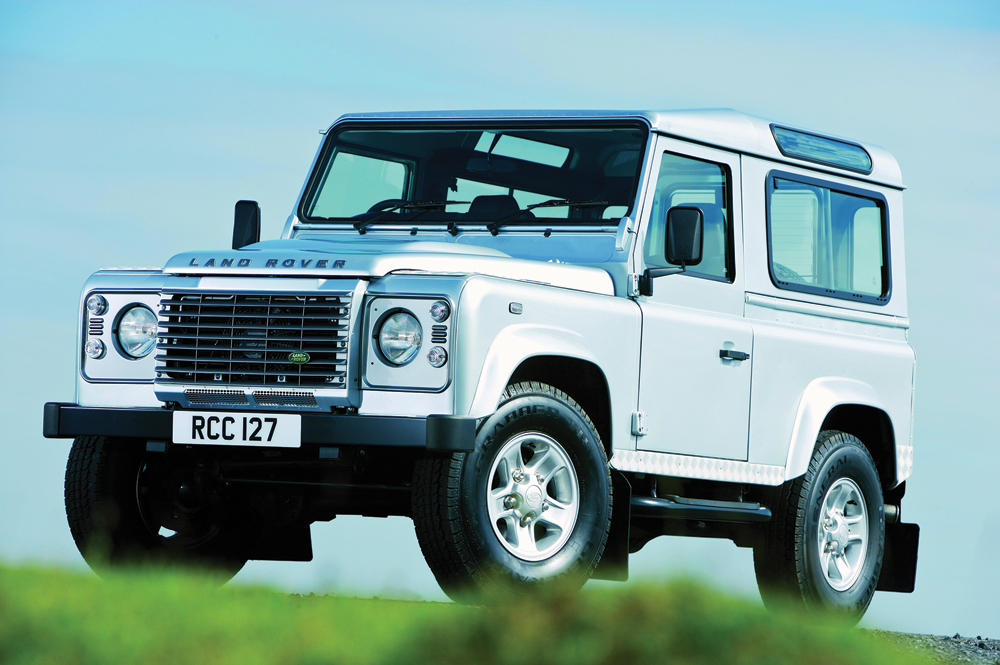 We've always considered this to be the closest true rival to the Wrangler, and although it has a much more dated feel to it it's not much less comfortable inside than the Wrangler and has significant advantages as a hard-core off-roader, whether for business or pleasure use – spare parts are reasonably priced, there are many independent repair and maintenance specialists all over the country and there's a wide range of types to choose from the short-wheebase 90 to 110 commercials, high-capacity and double-cab pick-ups. The Land Rover is also rated to tow 3500kg, much more than the Jeep is legally allowed to handle, and in its later incarnation with the Ford Puma turbodiesel engine reliability is significantly improved.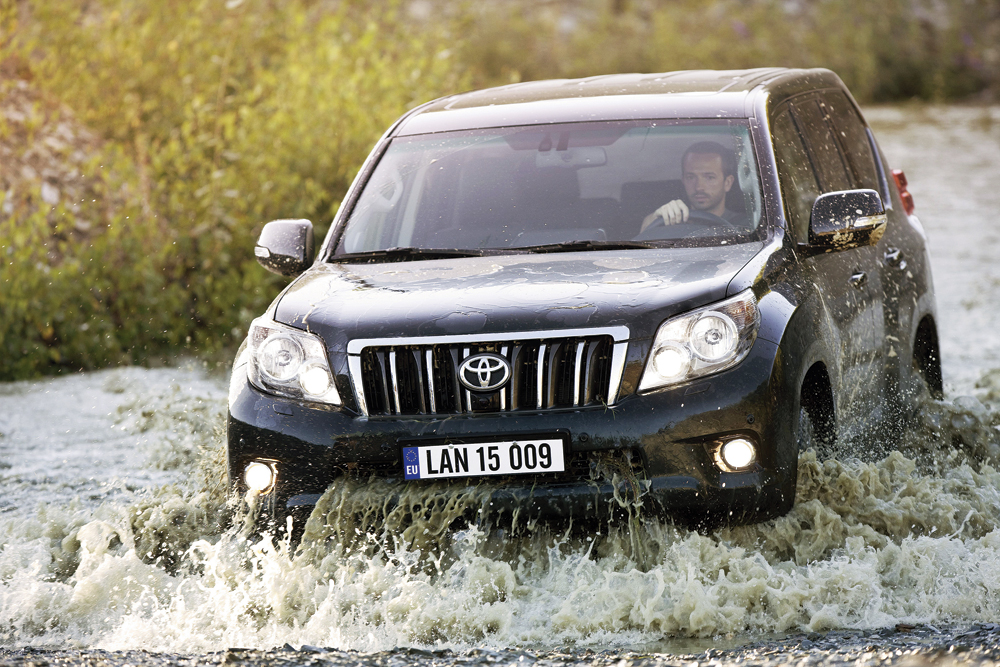 We wouldn't consider this a natural alternative to the Jeep, because it's altogether more of a comfortable estate than an uncompromising off-roader. With the proviso, of course, that it still has quite impressive off-road capability. Under the sleek and aerodynamic body is a level of traditional primitive 4×4 in the form of a separate chassis, a rigid rear axle and dual range transmission. The front suspension is independent, which does detract from ultimate off-road agility, but some high-specification versions have a locking rear differential and traction controls that help to overcome any deficiency in this area. The 3.0-litre turbodiesel is no less refined than the Jeep's 2.8 CRD, and it also has better ride comfort and significantly better interior comfort, along with eight-seater convenience.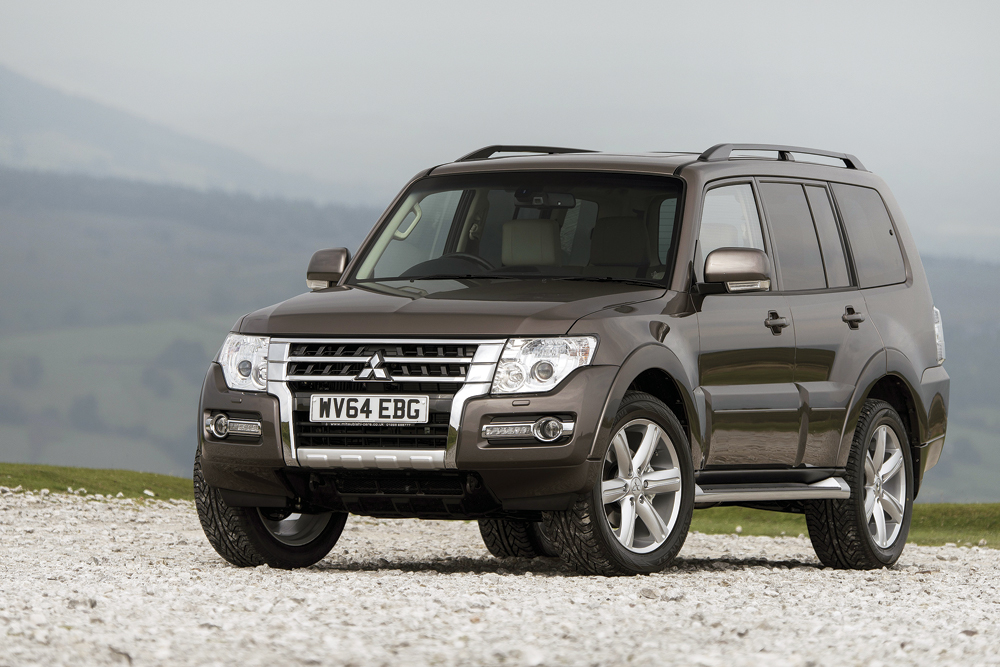 Chalk to the Jeep's cheese, perhaps, but in spite of its monocoque construction and coil-sprung independent suspension there's still something primitive about the Shogun, so unrefined compared with other mainstream luxury 4×4 estates that we decided in our latest 4×4 Of The Year comparison (Winter 2016 edition) to place it in the hard-core section along with the Wrangler and Defender. Like the Land Cruiser it's certainly more of a family wagon than an all-out off-road adventurer, high-specification models including a fold up extra rear bench making it a useful seven-seater, but with its super select transmission, strong and reliable turbodiesel engine and traction controls it will give a good account of itself in tough off-road conditions.