Is all-independent suspension and torquey turbodiesel engine enough to make the Shogun a worthy player in the modern premium SUV arena? It may have lost its way a little, but it is still a sound bet as a family estate with genuine off-road ability
TARGET RANGE:  £8000 – £30,000
The Shogun has developed into a crossover – a crossover between the old and the new. When the third generation of this popular 4×4 blasted on to the scene in 1999 it seemed to be leading the way, shunning the heavy separate chassis and rigid axles of its predecessor in favour of monocoque construction and all-independent suspension, backed up by refined new engines and slick-shifting transmissions. When the time came to leapfrog the technical advances of its key rivals in 2007 we expected something truly futuristic from this innovative company, lightweight construction with space-age materials, perhaps, integrated electronic communications and driving aids, advanced transmissions with fully automated four-wheel drive controls…
What we got was little more than a facelift of the previous model; even the much vaunted facelift for 2015 turned out to be little more than that – a deeper more integrated grille and the addition of daytime running lights – which means it's the Shogun that's been soundly leap-frogged by the opposition, so much so that in the 2016 edition of our expansive 4×4 Of The Year comparison we nudged the latest Shogun out of the top-range SUV category and shifted it into the hard core group along with the last of the Land Rover Defenders, the Jeep Renegade and the Suzuki Jimny.
That may seem like a bit of a comedown for a vehicle selling itself as a luxury estate – but could it be the exact opposite, a congratulatory recognition that the Shogun is one of the very few that have stuck to the original crossover concept, that heady blend of hard-core off-roader and luxury limousine that was kicked off by the Range Rover in 1970? Most of the other premium players in this arena have long ago shrugged off any pretence of being off-roaders adopting instead a whole range of technological advances aimed at enhancing their highway performance, refinement and gimmick-led convenience features, vehicles that pay lip service to their mud-plugging origins while pandering to the passion for fashion of the rich and the famous.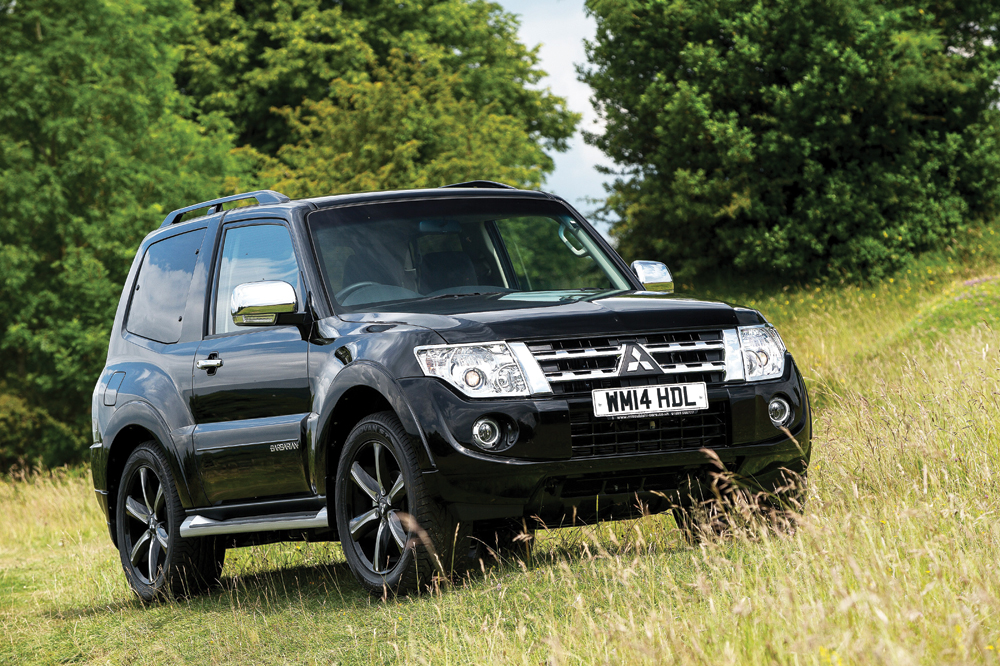 With its clunky five-speed transmission and manual-shifting four-wheel drive transfer case, vague steering and add-on electronics the Shogun feels like an old truck to drive compared with the latest offerings from Land Rover, Nissan, Jeep and even the once junior-league players Kia and SsangYong, but the fact that the Mitsubishi can hold its own against true hard-core off-roaders while offering much better interior comfort and space marks it as one of the few remaining vehicles of its type that still has real all-purpose capability, and therefore ideal for anyone valuing uncomplicated seven-seater family practicality and competence over the flighty demands of fashion.
There's also the consideration that the short-wheelbase Shogun retains, even nearly a decade on, the dynamic Dakar-inspired styling that gives it classic, muscular and still youthful high street appeal as well as enhanced off-road capability with its short front and rear overhangs.
From 2007, in line with the focus on practicality, Mitsubishi dropped the frivolously thirsty petrol V6 from the range and offered only the 3.2 DI-D turbodiesel engine, tuned for 168bhp and returning little better than 30mpg, pick a model from at least 2010 to enjoy the higher performance and better consumption of the upgraded 197bhp unit promising better than 36mpg with the manual transmission, 34 with the automatic. We've long favoured this engine for its strong torque and have even excused its relative noisiness because of the almost stirringly sporty exhaust beat at cruising speed. It is, nevertheless, a dated engine; compare it with the 3.0CRD of the Jeep Grand Cherokee which develops a headier 247bhp, returns better than 37mpg and emits 198g/km of CO2 compared with 224gm/km for the long wheelbase Shogun, so you won't be buying one on the grounds of efficiency alone.
Our verdicts
We appreciated the improvements for the fifth generation Shogun of 2007, but hardly felt any genuine excitement because it didn't offer anything dramatically new – other than aiming even higher than before in pitching itself right in Discovery 3 territory. Of our first experience with the new model, in the March 2007 issue, we wrote: "The Shogun has moved further away from the slightly agricultural workhorse; it's aimed squarely at the executive SUV market and there is now a new top-spec Diamond to head the familiar line-up of Equippe, Warrior and Elegance. The Diamond features 20in alloys, sports grille and lots of chrome trim for an extra £2000 over the Elegance. Is it really worth the extra cash for a bit of shiny trim? Perhaps not."
We were no more excited about the Shogun when, a few months later, we were able to put one to the test in comparison with some similarly priced rivals, a SsangYong Rexton and a Nissan Pathfinder. In our Summer 2007 edition we wrote: "The fourth-generation model has arguably stepped back in time in terms of styling, with a leaner, squared-off version of the previous car's more rounded, muscular haunches." We approved of the way the spare wheel had been mounted a little lower than before, improving the view through the rear screen, but were not impressed with the price – we complained that at £34,696 the Equippe didn't have the leather upholstery, heated seats, cruise control, satnav or front fog lamps of the higher-specification models, making the claims of this being an affordable luxury car seem less obvious. We did like the clever "hide and seat" rear seat arrangement, in which the bench simply folds up out of the boot floor; it's a substantial item that's heavy to operate, and really only capacious enough to accommodate children.
On the road we appreciated the lusty nature of the engine, the responsive transmission, good steering feel and sharp handling that enhanced driving confidence. Off-road we criticised the long rear overhang, in spite of which it outclassed the Rexton and Pathfinder in difficult terrain. In the final verdict, the Shogun lost out to the Nissan that had better on-road performance and refinement, and more capacious seven-seater accommodation.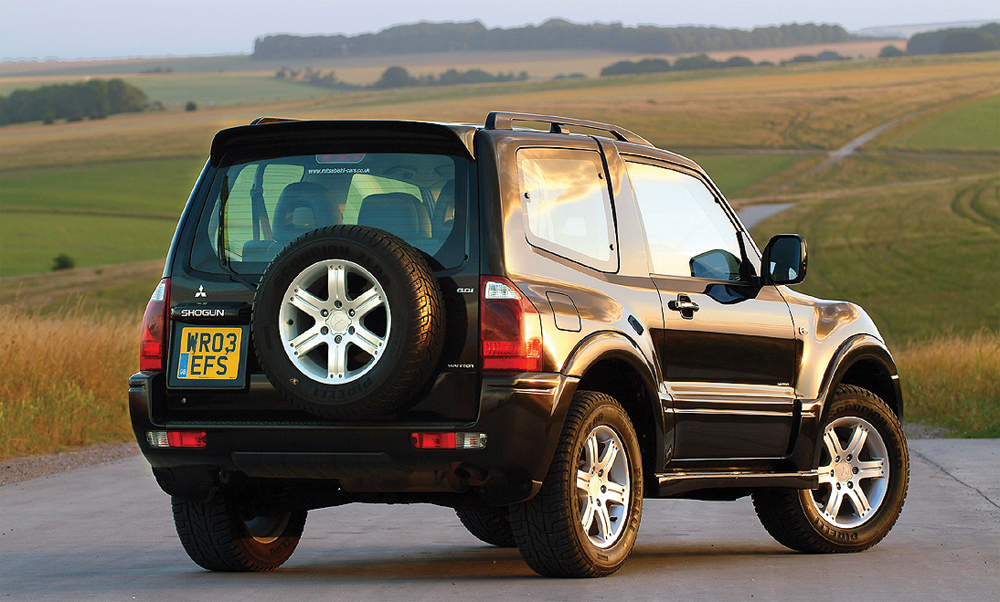 side slope capability, hill descent control, axle articulation, approach and departure angles and hillclimb ability. The Shogun came ninth out of 12, losing out to more focused rivals such as the Jeep Wrangler, Toyota Land Cruiser, the Land Rovers – and, surprisingly, the Volkswagen Touareg. We commented: "The aspiring Discovery rival not only lags way behind the Land Rovers, but also plays second fiddle to the Nissan Patrol and Toyota Land Cruiser as an off-road force to be reckoned with. The Shogun has tidied up its act with improved styling and better road manners, but off-road it remains decidedly average. Naturally a short-wheelbase Shogun would be a better bet for anyone looking for a very competent off-road plaything."
The significance of this comparison has faded over the succeeding years, as most of the other premium SUVs involved have erred in the direction of on-road enhancements, leaving the Shogun as a more genuine, even if not Wrangler-competent, off-roader. Our comment when pitted against the hard-core Defender, Jimny and Wrangler in our most recent 4×4 Of The Year competition: "Now completely unsuitable for the Prestige section, the Shogun fits more neatly into this group. Mitsubishi has refused to update its once luxury flagship – it still has the spare wheel on the back door, just like all its new best friends in the hard-core group." The Shogun came third behind the Wrangler and the Land Rover, but not by much, racking up a score of 80 per cent against the winning Jeep's 88 per cent.
Pretty much everything we felt – and still feel – about the Shogun is reflected in our most recent evaluation: "Just because the Shogun's beginning to look a bit long in the tooth doesn't mean it's no longer good. The bold sporty styling gives it a pleasing individuality; the turbodiesel is one of the strongest in terms of stump-pulling off-road torque and it sounds good under power on the highway. There's no question about its strength and reliability."
Which one to buy
The Warrior specification always struck us as the best value, and you'll still need in the region of £10,000 to acquire a reasonable-mileage example from 2007, Sheffield Car Centre (01142 572032) were offering a still-gleaming black seven-seater with 99,400 miles, full service history and long MOT at £10,795. The specification is excellent, including full black leather with heated front seats, satellite navigation, climate control, tinted glass and 18-inch alloys. You will pay less for a three-door, for example £8250 would have secured the similar-age black 90,000-miler with warranty and new MOT from Perrys of Mansfield (08448 154452).
Meanwhile the base Equippe is hardly spartan, it has cloth upholstery but includes air conditioning, electric windows and central locking, with front and side airbags; it has traction control and electronic stability systems, which explains why a clean, well-maintained example could easily ask as much as a higher-mileage Warrior or Elegance. The Elegance has an electric sunroof and enhanced stereo, pay upwards of £8000 for a reasonable-mileage, well-maintained early example, more like £14,000 for a post-2010 example with the uprated engine, Milton Keynes Mitsubishi (01908 224234) were advertising a metallic grey towbar-equipped 69,000-miler for £13,995, with full service history and long MOT.
The Diamond has enhanced interior trim and adds little touches such as parking aids and bigger alloys, enough to boost the price to a good £1000 more than an Elegance of similar age and condition. Bedford Car Centre (01234 217777) had a metallic black one-owner 2010 model with 71,000 miles going for £15,990, black leather interior, moon roof, CD autochanger, rear DVD screens, side steps and xenon headlamps.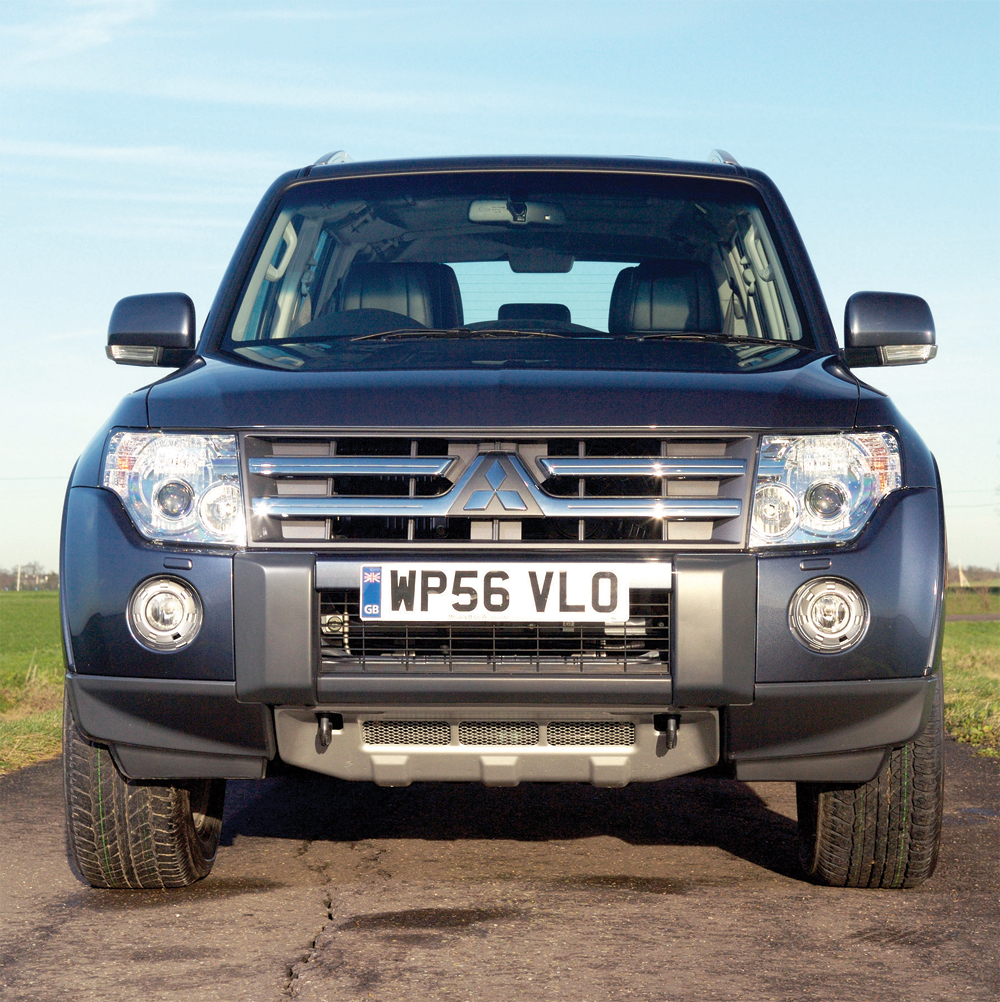 During 2011 the Shogun was updated for the 2012 model year, the main mechanical enhancement being the retuned engine to meet Euro V emissions standards. Cosmetic details include a revised grille and colour-keyed front bumper, a new style of 12-spoke alloys and black roof rails on the outside, with better quality materials for the interior trim and enhanced instrument illumination. Badging also changed, with SG2 as the entry level but impressively equipped with keyless entry, climate control and integrated Bluetooth, and more luxury in the SG3 and SG4 versions, which have SD card satnav, DAB radio and reversing camera as well as automatic headlamp and windscreen wiper functions. Second-hand five-door SG2 versions are rare, but we spotted a smart Cool Silver example with manual transmission on a 12 plate with 29,000 miles at Fownhope Mitsubishi (01432 273791) priced at £18,995, not only a one-owner car with towbar and BFG all-terrains, but one originally bought and subsequently fully maintained by that dealer. A similar-age SG3 five-door with 30,000 miles, Granite Brown with cream leather with a full service history, was going for £22,950 at Speeds of Loudwater (01494 512525), a car that was once their own demonstrator so sold with a full service history and a six-month warranty.
We were attracted to the Cool Silver 2015 SG4 being offered for £27,900 at Humphries and Parks of Maidstone, a pristine car with only 11,000 miles, not bad since we've seen cars two years older and with higher mileage asking similar money.
There are special editions worth looking out for. The Black – oddly enough available in Frost White, Cool Silver, Orient Red and Granite Brown as well as Diamond Black – is based on the high-spec SG4 and has a satin black styling kit including 20-inch wheels, black spoiler, door mirrors, grille and headlamp bezels, door handles and side steps. These are naturally rare second-hand, Holwood Cars of Keston, Kent (01689 326848) had a white 12-reg 39,000-miler on offer at £32,990, not bad for a car that cost over £38,000 new.
Keep an eye out for good deals on new and nearly new examples. The Shogun remains desirable but with interest in the new-tech Outlander PHEV on the increase, some outlets might ease the asking price on Shoguns just to move some stock. Autoecosse of Dundee (01382 780852), for instance, had a selection of range-topping unregistered SG5 models with 100 miles on them priced at £37,300, list price £40,299; Grenson Motor Group of Crewe (01270 359971) wanted a mere £36,299 for an unregistered SG4 with 10 miles on it, £4000 off the list price.
The most desirable three-door is also the most recent special, the Barbarian launched in July 2014, with gloss black and silver Le Mans alloy wheels, L200 Barbarian style leather interior with carbon inserts, DAB digital radio and alloy pedal kit, look for a low-mileage nearly new ex-demonstrator, for instance the 2000-mile 65-plated automatic with extras including satnav asking £28,995 – a saving of a good £3000 over the new list price – at Brindley Mitsubishi at Cannock (01543 406620), though Grays of Holbeach (01406422129) had a new Barbarian with tinted glass and sidesteps, only 20 miles on it on offer at a stunning £27,750.
Several dealers had ex-demonstrators for sale, the gleaming black SG3 on a 65 plate with just 1900 miles caught our eye at Westway Motors of Northampton (01604 651033), priced at £30,990 with electric sunroof, side steps, Rockford premium audio and HD navigation, a snip compared with the £34,744 list price.
ENGINE DRIVETRAIN CHASSIS BODY AND INTERIOR
One of the reasons for buying a car with a chain-driven camshaft rather than a belt-driven one is that the chain generally lasts the life of the engine so you escape those high-cost services at 80,000 or 100,000 mile intervals involving a belt replacement – a significant point for anyone buying a higher-mileage second-hand car to consider. The Mitsubishi 3.2-litre DI-DC turbodiesel has a chain – but the nylon-faced chain guide has a habit of wearing away at around 80,000 miles causing the chain to dislodge with consequent damage to the engine. Since a replacement is cheap and easy, it's worth having this done on any car showing anything near 80,000 miles. Cars used for heavy towing duties have been known to overheat, so check for signs of "mayonnaise" under the oil filler hinting that oil and water are mixing through a damaged cylinder head gasket. Otherwise the engine is generally reliable, apart from problems that can affect any turbodiesel, such as a clogged-up exhaust gas recirculation valves; some owners may have blanked this off to avert the problem, with a slight performance improvement as a bonus, but check that the car has an MOT report showing the emissions aren't seriously affected.

Manual gearboxes can be troublesome, probably because they're having to deal with the massive torque of the turbodiesel engine. Listen for excessive whining noises, particularly in top gear, during acceleration or on the overrun. Also check the synchromesh, any crunching or resistance to change might indicate impending failure. Also make sure the clutch takes up smoothly and progressively, without any grinding or chattering noises, or a shuddering feel, which suggests an expensive problem developing with the dual mass flywheel. Automatics are generally trouble-free but have been known to overheat if used for heavy long haul towing; an acrid smell from the transmission dipstick might indicate that the transmission has overheated at some time. In any case the automatic transmission fluid should be changed regularly at six-year intervals so check that this has been done on any older model you're buying.
Sagging springs aren't unusual on an older car, particularly one used for heavy towing, so make sure it sits level. Damper wear shouldn't be a problem even on cars dating from 2007, but again if it's one that's been used for towing the rear dampers may have suffered leading to a tendency to 'wander' on the road, though this could also be down to worn rear suspension bushes. Either way, reject any car that doesn't feel crisp and stable. Power steering failure is rare in this latest generation, but it's worth checking that the steering works quietly from lock to lock, check for leaks from the power steering pump and the steering assembly. Anti-roll bushes can soften, which could cause the car to pull to the left under braking. Brake pads tend to wear quite quickly, it's more important to check that the discs aren't warped, brake hard at speed and reject the car if you feel a wobble from the front wheels, a feeling that's nothing like the clattering of the antilock system; that's also known to fail so make sure it's working on any car you're thinking of buying. Listen for the rumbling groan of worn wheel bearings, a fairly common problem on older cars.
Rust is unlikely to be a problem on cars of this generation, though underbody damage from over enthusiastic off-roading could have given corrosion a hold, the spring housings are particularly prone to corrosion if grit and water are left there after an off-road outing. Check the sills for signs that dents or scrapes have been patched with filler. The bulging wheelarches are also prone to picking up scrapes from undergrowth, look for signs of hairline scratches hidden under colour polish. On a long wheelbase Shogun make sure the pop-up rear seats do pop up properly and that the floor underneath them is still sound, muddy boots can damage the surface and initiate corrosion. On a three-door check under the boot floor covering anyway for signs of water ingress, and also check for stains on the headlining on any car with a sunroof. The quality of the interior materials is better than in previous generations and shouldn't show much wear, even so it's worth taking a test drive over a side road with a broken surface to check for excessive squeaks and rattles from the dash. Make sure the satnav works, systems on earlier cars are known to have failed.
Or you could consider…
TOYOTA LAND CRUISERJeep Grand CherokeeSsangYong Rexton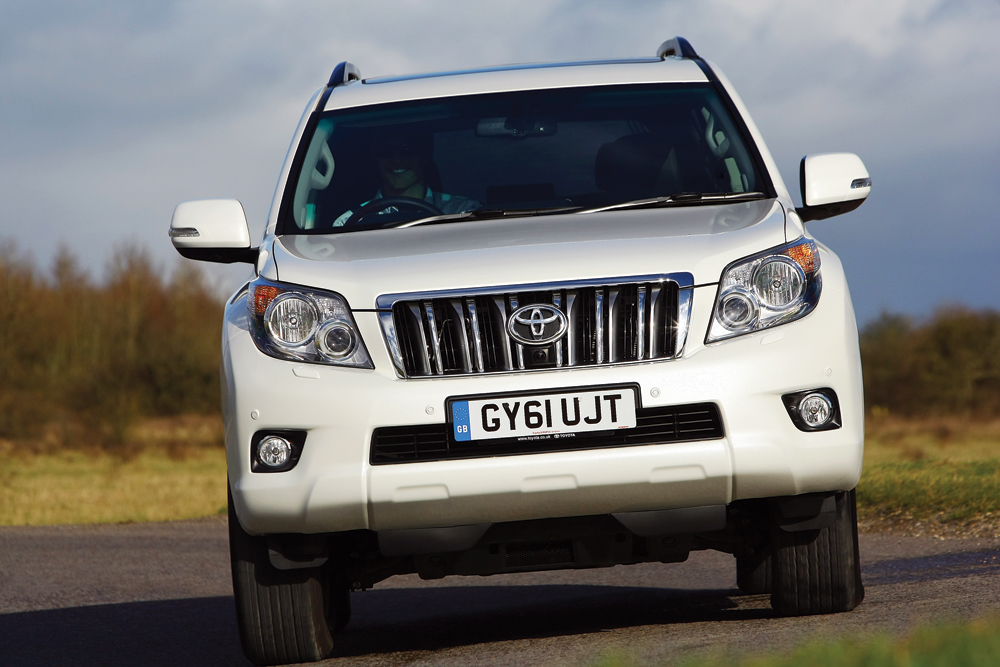 This is the most natural alternative to the Shogun, because it's another veteran that hasn't succumbed totally to the modern rush for performance and refinement. With its blandly sleek and aerodynamic body it lacks the dynamic visual appeal of the Shogun but it outdoes the Mitsubishi in several areas, one being the retention of the traditionally primitive 4×4 requirements of separate chassis and rigid rear axle, along with dual range transmission giving it significantly better off-road capability. The front suspension is independent, which does detract from ultimate off-road agility, but some high-specification versions have a locking rear differential and traction controls that help to overcome any deficiency in this area. The 3.0-litre turbodiesel is more refined, more economical and cleaner than the Shogun's rumbling 3.2 DI-D, and it can seat eight in comfort.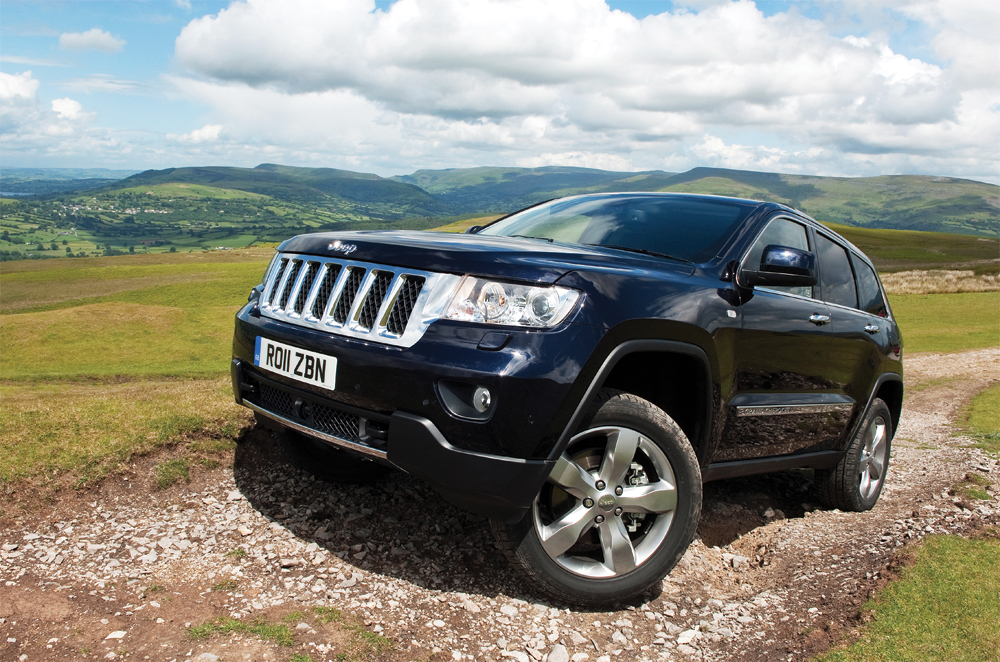 The iconic Jeep name ought to mean something to anyone looking for a serious off-road estate, but it just hasn't been available in the UK long enough to develop anything like the Shogun's reputation for hard work and reliable performance. However, in spite of its American feel the modern Grand has much to offer as an all-round SUV, since it's every bit as competent off-road as it is on tarmac featuring a form of terrain response, height-adjustable air suspension, hill descent control and traction controls, while convenience features include a rear parking-aid camera and a panoramic sunroof. Power is from the efficient and economical VM-built Fiat Multijet II V6, the interiors of high-end versions are clad in sumptuous leather and electronic enhancements include cutting-edge electronic driving aids such as lane change warning, traffic sign recognition and autonomous braking.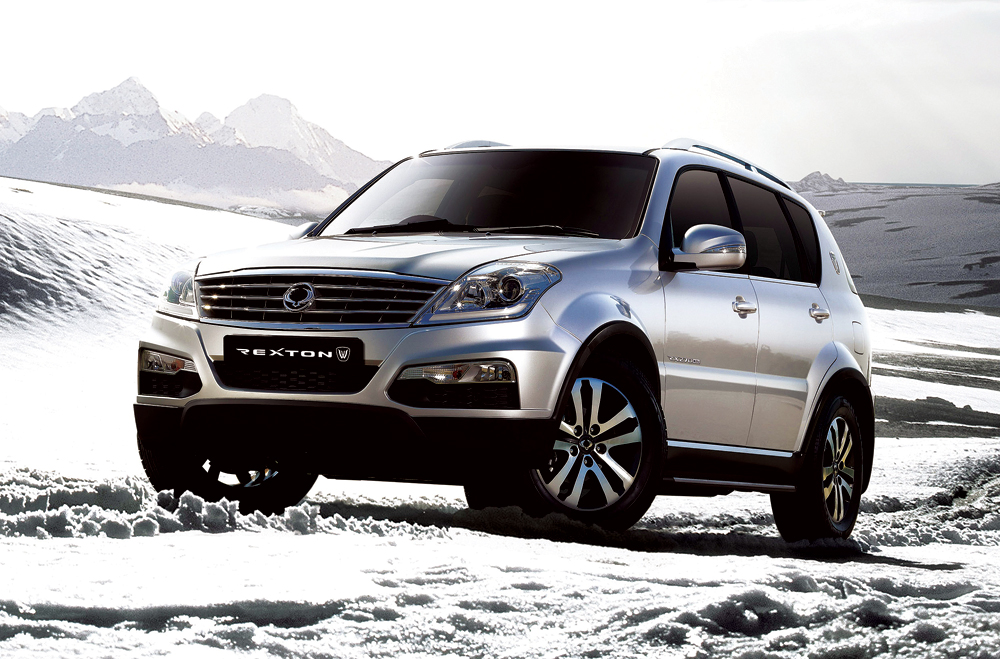 What, really? It's a Compact compared with the Shogun, but it's a seven-seater, so offers similar interior comfort in a more natural car-like environment. It's not the most refined of modern SUVs, but with its new smoother and cleaner 2.2-litre turbodiesel and seven-speed automatic combined with taut suspension and crisp steering it's arguably a more pleasing vehicle to drive – and it will also tow a three-tonne trailer. It even challenges the Shogun off-road with its separate chassis offering good articulation; it also has a dual range transmission, traction controls and hill descent control. Equipment levels are excellent, including keyless entry and climate control in all models, leather upholstery in all but the base version and DAB stereo and satnav in the range-topping ELX, all at a price that undercuts the cheapest new Shogun.