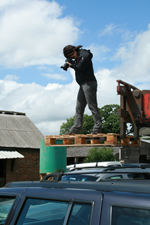 As Jeep celebrates its 70th anniversary, Hils expresses her relief that there is something to celebrate, as a year ago, the iconic American brand looked under threat
We have been enjoying a busy period for milestones over the last few years. In 2008 we marked the 60th anniversary for Land Rover, and the following year saw the arrival of the new Discovery 4 during the model's 20th anniversary; this year is Ford's 100th birthday and there is the no small matter of the 60th anniversary of Toyota's Land Cruiser in 2011 also.
All these manufacturers are massive players in the automotive market, with Land Rover and Toyota particularly in the minds of us in the 4×4 world. But the most significant milestone to celebrate for me is the 70th birthday of Jeep, which we are highlighting in the magazine this month.
It was, after all, Jeep which started the whole business of four-wheel drive vehicles with the Willys Jeep back in 1941. The original Series 1 Land Rover was conceived from the idea of the Jeep, and, 70 years on, we have a line-up that still pays homage to the American manufacturer's true off-roading heritage, as well as maintaining the 21st Century need for comfort, refinement, exceptional diesel power and those all-important environmental credentials.