Over the course of the last month, Hils got the opportunity to drive some rather different vehicles that illustrated one extreme of 4WD to another
The first not-done-before 4×4 experience I had during the last month was driving a monster truck! I know, there will be many of you out there who think these American-style pick-up trucks, that have been lifted into the stratosphere, been fitted with ridiculously enormous booming V8/V10 engines and tyres that a small family could live in, are a waste of time and silly gimmicks and have no place in our 4×4 world. Well, you may well be right, but if given the chance to drive one, I bet most of you would have a crack.
My chance came courtesy of the lovely guys at Chevrolet while I was on the launch of the new Captiva – as you'll read about on p26 – at Blackland Farm in East Sussex, where Leisure Pursuits operates its off-road driving days. One of the attractions is driving the 'Monster Truck'; an America spec called 'Grizzly'. You may have spotted this very truck featured in the latest McDonalds ad on TV!
During the Captiva launch we were offered the chance to drive Grizzly on a short course, which involved crushing a police car – pretty tempting you have to admit. So as not to appear rude and to satisfy a secret burning ambition, I gave it a go.
I climbed up the ladder into the Chevrolet Big Block – a bespoke manufacture with Silverado body, based on a full-size single cab truck. Under the bonnet a 7.5-litre Chevy V8 454ci petrol lump grumbled away, held up by 1000/50 R25 (5ft 6in high) Michelin rubber wear. The steel box-section chassis measures 11x5ft and the suspension is from an American Freight Liner Truck with 12 shock absorbers providing the all-important damping action.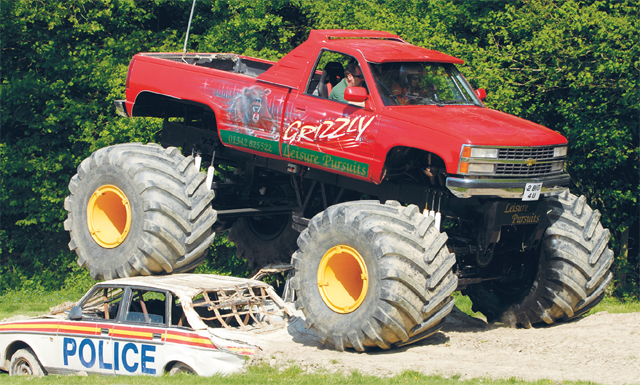 The noise from the Chevy block was booming as we rumbled around a tight course that saw the Grizzly performing more nimbly than I expected. The hydraulic steering made fairly light work of even the most awkward manoeuvres, but it still felt a bit like driving a large house. Extra wellie was needed to climb over the now rather sunken police car. Applying the brakes – the system works on the M54 GMC REO axles as discs operating on those enormous wheels would be ineffective and downright dangerous – required every ounce of strength I could muster and wasn't instantaneous. Yes, it was fun and different and I can now say I have ticked a monster truck off my list.
And so to the other extreme. Last year, I visited Prestwold Hall for some supercar track driving: all 2WD drive and great fun. This time, however, I was there to do some introductory rally driving. After the ambling Grizzly I now found myself strapped into a Subaru Impreza WRX STi for some high-speed excitement.
The first round in the Subaru was fantastic, but next up was a 400bhp+ Mitsubishi Evo – now that is a rally car of distinction. Okay, so it was a bit uncomfortable, as I had to have several pads placed behind my back to make sure I could reach the pedals, but the awkward positioning was soon forgotten as I belted around the course. Not a cone was knocked over, nor too many bad lines – I was loving this and the stability the 4WD afforded around those tight bends and chicane was superb. I have never driven a 4WD vehicle in that manner before and, boy, was it brilliant.
I was absolutely shattered after that; the way they tell you to steer with arms locked at quarter past nine at all times had my arms burning frantically by the end. My short limbs didn't help, either. My admiration for the rally drivers who do this in long distance races over all types of terrain shot up enormously. They are truly driving geniuses – and strong as oxen.
Unfortunately, that had to end and next up was a front-wheel-drive VW Polo to learn how to drift on loose gravel. Needless to say, by this time I was pretty tired and with my off-roading DNA I found I just couldn't resist leaving the course to experience some off-tarmac fun in the grass and mud… say no more!
Eventually, I did get the trick of drifting around the odd corner without spinning off the track. It was extremely hard and very tiring but what a wonderful experience.
If you are wondering what to put on your birthday/anniversary/Christmas wish list, try suggesting a rally introductory day to your nearest and dearest and drive some hard-core 4WD vehicles that we gentle, ambling off-roading fans wouldn't normally encounter. The admiration for 4WD at speed in a rally spec car from this novice was immense. Hils
Hils