This month Hils has been driving some rather different Merdeces-Benz 4x4s. Both awesome in their own right but at different ends of the scale
Last month I was lucky enough to take the wheel of a Monster truck and a couple of 4×4 rally cars which was an awesome experience. More recently, I have found myself behind the wheel, for the first time, of two iconic Mercedes-Benz models on the Milbrook Proving Ground's off-road course. I was doing this as part of the Society Of Motor Manufacturers and Traders (SMMT) press day where all the manufacturers bring along their vehicles and give us press bods the chance to drive what we like.
Overall, the sad thing was that very few 4x4s were present. I drove the Amarok pick-up again off-road and a new Jeep Wrangler, which was excellent as always with its revamped more 'luxury' interior, but that was it, until I sauntered over to the Mercedes-Benz stand where I clocked a superb, huge Unimog U4000 Fire Engine and a lesser-spotted new G-Wagen… oops, sorry… 'G-Class' as we must call it now.
Which brings me to a rant: The one thing I do not like about the new G-Class is just that – its name. To me, it should always be a 'G-Wagen'. That was an iconic vehicle, a superb off-roader and fine piece of 4×4 machinery. To class it in with Mercedes-Benz's other road cars of the same hook is just not right. I can understand MB wanting to up the ante and give it more gravitas, but 'class' just lumps it in with the others. 'Gelandewagen' suits it, and 'Gelandeclass' does not: Simples!
Anyway, enough ranting; think you've got the idea. So what is it like to drive this leather-bound, luxury, awesome off-roader with 4ETS Four-wheel Electronic Traction System with front, centre and rear diff locks, seven-speed auto gearbox, leather dash and a price tag of £79,975 for the 210bhp G 350 3.0-litre V6 CDI and a staggering £114,975 for the G 55 AMG Kompressor?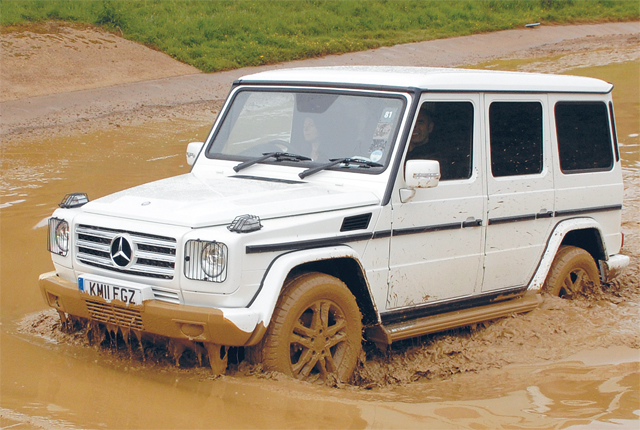 It has been away from our shores for 10 years, but I love the fact that MB has not mucked about with the exterior and kept that boxy, so-recognisable-as-a-'G-Wagen' design. Inside it is pure unadulterated comfort with leather literally everywhere you look, sensuous to the smell and seductive to the touch. Even the manually-operated diff locks look upper-crust and ergonomically spot-on, situated in the perfect place between the face air vents.
On the short road drive to the off-road course it felt comfortable and even more refined than what I can recall about the old model. Off-road it was superb, as you'd expect and ate up the course for breakfast. Switching in and out of those diff locks as and when required was effortless.
By complete contrast, after the most expensive factory 4×4 on the market, next up was a pure beast of a utility truck. After slithering out of the refined G-Class, I clambered up into the Unimog and off we trundled onto the short road drive to the black-rated off-road course which might as well have been just a shallow muddy track. The Unimog is so agile and powerful, oozing torque just when you want it, that you hardly notice what is going on underneath those 20in wheels, helped by an approach angle of 41°, departure of 44° and ramp breakover of 39° with 420mm of ground clearance. As the obstacles got increasingly technical, play australian pokies online I just switched the hand-operated exhaust brake on and off as required and let the 'Mog get on with it with very little effort from me. I even managed to flick up to sixth gear on the gravel track – since it has eight forward and six reverse gears…
As I type the final full stop here, I will be packing for an overnight trip to Derbyshire to drive the new luxury Jeep; the latest Grand Cherokee (WK2). As you will have read in previous issues, editor Nigel Fryatt has had the pleasure of piloting the brand new Jeep flagship as you will have read. I am particularly excited because, as regular readers will know, I have owned a mark II, 51-plate, Grand Cherokee (WJ) for four and half years. It's given me huge pleasure, some angst and no little a dent on my ever diminishing bank balance.
I wasn't a huge fan of the mark III (WK) that replaced mine in 2006, feeling Jeep had dumbed it down and ruined its pleasing lines with that horrible boxy rear end. All my colleagues who have driven the new one say it is a huge improvement with an excellent new all terrain system to rival that of the Toyota Land Cruiser and Discovery 4/Range Rover. We'll see if that's true when I jump behind the leather-clad wheel and take it through its paces.
You'll read about it in next month's issue (September) within a major feature covering all evolutions of the Grand Cherokee, forming part of our 70-year celebration of the iconic Jeep brand. Order your issue now!
Personally, I love big 4x4s – as you may have guessed – and as long as the likes of Toyota, Jeep, Mercedes-Benz and Land Rover continue to produce awesome off-roading trucks, I will be a very happy girl.
Hils