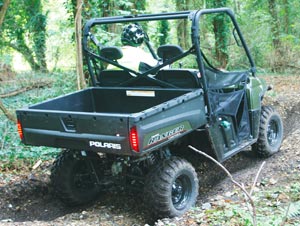 After pressure from farmers and estate workers Polaris rewarded their pleas and has launched the first Ranger side by side diesel-powered ATV.
Words & photos: Hils Everitt
When the invitation came through to view the hot-off-the-factory-floor new Polaris Ranger Diesel side by side ATV at the Soltex – the show for everyone who works in the estate and sports ground management industry – the first thought was, not much we can tell about it sat on an immaculate trade stand bustling with smart management and no mud in sight.
So, it was with delighted surprise that we learned Polaris had secured the use of Soltex's venue, the Royal Windsor Racecourse's purpose-built offroad route secreted in the trees. The downside was that I wasn't allowed to drive the Ranger in the mud, despite my off-roading credentials, but a quick blast on a stretch of tarmac was the best I'd get, although it did demonstrate the excellent top speed of 35mph. Okay, so that is 5mph less than the previous 455cc single cylinder four-stroke petrol unit, but this isn't a vehicle built for speed.