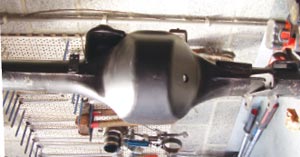 Frogs Island 4×4 now offers this replacement diff pan for Land Rover Defender, Discovery 1 and Range Rover Classic ranges. The diff pan replaces a vehicle's existing component and is made out of ARDOX.
This material is used to make Caterpillar bulldozer blades, so it's fairly capable of withstanding the odd knock. A further benefit comes from the increased ground clearance facilitated by the new pan which can be fitted in the Frogs Island workshop or at home.
Contact [email protected] or call 01235 832100 for more information.