Nothing beats a trailer when it comes to enhancing the practicality of your 4×4. Whatever your needs, there is bound to be a trailer that suits. We check out the variety of shapes and sizes on the market today and provide a reminder of regulations governing towing weights.
FOCUS ON… BRIAN JAMES TRAILERS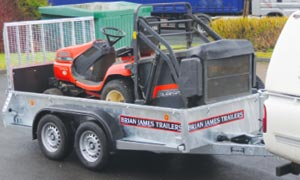 Warwickshire-based Brian James Trailers is another well-reputed operation, which offers a good selection of trailers to suit almost any need. The company sells specialist trailers for transporting items like classic cars and heavy plant. It also has a range of general purpose trailers that is aimed principally at domestic users.
A simple trailer such as the Brian James CarGO Shifter will set you back around £1245. For this you get a well-constructed and solid piece of kit, which should deliver many years of faithful service. Larger trailers, such as the CarGO Flatbed, start at around £1695 and offer greater fl exibility and the capability of carrying heavier loads. Even higher up the scale are items like the CarGO Tipper, which does exactly what it says on the tin. Prices for these trailers start at £2195. www.brianjames.co.uk
FOCUS ON… THE NATIONAL TRAILER COMPANY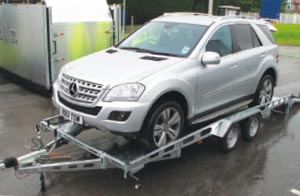 This is a large operation which sells trailers of every variety. Trailers feature galvanised chassis and bodies, thereby ensuring toughness and longevity. The company also has a substantial range of used trailers and offers part exchange and a selection of finance deals to make purchases all the more tempting.
As with most trailer manufacturers, The National Trailer Company sells its products to a variety of customers, from big commercial enterprises to individuals. It has a wide choice of trailers for transporting vehicles – including motorcycles, cars and boats. Its Daxara range of trailers is aimed firmly at the leisure market, and is an ideal starting place for first-time buyers. www.indespension.co.uk
FOCUS ON… IFOR WILLIAMS TRAILERS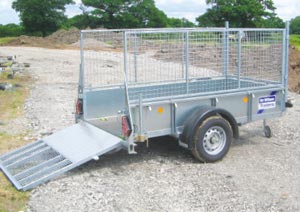 Anyone who lives in a rural environment will instantly recognise the distinctive silvery hue of an Ifor Williams trailer. The Welsh company has been making trailers for the best part of 50 years and its products are characterised by durability, ruggedness and no-nonsense charm.
As a specialist supplier to a range of industries, Ifor Williams offers trailers that can carry extreme loads. But it also has a good range of trailers for general users – with prices starting at around £500 for a basic unbraked flatbed example. A national dealer network provides high quality sales and service support, plus parts are in plentiful supply. Ifor Williams also offers a used trailer sales operation, which will appeal to buyers with a bit less cash to spend. www.iwt.co.uk
Thanks to Nantwich Hire (www.nantwichhire.co.uk) for supplying this photo of one of its fleet of Ifor Williams hire trailers
FOCUS ON… WWW.TRAILERS.CO.UK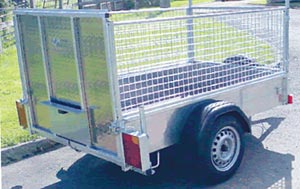 The name says it all – www.trailers.co.uk is an online trailer retailer that sells products at attractively discounted prices. Of particular interest to four-wheel drive enthusiasts is its range of all-terrain trailers. These cost just over £1000 including VAT and have a towing capacity of up to 750kg. Flotation tyres help spirit the trailer and its load over rough ground – perfect for accessing those hard to reach places that are a 4×4 fanatic's natural habitat.
Elsewhere in the range, www.trailers.co.uk offers the usual suspects, including car transporters, boat carriers and leisure trailers. The pricing is keen, the quality is good and the customer service is exemplary – the firm can even arrange insurance for your new purchase. www.trailers.co.uk
FOCUS ON… TRAILERTEK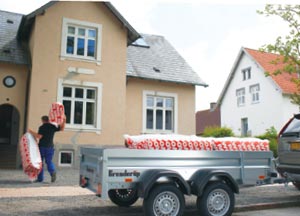 TrailerTek stocks one of the UK's largest ranges of trailers – with everything from small domestic trailers through to vehicle-carrying behemoths that will only be towable by 4x4s and heavy commercials. The Hampshire-based company is an official stockist for a variety of trailer manufacturers, including Wessex Trailers, Anssems and Bateson Trailers, which offer trailers to carry your quad bike or heavy plant machinery.
In addition to new trailer sales, TrailerTek offers a hire service, as well as a parts and repair service. It also stocks a good selection of accessories, such as towbars, roof racks and bike carriers. TrailerTek is currently offering a quote-on-demand service, which promises to deliver keen pricing for customers who call the Quote Line. Prices for general trailers start at around £500, but there are definitely deals to be done if you call to negotiate. www.trailertek.co.uk
BUYING A TRAILER?
If you own a 4×4, the chances are you have a life that requires a high degree of practicality from your vehicle. But it's not always appropriate to carry loads in the rear of your truck – maybe because they are too large, too heavy or just plain mucky.
That's where a trailer can be a really useful addition to your driveway: whatever size you go for, you gain an extension of your 4×4's loadspace that is easily cleaned, and, above all, keeps loads away from the interior of your prized vehicle.
Once you've decided to buy a trailer, the big question is where to go to find one that's right for you. Some of the biggest names in the trailer industry offer a massive selection of products and will be happy to give specialist advice about what suits you. Ifor Williams and Brian James are among the most legendary of all trailer makers – and in addition to their head office phone lines, you'll find local dealers around the country that can help you out.
HOW TO BUY A TRAILER
As with all vehicle purchases, you're best to buy new if you want to be assured of the quality of the product you settle on, although many suppliers offer warranties on used trailers. A brand new unbraked trailer of modest proportions will cost anything from £500 to well over £1000. That isn't a great deal of money when you think of the extra practicality it brings to your daily life. Trips to the tip will never be the same again, as, rather than covering the boot of your 4×4 with plastic and hoping that nothing spills, you can dump your rubbish in the trailer and head off with impunity.
It goes without saying that the larger the trailer, and the more special features it has, the bigger the price tag. So a heavier trailer, with greater capacity and braked axles, will cost well over £1000. Such vehicles are probably only going to be needed by commercial users – which means that the extra cost is offset by the contribution they make to their earnings. In addition, there is a wide range of specialist trailers available on the market, aimed at specifi c users. So you can buy trailers with tipping loadbeds for easy unloading of items like sand, cement and logs, as well as car and boat transporters and, in some cases, all-terrain trailers.
PRACTICALITIES
One thing to be aware of when buying a trailer is the restrictions imposed by your driving licence on towing weights. If you passed your test before 1997, you can tow more or less any trailer, provided the combined weight of car and trailer does not exceed 8250kg. If you received your licence after 1997, however, then you are restricted to a total vehicle/trailer weight of 3500kg. In order to tow anything heavier, you need to pass an additional towing test.
While this doesn't sound like a big deal, it's worth checking that you're entitled to tow a trailer before you buy it. Take account of the fact that 4x4s are often heavier than conventional cars, and factor in the weight of any loads you carry in the trailer when doing your sums. After all, it's pointless to buy a trailer that you're not actually allowed to pull behind your 4×4!
Towing the line
If you want to find out more about 4x4s and towing, visit www.4x4i.com and order the May '10 issue of 4×4 where a special feature includes towing limits, technique and the regulations.
For product information contact us at [email protected]