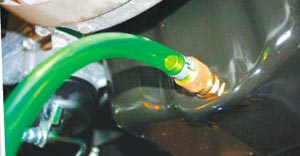 Changing your 4×4's oil just got a whole lot easier, courtesy of OEC International's new range of oil drain plugs. The drain plugs enable oil to be removed from an engine with much less mess and a significantly reduced risk of spillage. This is greener, safer and much more convenient for the home mechanic.
The drain plugs are manufactured out of solid brass and come in a variety of sizes. Once fitted, they remain in situ for the duration of an engine's life. Used in conjunction with a special draining hose (the same drainer fits every plug-size), they provide an effective means of removing all kinds of fluid from an engine.
The plugs are available from www.oecinternational.com, OEC International's newly-launched products website.