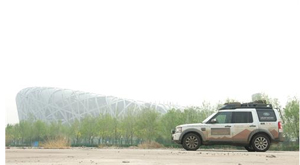 Land Rover's biggest modern-day overland expedition, the Journey of Discovery, has reached the finish line with the one millionth Discovery arriving in perfect time to appear at the Beijing Motor Show.
The Journey, which saw four vehicles travel more than 10,000 miles from Birmingham to Beijing, aims to raise £1million for the company's Global Humanitarian Partner, the International Federation of Red Cross and Red Crescent Societies (IFRC).
It began on February 29, at the Solihull manufacturing plant where the one millionth Discovery was built, and since its ceremonial send-off at the Geneva Motor Show it has passed through 13 countries over challenging terrain ranging from snow in the Alps to sun-baked sand dunes in the Taklimakan Desert.