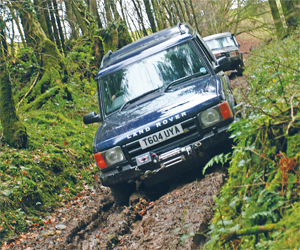 EXMOOR IS A BEAUTIFUL PLACE, BUT, SADLY, ITS TRACKS ARE CLOSED TO VEHICULAR TRAFFIC. BUT YOU CAN ENJOY SOME OF THEM IN YOUR 4X4 ON A FOREST DRIVE, COURTESY OF A GENEROUS AND, WE THINK, FANTASTIC LANDOWNER
Words and photography: Hils Everitt
These days, Devon is not known for its abundance of off-roading adventures as most of its routes were reclassified under the NERC bill back in 2006. Exmoor was full of brilliant routes which are now closed to the off-tarmac fraternity, but there is a way that you can explore a beautiful corner of Devon, and perfectly legally.
Thanks to a local landowner, Mr William Theed, giving his permission after a request from Lanes, Tracks and Trails Greenlane Adventures, there are now around 100 miles of Exmoor Forest available to you and your 4×4 on a guided Forest Drive. The idea came to Jim Hancock, boss at LTTGA, and his fellow competitors, after taking part in the Annual Exmoor Jaunt and Challenge. Run in aid of the Wooden Spoon Charity, the 'Jaunt' is based in Wheddon Cross and offers two-day family 4×4 fun in the Exmoor Countryside with special off-road sections in Exmoor National Park; the 'Challenge' is a bit more technical, requiring good off-roading skills and at least one winch per team…say no more.
Normally closed to 4x4s, Exmoor National Park opened its doors once a year for this special charitable event. Jim thought it would be good to add Exmoor Forest to his already well-established greenlane itinerary, so approached William Theed for permission. That was duly given, and we were lucky enough to be invited on the launch of the event in late December last year.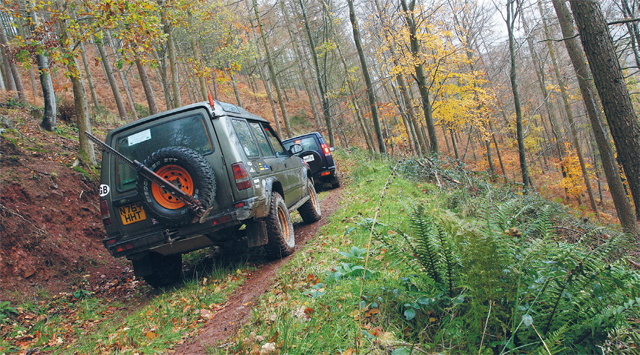 Jim'll Fix It – join the Exmoor Forest Drive
If you want to join in on one of Jim's Exmoor Forest Drives get online at www.lanesandtrackandtrails.co.uk, or email: [email protected] or call 07855 213 355. Tours cost £50 and you need to bring your own refreshments. If you need accommodation there are camping sites around and you can get in touch with the Ralegh's Cross Inn on www.raleghscross.co.uk; email [email protected]; phone: 01987 640 343. Information on the 'Jaunt' or 'Challenge' is available on www.4x4onexmoor.co.uk or call 01392 832747/07974 517 790. Anyone interested in marshalling or just helping out, contact: [email protected] who'll be pleased to hear from you.
---

Read more about this 4×4 adventure in the May 2012 issue of 4×4 Magazine. Buy it or subscribe here