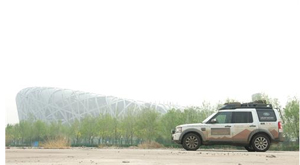 Land Rover's biggest modern-day overland expedition, the Journey of Discovery, has reached the finish line with the one millionth Discovery arriving in perfect time to appear at the Beijing Motor Show.
The Journey, which saw four vehicles travel more than 10,000 miles from Birmingham to Beijing, aims to raise £1million for the company's Global Humanitarian Partner, the International Federation of Red Cross and Red Crescent Societies (IFRC).
It began on February 29, at the Solihull manufacturing plant where the one millionth Discovery was built, and since its ceremonial send-off at the Geneva Motor Show it has passed through 13 countries over challenging terrain ranging from snow in the Alps to sun-baked sand dunes in the Taklimakan Desert.
The Journey of Discovery has been all about discovering the stories of people and places along its route. It joined the Aosta Valley avalanche team in Italy; visited the Chernobyl reactor and drove through a secret Soviet submarine base in the Ukraine; visited exclusive inner parts of the Kremlin, tested some classic Soviet vehicles and took a tour of Moscow with a Bolshoi ballet dancer in Russia.
It went into the wild in the Kazakhstan desert; met a group of fishermen in the near-dry Aral Sea in Uzbekistan and travelled along the spice and silk routes into China, where the final leg included sand dune driving, a visit to the Great Wall and a trip on a sheepskin raft.
Appearing in Beijing in an unwashed state after a Journey that took over 50 days, the one millionth Discovery will be returning to the British Motor Industry Heritage Trust (Heritage Museum at Gaydon) following the expedition.
THE JOURNEY IN NUMBERS
17,500 images taken
80 hours of video
78 cities visited
Total people participated on event: 112 including crew and media
50 days
10,000 miles
2,920 miles driven in China alone
Highest point: 3,700m Torugart pass, Kyrgyzstan & China
Lowest point: 10m below sea level, Turfan, China
FIND OUT MORE AT WWW.LANDROVER.COM