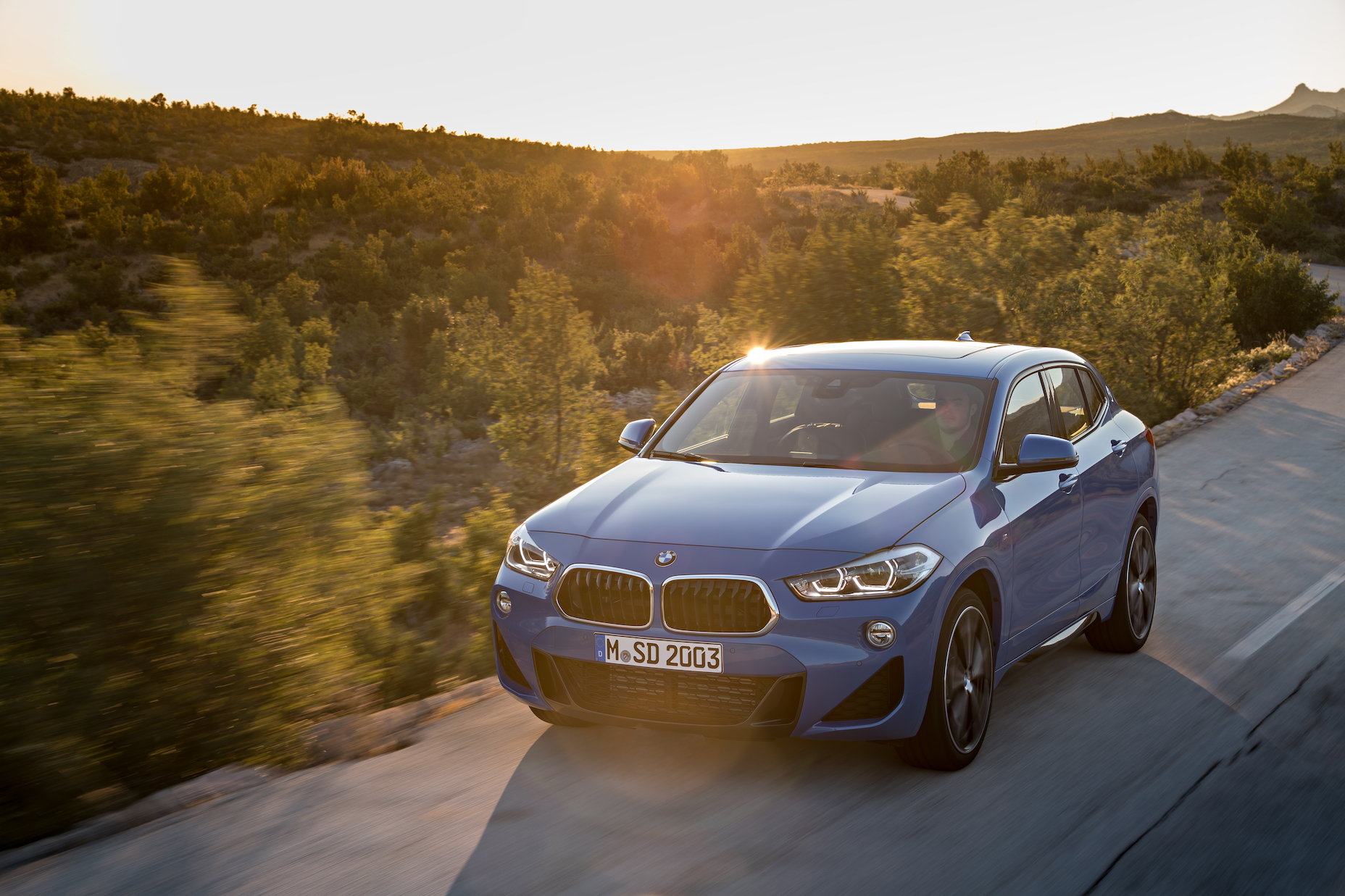 Believe it or not, it's a quarter of a century since people started grumbling about how SUVs had started to feel like hatchbacks.Well, they didn't say 'SUVs' back then, as the term hadn't been invented, but when
the original Toyota RAV4 came to Britain we said it reminded us more of something like a Golf GTi than a proper 4×4.
Now, the RAV4 feels like a big wagon and there's a whole slew
of vehicles blurring the distinction between hatchback and 4×4 more effectively than ever.The BMW X2 is one of the latest, and it's one of the most hatch-like yet. It's a 4×4, but it makes the original X5 look like a tractor.
We've got the 20d model here, with all four wheels being driven by an automatic box. We climbed aboard shortly after driving a Jaguar E-Pace, which itself is not what you'd call an old-school mud- plugger, and the feeling of having descended into full-on hatchback territory was immediate and very obvious. Similarities to a traditional 4×4 are incidental at best.
Similarities to the inside of a worrying Dutch brothel, on the other hand… there's an element of supposition there, he said guardedly, but if you like orange leather, this is the car for you. Tick the Magma Red Dakota Leather option and you'll get something that looks like the spawn of Judith Chalmers and Phil Brown.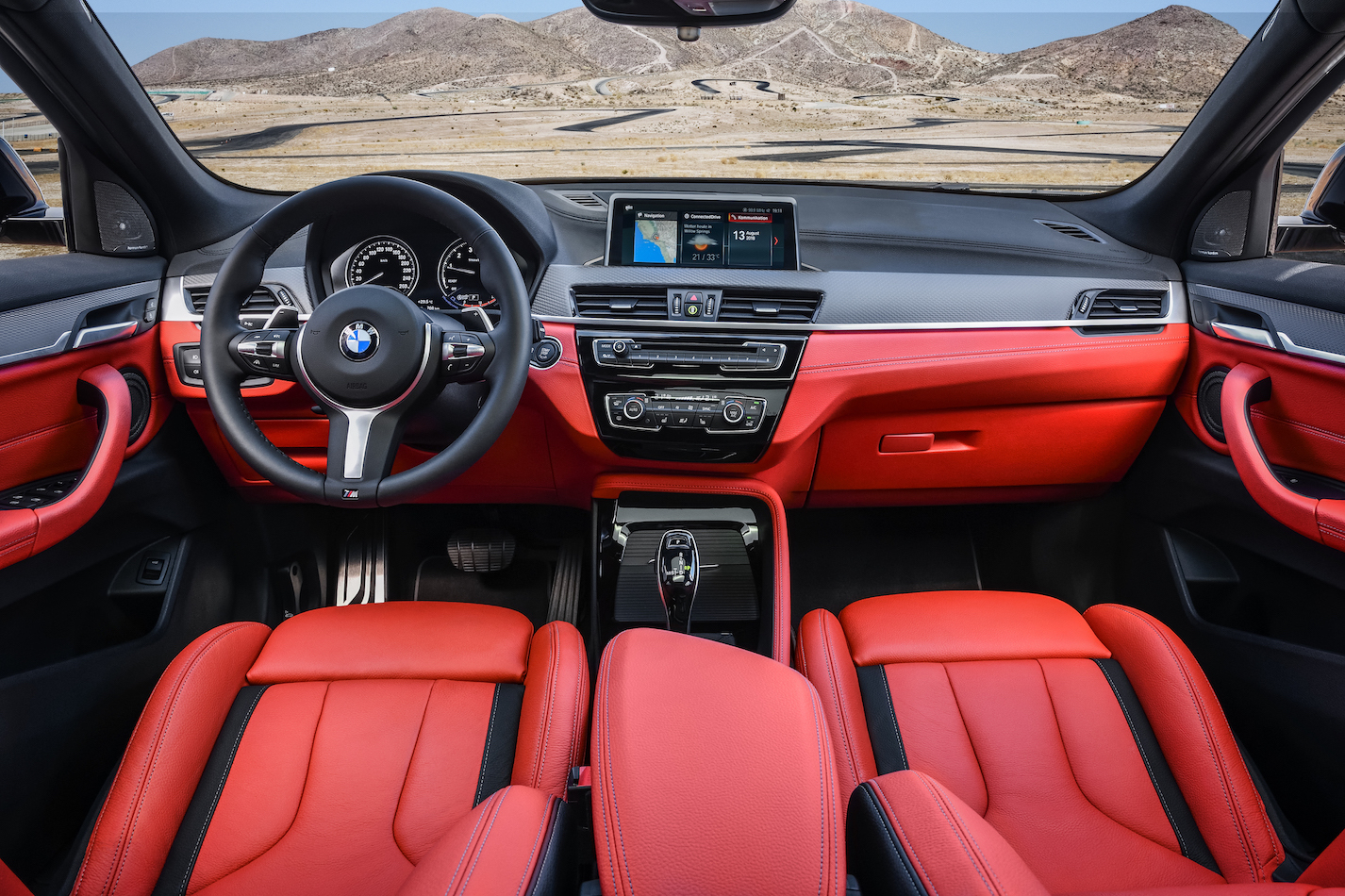 We found it foul beyond words, but taste is personal and no doubt there are people who find us foul beyond words too. Other than that, the cabin is a nice looking affair in which BMW's usual slick design is set off by plenty of textured, soft-touch surfaces. Build quality is all-round solid, with no more than a few creaks here and there and an excellent firmness to the controls.
The seats are pretty good, too, with plenty of support and a nice, soft leather finish. Choose a better colour and it would look as classy as it feels.The seat backs are a tripe narrow for our liking, but despite the overall hatch-like atmosphere you're well positioned with a good view of the road ahead. The waistline is quite high and the A-posts rather thick, but this doesn't impede too much on all- round visibility – unlike the C-posts, which seem to go on forever.
Head and elbow room are better than you might expect from what is a small vehicle by the standards we're used to. There's plenty of space to stretch your legs, too, but a six-footer will need to adjust his seat all the way back. Good news here is that another tall 'un will still fit into the seat behind him; it'll be a bit of a squeeze, but deep hollows in the seat-backs mean it's possible.
Headroom in the back is pretty limited, though, and those huge C-posts mean it feels enclosed and dark, even with that garish leather trying to brighten up the place. You certainly can carry adults in the back of an X2, but it's better suited to kids – which, given the preponderance of yummy mummies one would expect to be buying them, is exactly what will happen.
There's just about enough stowage provision up front but, with a bin rather than a full cubby, and quite small pockets in the doors, you might find yourself dumping stuff on the passenger's seat. Bigger items are taken care
of the way you'd expect from a hatchback – the tailgate aperture is smaller than we're used to, and the load space is only as long as the car's overall proportions will allow, but the seats drop down easily and lie reasonably close to flat.
As an SUV, then, it feels kind of like a hatchback doing its best. But the payoff should come on the road.
First impressions are that the 2.0-litre diesel engine idles quite noisily. But once warmed up and under load, it settles down to a contented hum – and it pulls very eagerly all the way through the rev range.
It's easy to drive gently, but doesn't hesitate to thump you in the back when you kick it down; the route on the event at which we tested the X2 didn't include any motorway driving, but it's certainly civilised enough on fast A-roads to suggest it'll cruise without any grief.
What you might want to do is opt for electronic damper control. This only adds £150 to the bill, and by allowing you to tune the shocks for a more comfortable ride it draws the sting that hampered BMW's MSport models of old. We remember driving early X3s that were practically unusable on British roads, but while this X2 was on the firm side it dealt perfectly well with the cracks, lumps and pot holes that are often found on our magnificent UK roads.
Further options on our test car included MSport steering; the roads we got to drive hardly let us make the most of this, but the vehicle was certainly agile, feeling light on its feet and able to change direction with the nimbleness of… oh, of a hot hatch. Funny, that.
In this form, the X2 is a true crossover in that it's a bit of a hatchback, a bit of an SUV, a bit sporty, a bit luxurious and a bit premium. What it's not is a trail- blazer in any way, and nor is it cheap – the base vehicle we drove lists at £36,590, and by the time all the various options and OTR costs were taken into account it would have cost £44,185.
None of this made it feel particularly special, either. The options included things like electric seats, front parking sensors and a rear-view camera, which are a common sight on other brands' standard kit lists at this kind of price and indeed cheaper.
That's always been the way with the premium German brands, so it's not a criticism of the X2 per se. All the same, it did leave us feeling that it's a lot of money for a vehicle whose main selling point is that it's a BMW.