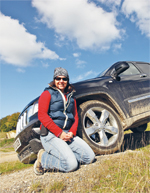 Toyota's RAV4 celebrates 20 years in the business, as does our columnist! And even after two decades, the world of the SUV continues to surprise
So, here we are, now well into 2014. I hope you all had a great Christmas and fun New Year and managed to survive the awful weather that the end of 2013 brought us. In recent years, this has been a busy time of year for 4x4s, dealing with heavy snow brought to our shores from Siberia. This time it's been high winds and terrible floods bought by weather systems from the northwest. But, once again, 4x4s have been prominent in responding to the floods, and the emergency services, in their Land Rovers and pick-ups, have been invaluable.
We all know, however, that even a traditional 4×4 with a higher air intake than your average saloon car isn't immune and careless people still manage to kill their vehicles by thinking they can just drive through any deep standing water because they have an 'SUV'. Even our impressively capable vehicles can be washed away in deep water: it's a very strong element. You, dear 4×4 readers, would not be so reckless, of course.