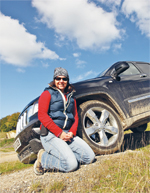 Toyota's RAV4 celebrates 20 years in the business, as does our columnist! And even after two decades, the world of the SUV continues to surprise
So, here we are, now well into 2014. I hope you all had a great Christmas and fun New Year and managed to survive the awful weather that the end of 2013 brought us. In recent years, this has been a busy time of year for 4x4s, dealing with heavy snow brought to our shores from Siberia. This time it's been high winds and terrible floods bought by weather systems from the northwest. But, once again, 4x4s have been prominent in responding to the floods, and the emergency services, in their Land Rovers and pick-ups, have been invaluable.
We all know, however, that even a traditional 4×4 with a higher air intake than your average saloon car isn't immune and careless people still manage to kill their vehicles by thinking they can just drive through any deep standing water because they have an 'SUV'. Even our impressively capable vehicles can be washed away in deep water: it's a very strong element. You, dear 4×4 readers, would not be so reckless, of course.
I remember years ago a team of us from the magazine headed up to Lancashire to drive an unusual 'greenlane' that crossed Morecambe Bay. The Bay's notorious tides have tragically claimed lives over the years and still people walking, and occasionally driving, across it don't treat the area with enough respect. At one point – under the guidance of the Queen's Guide, an official appointment – we drove through a fast-flowing channel that was about two feet deep. 'Should be a piece of cake', I thought, but I remember driving through it and how tightly I gripped the wheel, while trying to maintain even throttle pressure and an even bow wave as I cut across the current. That current was desperately trying to take my pick-up truck off course and send it wafting out to sea. It was quite scary and certainly made me realise just how carefully we have to drive through water, even with the biggest and toughest of vehicles, and even with a high-level air intake fitted.
The majority of SUVs now on the market are probably driven by people who like the look of them and the idea of their capability without really knowing much about their 4×4 technology, nor about what they really can and can't do with them. And we're getting even more new models. We now have Audi introducing its baby Q1; Jeep's brand new, long-awaited Cherokee arrives in May, and is upsetting the die-hard Americans who think it's too compact SUV-like and 'dumbed down'; Ford has unleashed a new 'Fiesta-platformed SUV, the EcoSport, with the larger 'Edge' model due in 2015; and, holy moly, Rolls-Royce is getting in on the act, following Bentley's offering that appeared last year. What is interesting, in light of all this, is that we are now actually celebrating the 20th birthday of the compact SUV. Yes, it is now 20 years old even if it has lost much of its former excellent capability and street (or should that be off-street?) cred.

It was the Toyota RAV4 that caused a right old stir when the production vehicle was first shown at the Geneva Motor Show in 1994. It had appeared as a concept a few years earlier at the Tokyo show in '89 and took two years to get a green light. We were all open mouthed at this radical entry into the car market. Few liked the design – like a walking boot (although we at the mag did like it, actually) – and many thought Toyota had lost its way. A weird looking, 'compact SUV'? How wrong were they? Apparently, it took a while before Toyota was convinced by the designers that this bizarre little number should be in mass production within a market segment that didn't actually exist yet!
As we know, the RAV4 sold like hot cakes and pioneered a whole new genre, one that is now enjoying a very high profile in the market. Everyone wants an SUV of some description on their production fleet and, even though you might think that Bentley and Rolls-Royce may be a step too far, they couldn't ignore the massive market explosion that the RAV4 triggered.
It was actually in 1994 that I first joined 4×4 Magazine, as a very green staff writer, and the compact RAV4 was the first really big news story that I encountered. Before that, we were happily driving and enjoying writing about the usual stalwarts, so this was a breath of fresh air; and a damned fine little off-roader into the bargain. It may have looked like a walking boot, but it was right at home in the countryside. Perfect.
I will raise a glass and wish a happy 20th birthday to the RAV4 and hail Toyota; I hope you will too. The Japanese manufacturer's Hilux is the granddaddy of the pick-up world and so the RAV4 can claim equal honours in the compact SUV market. Cheers!
Hils
---

Read Hils' column every issue in 4×4 Magazine – subscribe here!