Bob Cooke – contributor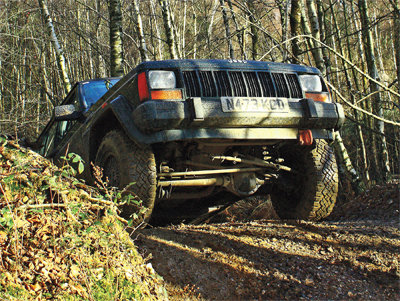 The sign said 'winch vehicles only', which is why I didn't take the Cherokee over that particular hump, but it didn't stop Tom Parr driving his Land Rover up the steep climb leading into that area. The sudden burst of laughter from his on-looking buddies after the car disappeared over the other side was a call I couldn't resist, so I parked the Cherokee and walked over. Surprise, surprise, Tom's Land Rover had planted itself so deeply into a water-filled hole that it had flooded the driver's footwell; it took a snatch recovery from a friend's car to pull it back out of the hole.
The Slindon Safari off-road site, near Arundel in West Sussex, is a place where you can quite easily get a car stuck, but that's only part of its attraction. There's a good selection of really difficult off-roading that allows well-modified and winch-equipped vehicles to get to grips with the terrain, but there are also areas just challenging enough to enjoy a day out with an unmodified car, and plenty of middling tortuous terrain for something in between, like the Cherokee. There are wide open areas, there's a lower section with so many humps and holes that you could easily lose a car in it, but my favourite areas are under the trees where, at times, you could imagine yourself in a dark and almost impenetrable jungle. That's an impression enhanced after the recent heavy rains, since some of the tracks threading through the forest area had become so waterlogged that progress along some of them brought images of the most demanding days of the Camel Trophy to mind.
I picked a careful route for the Cherokee to avoid some of the more deeply rutted tracks and what looked like overly soft and gloopy patches in between, suddenly finding that the only way forwards was over another steep-sided hump. At least this one didn't have a 'winch only' sign on it, so I boldly selected low range and charged up and over.
SPEC
Make: Jeep Cherokee
Model: 4.0 Limited
Mileage: 74,342
MPG: 20.2
Recent costs: None
Arrived: July 2011

You can read more about this Jeep in the March 2014 issue of 4×4 Magazine – available here