Whether you need a workhorse for your business or a versatile luxury vehicle for recreational use, it's worth making sure which double-cab pick-up is the most practical proposition for you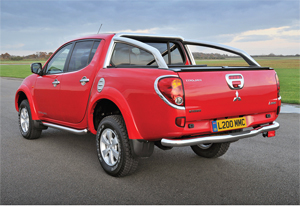 TARGET PRICE: £10,000 – £15,000
The lust for more power, a hunger for more aggressive style, a thirst for more comfort and refinement has for so long underlined competing manufacturers' vision for the future of pick-up trucks, that they seem to have lost track of the reason for the existence of the pick-up – it's supposed to be a working vehicle with aspects such as payload, towing capability and maintenance costs outweighing the cosmetic appeal of aerodynamic styling and shiny chrome-plated accessories. For many, the choice of which pick-up to buy depends more on image value than practicality – who would wish to be seen (and heard) driving around in a cheap and cheerful Great Wall Steed when they could be at the wheel of a highway-dominating Barbarian, and for all its muscular styling and Thunder graphics, who'd drive an old Ford Ranger when they could be one of the Invincibles in a Toyota Hilux? Are these high-image vehicles the most practical choice, however? Perhaps it's time to take a closer look at the more prosaic values of the many makes of pick-up vying for attention on Britain's roads. In this instance we're looking at what's available for under £15,000 – and what you can get for that much money depends largely on whether, as a business user, you're able to reclaim the VAT. One-tonne pick-ups are classed as commercial vehicles, and the price asked is usually the basic price without the VAT. Private buyers seeking a comfortable and versatile family vehicle will have to pay the VAT, which means if your upper spending limit is £15,000 you'll be looking for a vehicle priced at no more than £12,500. That would certainly put any of the newest contenders out of the frame – the new Ford Ranger, Isuzu D-Max and Volkswagen Amarok, for instance, where even nearly new and ex-demonstrator examples are rare at around the £15,000 mark. All the prices quoted in this article are without the VAT; so non-business buyers will have to add the extra 20 per cent.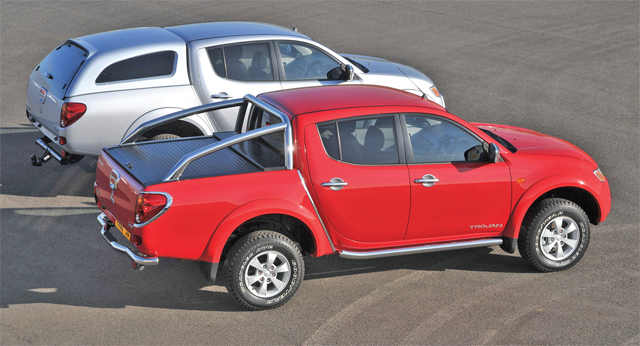 Mitsubishi L20O
Best Recreational Double Cab
The new generation of L200 dating from 2006 took a fair amount of criticism for favouring occupant comfort over load capacity, but the critics surely missed the point – the whole idea of a five-door five-seater double cab aimed at recreational users is that the passenger compartment should comfortably seat five adults, while the load bay – which is only some 18cm shorter than the class average – is still quite capacious enough to hold camping gear, mountain bikes and the like. It doesn't matter too much, since Mitsubishi later introduced a long-bed version – at 1510mm it's well up to class standard – but it is important when buying a used L200 to check which load bed you're getting, if load bay length is critical to your needs; the facelift of 2010 included a lengthened loadbed measuring 1505mm anyway. The passenger compartment is one of the most spacious and comfortable in the class, with well-shaped rear seats with more comfortably reclined backrests than in key rivals, marking the L200 as a clear favourite for an outgoing family, backed-up by its high-image brash but modern styling and the excellent equipment in the high-specification versions. Look out for Trojan and Warrior models with the leather upholstery, originally a £1350 option, and some will have the automatic transmission that would have been a £1400 option. Also be aware that the base 4Work and 4Life have the lower-power 134-horse version of the 2.5-litre turbodiesel, which in premium models is tuned to produce a more user-friendly 175bhp. The 4Work and 4Life versions lack the refinements of central locking, air conditioning and satellite navigation, while none of the L200s has cruise control.
---

To read the full report see the November 2013 issue of 4×4 Magazine. Buy it here