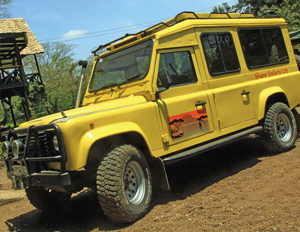 The African safari experience is on many to-do lists, but few people consider the option to drive the vehicle yourself, plan your own route and camp in the wild. Shaw Safaris in Tanzania will hire you a bespoke Land Rover Defender 110 with an itinerary to suit your own pace. It doesn't get much better.
We crept up along the track, inching forward as the Defender 110's 300Tdi chugged happily away, keen not to disturb or agitate the wild animal basking in the warmth of the Tanzanian sunshine alongside us in the scrubland. A convoy of Toyota Land Cruisers ahead had previously halted when the huge male lion decided to investigate (and have a nibble at) the All Terrains, but moved on once the lion had lost interest in the unpalatable rubberwear. Now it was our turn to enjoy the beauty of this magnificent African beast up close. "Am I safe here?" came a rather nervous voice from the passenger seat as my other half leaned out of the Defender's window to come almost face to face with the lion, slumped on the ground below just a metre away.
"Yes, no problem," laughed Paul Sweet, owner of Shaw Safaris and our guide for this incredible four-day adventure. As we stopped right next to the lion, it did seem surreal that my face was less than a metre away from this beautiful animal, who was now sound asleep, purring like a pussycat. His fur was soft, golden and highly inviting. He looked so serene in the sunlight and far removed from a ferocious, fl esh-eating machine, that it was tough not to lean a bit further out and give him a stroke. The temptation was, however, resisted for fear of losing an arm. We lingered a while to marvel at his splendour before Paul fi red up the 110 and we trundled on, leaving him in perfect peace. Just a few days earlier, we had been in the comfortable surroundings of Twiga Lodge.
Nestled on the edge of Tanzania's Arusha National park, Twiga Lodge is run by Paul and his wife Erica and is the operational base for Shaw Safaris (named after the town in the UK's West Country from where Paul hails). Aspiring safari-goers can either book Paul for a trip or take a self-drive option. For the latter, Shaw Safaris will hire you one of its 300Tdi Defender 110s, armed with maps, National Park permits, all equipment required for camping in the wild, if you choose to do so, and essential tools and equipment for 'your' Defender. The impressive list of kit includes a roof tent, side awning, all bedding, 55-litre fridge, camping stove, all the cutlery/kitchenware you'll need, table and chairs, towing straps and shackles, Hi-lift Jack, tool box, first aid kit, 6kg gas bottle, water containers, fuel cans, welding gloves, LED fl ashlight, slingshot (in case animals get too close) axe, saw, shovel, fi re extinguishers, pump-up shower and a GPS. Satellite phones used to be supplied, but now mobile phones work perfectly well as there are masts everywhere in Tanzania nowadays!
These Defenders also boast iPod connections, an inverter for charging small appliances, a safe and lockable storage area, plus a pedal lock. A few extras, such as spare fi lters (fuel and oil), some screen clear and brake fl uid are also included, as is a fl y swatter – essential for batting away those pesky Tsetse flies. "Some of the Land Rovers are fi tted with winches, but we only send those out with clients who are au fait with them," comments Paul. On our safari, most of the guided companies we encountered used stretched Toyota Land Cruisers, 70 Series and older.
We spotted the odd Defender, which stuck out like a sore thumb. "I use Land Rovers because they are the toughest and generally the best for these conditions," announced Paul. He has always maintained that the 300Tdi is the best engine in the Defender 'for durability and fi xability' and therefore won't buy anything but. This means that sourcing them isn't always easy.
Read the full feature in our January 2015 edition. Subscribe here