One way to enjoy your 4×4 to the full is to join a group of like mined enthusiasts on an organised drive. We join just such a group led by Dave Mitchell's Landcraft team for a superb day out in Bala, Wales
Words and photography: Ian Seabrook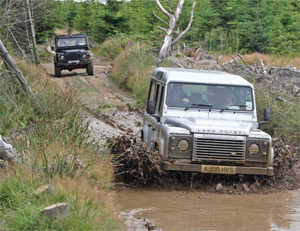 If you're keen to test your 4×4 away from the metalled highway, you effectively have three options. Pay and play sites, greenlaning or an off-road centre. We decided to head to one of the latter, David Mitchell's Landcraft in Bala, Snowdonia. Personally, I thought it would be an intriguing opportunity to put my own Land Rover Discovery through its paces, and to see what other vehicles and drivers would be there. We could also find out what made people choose this experience over other options.
The group assembled in Bala, with a 100 per cent turnout for the Green Oval. Land Rovers ranged from my tired-but-standard 200Tdi Discovery through a pair of standard Discovery IIs and a collection of Defenders – from a 1986 much-modified example, to a 2008 90 and a 2009 110 in 'as it comes' condition. This pair seemed almost factory fresh.
After introductions and a safety briefing, we formed a convoy to drive to the 6000 acre site that David regularly uses. His assistant, marshall Russ Williams, led us onto the site, where most of us wondered what awaited us. A gentle beginning allowed those new to off-roading to find their feet and get used to driving around in low 'box. Both Defender 'Puma's were experiencing their first serious test. Carl Nelson and son John from Leicester in their 2008 90 demonstrated the extraordinary engine braking of these Ford-engined Defenders on one particularly steep descent. "I almost had to accelerate," joked Carl. "I've done the odd green lane but this is the first bit of proper off-roading I've done in it. I've been amazed at what it can do. I was worried about the tyres but it's been OK." Asked about the reasons for coming along, Carl said: "It's better than thrashing around at a Pay and Play site." Thanks must go to Carl for giving our Discovery a tow start after it refused to start.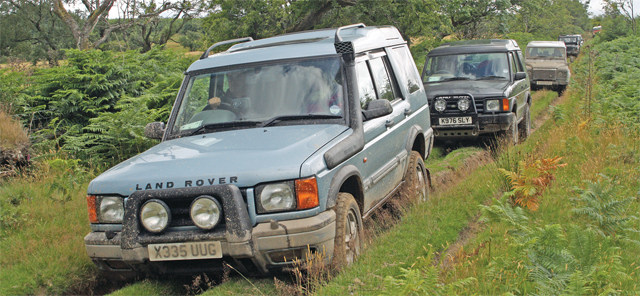 Brothers Tristan and Tom Attenborough were also relatively new to off-roading, with Tristan living in the very different terrain of Saudi Arabia. "This is my UK car. I've done a few other off-road days, but this is my first at Landcraft. I love getting away from the masses and meeting like-minded folk. You should use 4x4s as they should be used. It's been a really good day with help when you need it and a good level. I'll definitely do it again."
---

To read the full report see the December 2013 issue of 4×4 Magazine. Buy it here