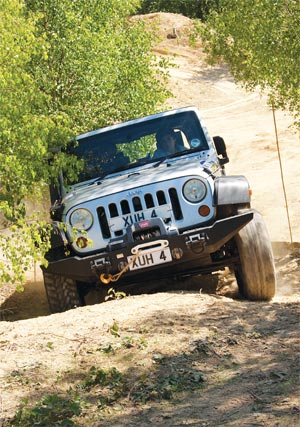 Our long-term Jeep Wrangler has showed off its superiority on plenty of off-roading adventures, but it was time to see how it would fare on a real test of skill and precision, and so we entered it into a club trial… no pressure.
Words & photos: Toby Savage, with additional photography by Matt Savage
Looking forward out of the windscreen of the Wrangler, all we could see was blue sky. The view to the left and right was similar, but through the rear window was confirmation that we were still earth bound on the unforgiving surface of Yarwell Quarry in Leicestershire, a popular trials site with many Midland-based 4×4 Clubs. We were stationary, and from the advice I was hearing none of the Jeep's wheels were actually touching the ground! It was not the grand return to competition I had envisaged − collecting a maximum 10 points on the very first section of eight.
An offer to have the magazine's Jeep Wrangler for a few weeks, as long as I did 'something exciting' with it, prompted me to rejoin The Leicestershire Viking 4WD Club after a 10-year lapse. In the mid-90s, I competed on a regular basis with this local, all-makes club and enjoyed great camaraderie and some pretty extreme competition. Back then, I used my 1948 Land Rover, but found myself mixing it in the mud with a miscellany of other 4x4s of various shapes and sizes. Consulting the club's website I spotted there was a trial at Yarwell that fitted in with other commitments perfectly.
I asked my son, Matt, if he and Grandson Ted would like to double enter in the Wrangler and my partner, Jo, if she fancied navigating for me… "Yes, what do I have to do?" was her measured response. I reassured her that she would pick it up quickly once we got started and so, on a scorching hot Sunday we all pitched up for scrutineering at 09.00hrs ready for a 10.00hrs start. Scrutineering on an 18-month old 4×4 should not show up many faults, but our fire extinguisher, deemed suitable for the Mille Rivieres last year, was not quite the correct variety − 1.5kg Zero 2000 or 1.75lt AFFF foam are correct, should you be in a similar position − but we were let off with a 'sort it for next time' advice notice.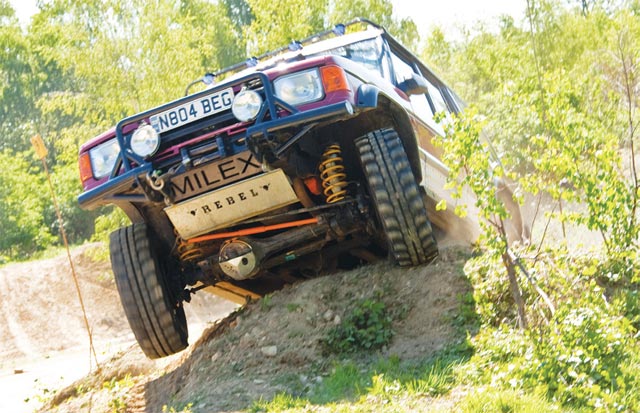 We did have one secret weapon, however. The standard locking rear diff was acceptable and could give the Jeep an advantage over the rest of the pack. Scrutineering complete, we joined our fellow competitors to listen to the drivers' briefing from Clerk of the Course, Andrew Shrive, accompanied by the type of light-hearted heckling that must have filled the air at these events since it all began back in the '60s!
With that, we were split into two groups. RTV Plus, a slightly hardier bunch, went off one way and us regular RTV competitors went the other way, to form a queue at the start of the first section. For some reason, that I was to regret later, I did the gentlemanly thing and went to the front of the line, meaning I would be first to drive the section. Part of me was itching to have a go, but had I thought about it, it would have been wiser to let one or two of the others go first and assess how they tackled this first section. We walked the course, scrambling up and down some pretty steep slopes and weaving in and out of bushes. There was plenty of room to adjust the line of attack, but I felt somewhat daunted, having not been in such a competition for about 10 years.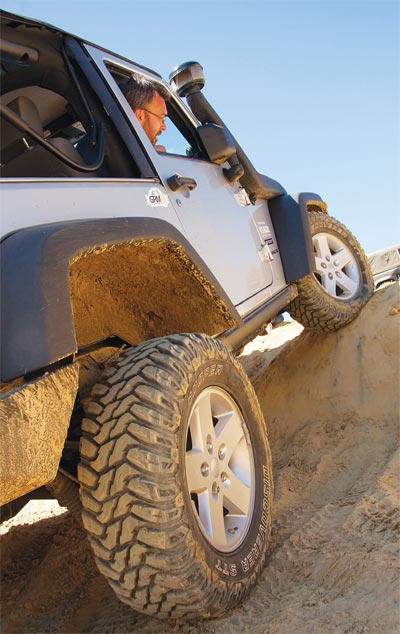 Jo and I strapped ourselves into the Jeep and I chose to leave the diff lock off, as I knew I would need lots of full lock in both directions. To lock the rear diff would have hindered this, as there would be a natural inclination for the Jeep to go straight on. In first gear, low ratio, we inched over the start line, turned sharp right and were suddenly at 45º going up a short climb, where a second's hesitation had us marooned on the top. Damn! I'd driven just 10 feet and had cocked it up! Hindsight is a wonderful thing, but had I instructed Jo to hit the diff lock button as we started the climb, we might just have made it. That was a lesson learned for later in the day. A quick tow had us moving again and, this being the Viking Club, we were allowed a second go just for the hell of it.
Much of the same followed with the Jeep really being tested to the limit, in terms of manoeuvrability and traction. Jo became extremely adept at hitting the difflock button the instant I barked 'NOW' and it gave quite an advantage on some sections, but Ray Lee's little black Suzuki SJ seemed to be clearing virtually everything − a combination of excellent driving skills and a very nimble truck. Matt and I were almost level-pegging in the points. He had beaten me on the first section, but made a few schoolboy errors on later attempts. By lunchtime we were all ready for a break. The combination of running up and down hills and intense concentration certainly had me wanting a snooze, but it was not to be and a fl ask of tea and a cob restored my energy.
LOCKED IN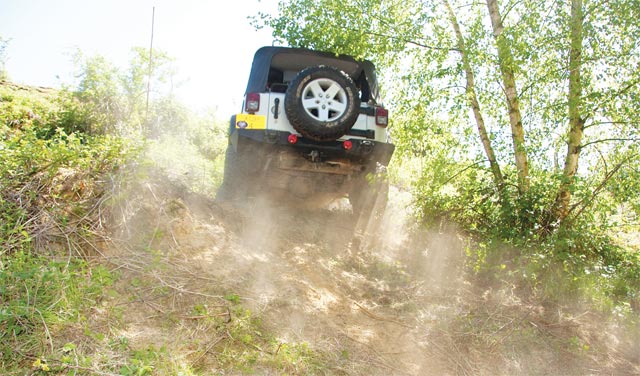 The afternoon's sections covered the ground used by RTV Plus in the morning and differed slightly in that water and rocks replaced hills and undergrowth. Water always looks great fun, but it is important to remember that all water is flat on the top! Andrew warned us all not to stray off the straight line between gates, as it was very deep − two metres was mentioned! These were long sections involving a drop off the side of a bank, down into the water, through about 20 metres of it, then scrabbling for grip on the other side to get out again. Once clear of that there was an interesting section into some trees − full lock this way, then full lock the other way at most alarming angles – very satisfying if you get it right!
The final challenge was a bit of rock crawling where I hoped the Wrangler would excel. We approached the rock along the edge of the water, turning 90º right, while simultaneously climbing a near vertical rock about a metre high.
It was a case of diff lock off, until the very last second, then locking both of the back wheels and then the Wrangler clawed its way over.
Much to our chagrin, the little Suzuki made light of it by just going a little faster with no locking diffs, to secure a well-deserved victory with just four penalty points to my 29 and Matt's 33.
Despite our rather mediocre performance in our excellent truck, it had been a great family day out. We had perfect weather, lively competition, plenty of banter and a grin from ear to ear almost the whole day.
The Wrangler had performed admirably and any points collected through the day were certainly not a reflection on the Jeep − more the incompetence of the drivers, but it was Matt's first trial ever and my return after a long break. Andrew and Jim Shrive had laid out eight demanding, but fair sections and ran a memorable trial with just the right balance of humour and competition. We pumped the tyres back up from 22 to 30psi, loaded the gear in the back and headed home, glowing with sun and bursting with exaggerated tales for the pub.
The Viking Four Wheel Drive Club runs a trial at least once a month in the Leicestershire area for all classes from showroom to cross country vehicles. Check out the website − www.viking4x4club.com − for details and a copy of the rules and regulations.